E-Museum of Pyrographic Art
Welcome to the Hall of
Special Pyrographic Art

---
---
INTRODUCTION
This hall in the e-museum is interested in highlighting the pyrographic art technique in some of its more unusual or exotic manifestations, even though pieces may be cross-referenced in other categories such as paintings or sculpture. For instance, there are pyrography techniques in which instead of the standard tool, the pyrographer has used a magnifying glass or a blowtorch.

If you know of any pyrographers who work in an unusual or special way or whose work is on an unusual material, please e-mail the Curator, who is interested in researching and displaying atypical varieties of pyro art.
Pyrography as Therapy
This hall is also dedicated to pyrography as it is taught to and used by people with a wide range of special needs. For a long time, the therapeutic benefits of working in pyrography have been recognized by professionals in various fields.

If you know of any occupational therapists or other professionals who work in this art form helping people with special needs, please e-mail the Curator, who is interested in documenting this aspect. Some documentation has already been prepared in this regard in a special issue of the Pyrograffiti series of newsletters in the Woodcarvers Online Magazine that was dedicated to Pyrography—a Healing Art.

In a later issue of that same publication, the curator featured an artist whose heroic persistence and remarkable personal adaptations allowed him to work in the pyrographic technique despite severe impairments. Read that story in a segment entitled Grigoriy Tischenko Overcomes Great Challenges and then link from there back to his salon here in the E-Museum.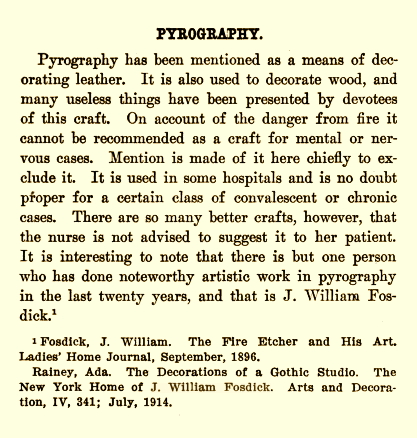 Occupation Therapy: A Manual for Nurses
by William Rush Dunton, 1915, p. 210
Excerpt adapted from the book Mental Health, 234 pages.

Note that the two articles referenced at the end of that short article are both exhibited in the Antique Hall here in the E-Museum.
The E-Museum found the above 1915 excerpt by William Rush Dunton disparaging the use of pyrography as therapy. Nevertheless, there have been other opinions on this subject that are quite the opposite, like the stories linked above and the 1898 excerpt "A Suggestion for Nurses" immediately below, as well as the touching story of Rose Sié linked following that.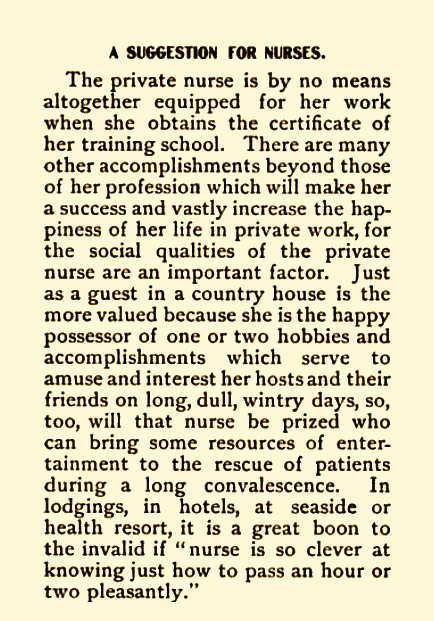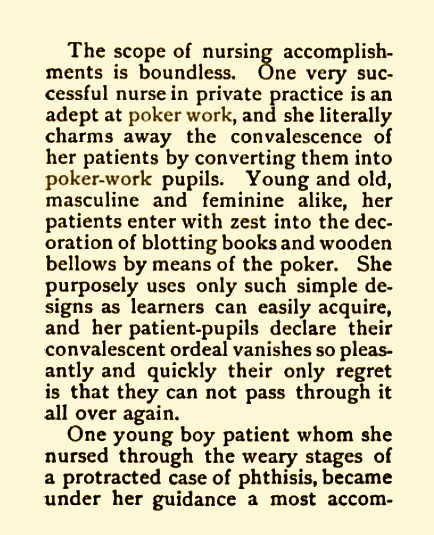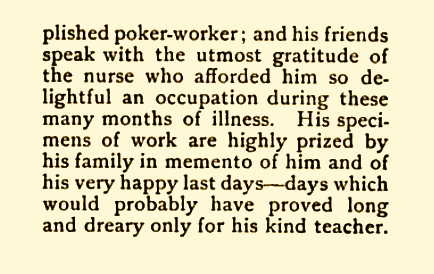 A Suggestion for Nurses
by Charity Organization Society of the City of New York, 1898
Excerpt adapted from the book Charities Review, p. 337.
In a 2008 issue of the WOM, the curator featured an artist whose year-long stay in a sanatorium in France included learning to work in pyrography. That experience stayed with her, and the lovely works she left behind upon her passing many years later were a touching remembrance. Read her story in a segment entitled Rose Sié: Her Son Remembers and then link to her Rose Sié Salon here in the E-Museum.
---
In the category of pyrography
on an unusual material:
---
Angelce Miskov*, works in pyrography on matchsticks, in a pointillism pyrographic technique reproducing works by Albrecht Dürer.
---
Marie Heerkens*, pyrography on mushrooms (fungi), in delicately rendered flora and fauna themes.
---
Bob Ferris*, pyrography on conks, in flora and fauna themes. This artist also works on wood and other materials.
---
Lynda Eaves*, pyrography on burls, enhanced with color in wildlife themes. This artist also worked on wood slices and wood panels.
---
Dominic Angarano*, pyrography on gourds, on elephant ivory, on hippopotamus tooth, on walrus penile bone, and more. Many of his works are in Native American themes. This artist also works on wood and other materials and combines things like feathers and rawhide in his gourd works, as well. He also lights some of his works from the inside.
---
In an article by the curator published on another site there is a very unusual work highlighted in a segment entitled Adri and Cassie Pretorius: On a Lifelong Safari Together. This South African couple works on a wide variety of leathers, which is already somewhat unusual; however, they were commissioned to do a commemorative portrait of a beloved elephant on an elephant ear, which you can view at the link here.
---
Martha Innis, Collector*, owns an antique work in pyrography on velvet, mounted on an oak firescreen. The artist is unknown.
---
In an article by the curator published on another site there is a rare work highlighted in a segment entitled Peni Powell Discovers a "Gibson Girl" Design on Velvet
---
Irene Corgiat works not only on wood but also on velour paper for a most interesting effect as seen in her salon exhibit here of figurative works. Also shown here is a picture of her posing with a unique work on linen. In the text following the exhibit is a link to an illustrated article describing that work in historical context in a segment entitled Irene Corgiat and the Shroud of Turin.
---
In the category of pyrography
produced by means
of an unusual technique
or with an unusual tool or tools:
---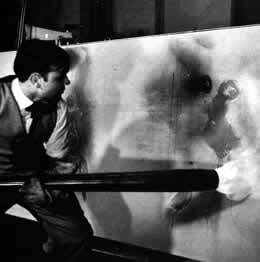 YVES KLEIN Working With a Flamethrower

View a video of Yves Klein fire painting with a flamethrower at the link here. Note: The fire painting technique is the second one and starts about a third of the way through the 7-minute video.
---
The Institute of Artificial Art Amsterdam (IAAA) has on their site linked here, a web page of select conceptual art works by renowned artists like Yves Klein and Otto Piene. It is dedicated to The Art of Fire: Burning, Melting & Smoke. Other extraordinary artists featured are John Latham, Alberto Burri, Henk Peeters, La Monte Young, Ben Vautier, Bernard Aubertin, Arman, Robert Longo, Werner Herzog, and Marco Breuer.
---
Ramon Pinto*, abstract blowtorch pyrography on wood panels.
---
Solarbud Hnetka*, solar pyrography (utilizing the sun's rays by means of magnifying lens) on wood panels. His work is performing art as a means of personal therapy and conveying an ecological message.
---
Craig "Durf" Durfee* large wood panels and small irregularly shaped souvenir items worked with magnifying lens as performing art in solar pyrography (see also Folk Art Hall).
---
Samuel K. Anderson*, pyrographic scorching done with hot nails on wood panels.
---
Hüsnü Züber*, pyroengraved spoons and other wooden artifacts of Turkey, as well as figurative works, most of which he worked with random, found, relatively large, heavy pieces of iron as implements heated in an iron stove fire.
---
Dawn Southworth*, produces assemblages of wood and cloth characterized by scarring effects done by tearing and burning with matches.
---
One of the techniques that Otto Piene has used during his illustrious career is exemplified in the untitled smoke drawing linked here that is in the collection of the Museum of Modern Art of New York City.
---
M. Jordan Tierney*, produces assemblages of wood, metal, and glass. She uses various techniques of burning to create a variety of contemporary works.
---
Sculptor Jackie Winsor uses words like "destruction" and "transformation" to describe her process, which grew out of the Minimalist sculpture of the 1960s. The work linked here, entitled Burnt Piece, is in the sculpture collection of the Museum of Modern Art of New York City.
---
Etsuko Ichikawa, glass pyrography on handmade paper in abstract works, which are "dynamic, yet subtle, and visually organic" burned using molten glass. Also, see her web site at etsukoichikawa.com and a very well written account of her technique in an article entitled Living Images: Etsuko Ichikawa's Ephemeral Eternal. Click on the link here to see videos of her unusual technique in action!
---
Tayseer Barakat*, pyrography and color on found wood rendered as wall hangings as well as sculptures. Works with branding (using found implements), blowtorch and stencils, and pyro pen. Modern interpretation of traditional Palestinian and ancient symbols.
---
Jiri Georg Dokoupil* developed a pyrographic technique using the flame of a candle working with his wood panel above him. His works done in this manner were referred to as his Soot Series. Here is a second link to Regen Projects—a series of six works by Dokoupil in his Soot Series. And a third link to a work entitled Six Cats and another called Five Dogs is at ARTNET. These last two links are no longer working as such. Both of those works and more were up for auction in May 2009, each with an opening bid of $20,000, anticipated to sell between $28,000–38,000. The links are left in the hope that more such works will turn up at this site in the future.
---
Deb Fanelli*, does contemporary works mostly on turned wood bowls and carved utensils using bold cuts with an angle grinder that simultaneously creates burnt shadows. (Her work is cross-referenced in the Sculpture Hall, Decorative and Applied Art Hall, and Special Hall.)
---
JoHannes Michelsen*, has invented techniques for superb turned woodhats with pyroburnished ornament of exotic woods by using a lathe to produce friction and heat to apply the exotic wood on the turned hardwood hat. Besides being sculptures, his famous hats are full size and wearable. (His work is cross-referenced in the Sculpture Hall and Special Hall.)
---
Paul Chojnowski*, does Contemporary work in pyrography on birch plywood panels as well as on heavy paper worked with various sizes of blowtorches where he works the flames against a water resist. His works, including one large installation, have been shown in many galleries and museums, including three important museum exhibits dedicated to pyro work. (His listing is cross-referenced in the Portraits & Paintings Hall and the Sculpture Hall).
---
"carbón"* uses the terms pyrography and burning in the same context because, besides those effects he obtains with what is generally termed pyrography, at times he burns by means of friction utilizing different tools, which he designs.
---
Peter Drewett*, has done one (his first) portrait in 2004 to honor his mentor; however, his works are mostly on uneven sculptural shapes, particularly the percussion instruments for which he is best known. A work that won him recent acclaim was a gourd sculpture. Besides the usual pyrotools, he also has worked with wires and other items heated on the propane flame or even over a campfire (his very first project). (Because of his portrait, he is cross-referenced in the Portraits and Paintings Hall; because of his sculptural musical instruments, his work will be cross-referenced in the Sculpture Hall and the Decorative and Applied Art Hall; because of his outsider art in rustic themes, his work is featured in the Folk and Traditional Art Hall, and because of his unusual projects, his listing will be cross-referenced in the Special Hall, as well).
---
Laura Hadland used the picture of her mother-in-law Sandra Whitfield and worked with a team of 40 friends to create the world's largest toast mosaic and a 50th birthday present.
---
Shannon McCarty: Her "iron works&quot" are pyrographs done with irons on glass, cloth, and paper in abstract works of conceptual art.
---
An Historic Note. At the web site called China Style, there is a web page entitled Nanyang Pokerwork: the Art of Fire. The unknown (Australian?) writer states that "pokerwork is said to have originated in the City of Nanyang in Central China's Henan Province near the end (24 A.D.) of the Western Han dynasty." After its subsequent popularity in the Ming dynasty, the technique was lost until the third year of the Guangxu reign in the Qing Dynasty (1644–1911), when a Nanyang native named Zhao Xingsan, who was a skilled painter, came up with the idea of creating pictures with a burning pipe when he was smoking opium.
---
In the category of pyrography
combined with another unusual technique or techniques:
---
Thomas Benally* traditional Navajo themes done in multimedia, including turquoise inlay (see also Traditional Art Hall).
---
Vernon Robinson* wood canes and hiking staffs with stylized pyroengraved sculptures, some enhanced with inlays (see also Folk Art Hall, Decorative Art Hall, Sculpture Hall).
---
Stuart King* turned wood objects enhanced with cutwork, pyroengraving, and color.
---
"carbón"* creates his total effect by combining techniques: pyrography as it is generally understood plus burning by friction to create varied tonalities and textures added to relief work to produce volumes, and sometimes in his later works paint then patina.
---
Carole "Burnie" Peters creates her distinct pyrographic works by enhancing her pyrography technique with some bas relief carving and a limited amount of subtle coloring.
---
You are leaving
the Hall of Special Pyrographic Art.
Continue your stay at the E-Museum
with a visit to:
More Pyrographic Art Exhibit Halls:
---
---
Your comments and questions are welcome and appreciated. Please e-mail the Curator.
Back to E-Museum Entrance homepage
---
&copy 1998, 1999, 2000, 2001, 2002, 2003, 2007, 2008, 2009, 2010, 2011
Kathleen M. Garvey Menéndez, all rights reserved. Last updated 8 May 2011.

---