E-Museum of Pyrographic Art
Hall of Special Pyrographic Art
Welcome!
to the
Bob Ferris Salon
---
---
---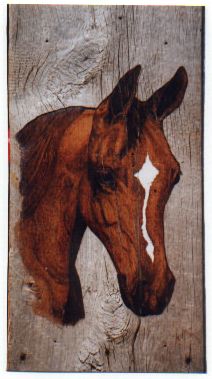 La Bella Cavalla
by Bob Ferris

Pyrography on 119-year-old weathered barn wood panel, 12 in. by 20 in.
---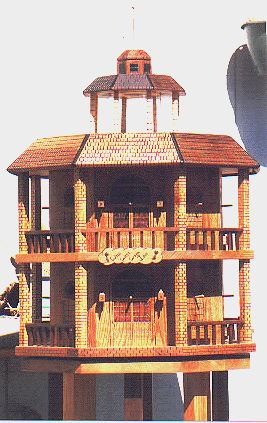 Wild West Wren Inn
by Bob Ferris

Pyroengraving on 16-unit wood bird condo and feeder, 6 ft. tall
---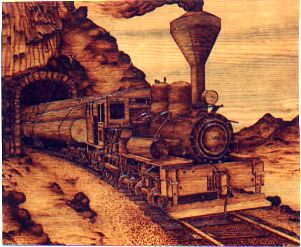 Steam Dream
by Bob Ferris

Pyrography on blue stain pine panel, 16 in. by 20 in.
---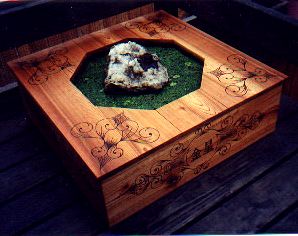 "Venus"
by Bob Ferris

Decorative pyrography on cedar wood deck water garden
---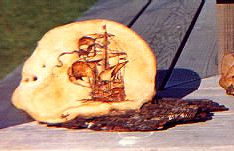 Sailboat on the high seas
by Bob Ferris

Pyrography on conk
---
By the time artist Bob Ferris from The Dalles, Oregon, U.S.A., arrived on line in 2000, his pyro-reputation had already preceded him. Bob's love of art goes back his whole life. He discovered the medium of pyrography about forty years ago and in 1977 authored a how-to book entitled "The Art of Woodburning," which sold 100,000 copies. His merits also include getting featured in numerous newspaper articles, spots on five TV stations, and recently an article in the April–May 1999 issue of "Birds & Blooms" magazine for his pyro-decorated water garden.

Once he got on the internet, Bob didn't take long at all to get acquainted and make new friends. He soon joined the Int'l Ass'n of Pyrographic Artists (IAPA) and was featured in the following issue of the Woodcarvers Online Magazine (January–February 2000).

Bob was also selected to show a sampling of his work for Gorge Arts—The Columbia Gorge Arts and Culture Council, a non-profit corporation created with a vision to preserve and promote the artistic, cultural and historic resources of the greater Columbia River Gorge area there in Oregon where Bob lives.

For the IAPA group, he soon started showing images of his work on a photo site, and didn't waste any time setting up and settling in on his very own web site on Geocities, which displayed a wide array of his work. Bob has no immediate plans for a new site, since the demise of all the Geocities web sites in October 2009.
---
You are leaving the Bob Ferris Salon.
Pyrographic Art Exhibit Halls:
---
---
---
---
Your questions and comments are welcome and appreciated.
Please e-mail the E-Museum Curator
Back to E-Museum Entrance homepage
---
&copy 2000, 2004, 2007, 2009 Kathleen M. Garvey Menéndez
Last updated 7 February 2010.

---