E-Museum of Pyrographic Art
Antique Art Hall


Welcome!
to the Salon of

Harriet Keith Fobes

Featuring her March 1895 article
for THE DELINEATOR Magazine

"BURNT WORK."
FIRST PAPER.—THE ART DEFINED.
MATERIALS THAT CAN BE DECORATED.
ABOUT LEATHER.

---
---
---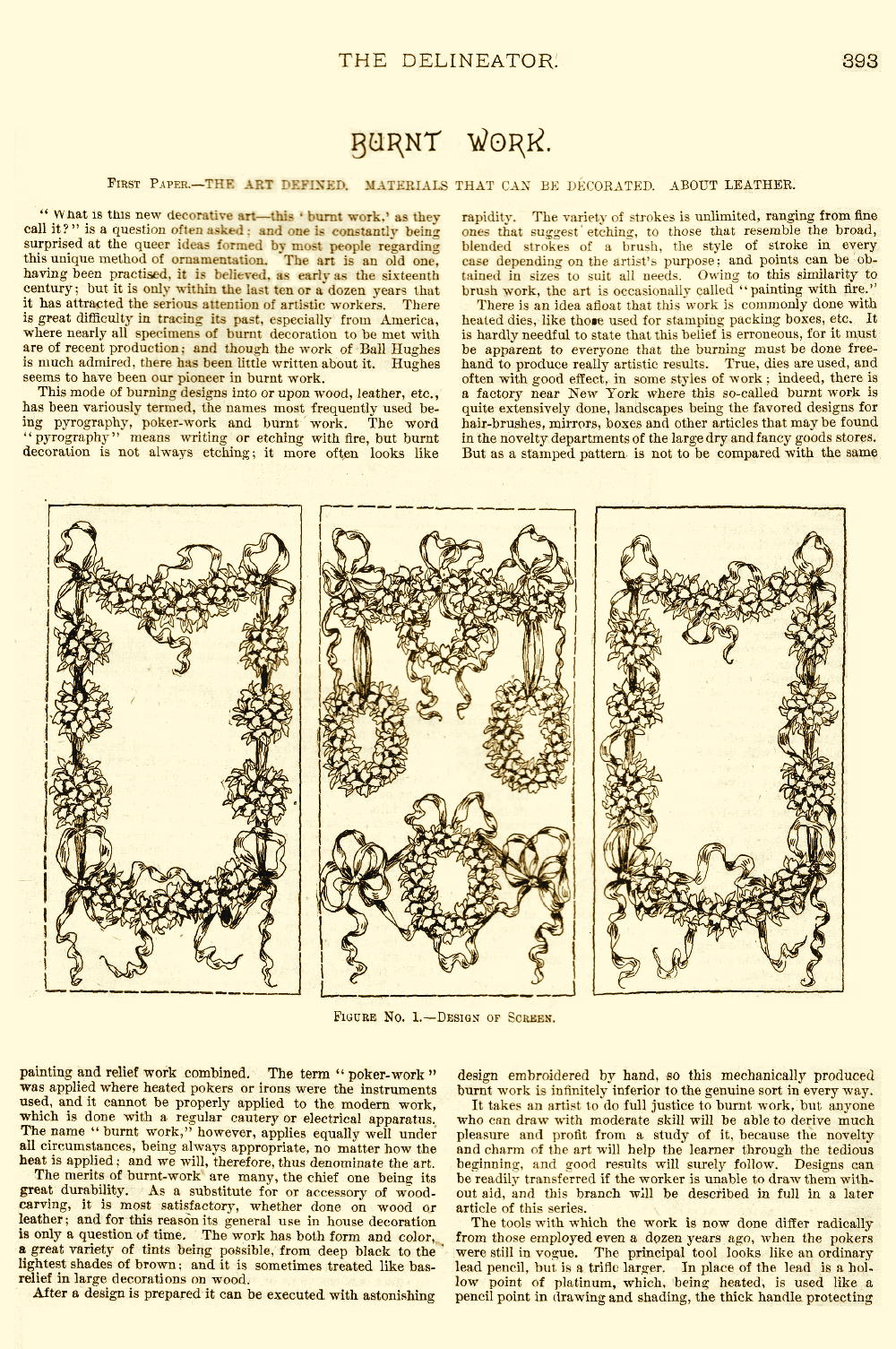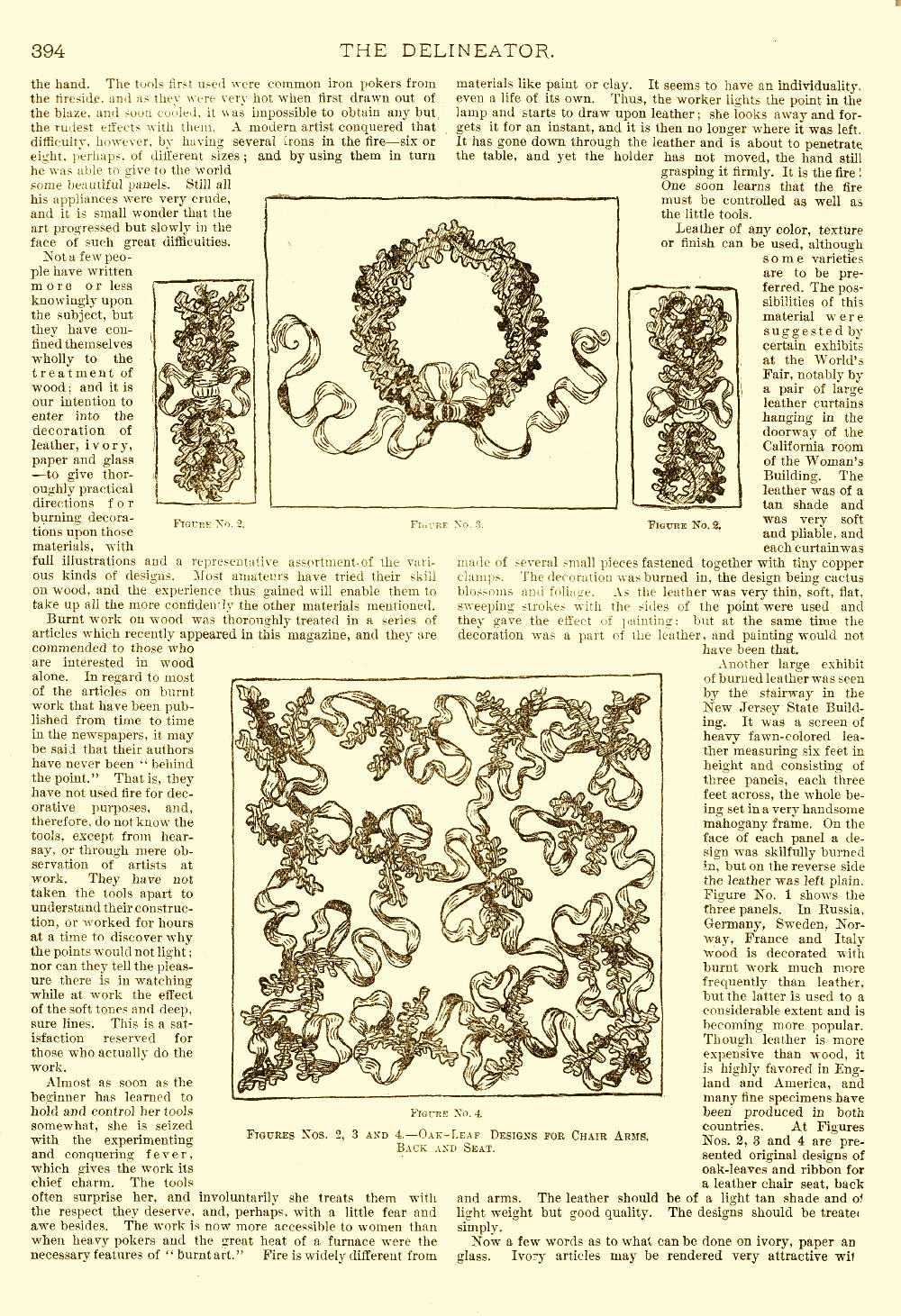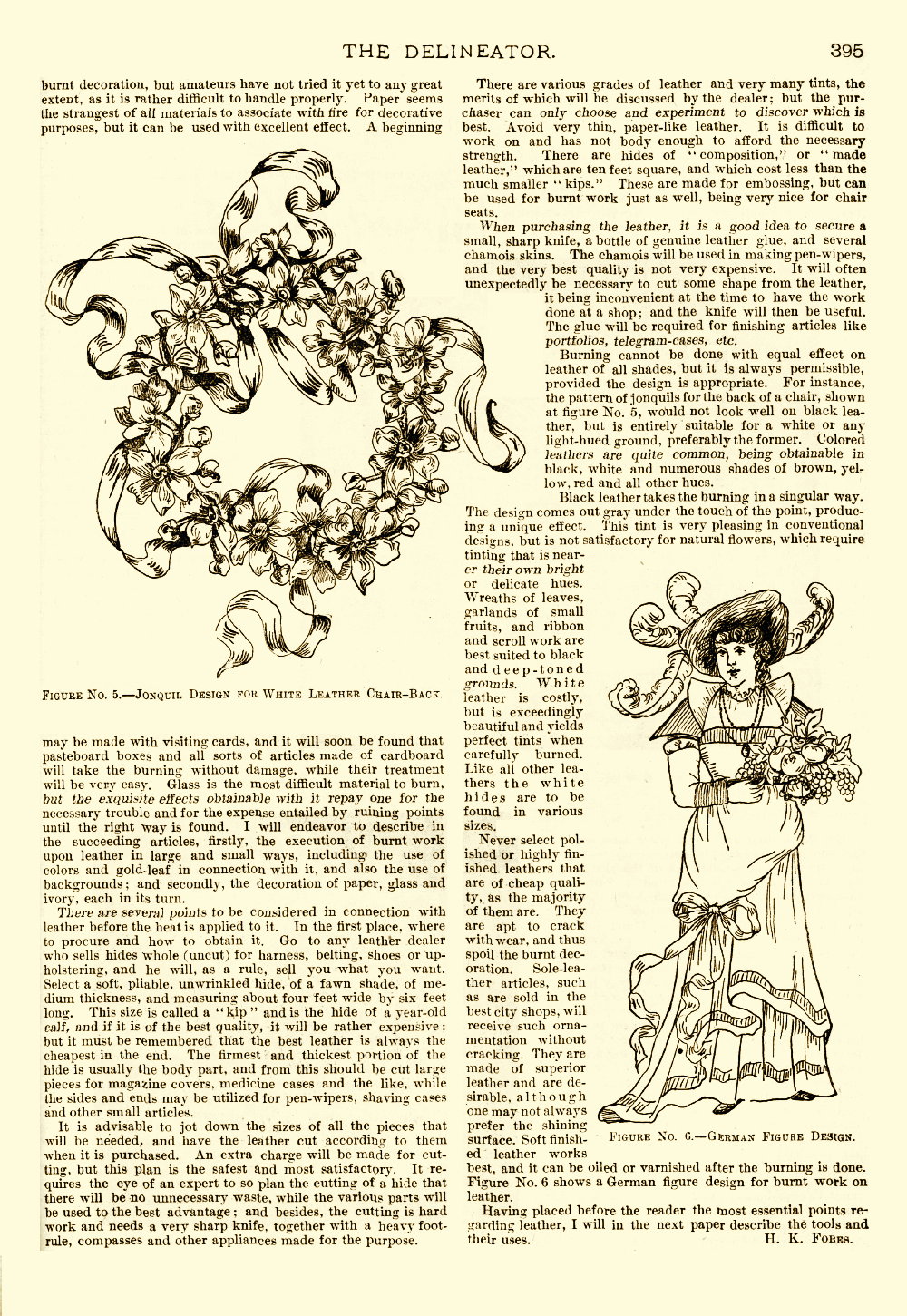 BURNT WORK.
FIRST PAPER.—THE ART DEFINED. MATERIALS THAT CAN BE DECORATED. ABOUT LEATHER.

by Harriet Keith Fobes

THE DELINEATOR Magazine, March 1895 issue, pp. 393–395.
Butterick Publishing Co., London & New York.
---
This is the first in a series of eleven monthly articles on burnt work by American artist Harriet Keith Fobes for The Delineator magazine. If her excellent articles were disappointing, it was because they did not offer photographs of the artist's own burnt work projects as examples, even though her work would be prominent in the early 1900's at the prestigious annual exhibitions of the Architectural League of New York along with that of artists like J. William Fosdick and William Fuller Curtis among others. Linked to her name here is her salon here in the E-Museum with the few examples we have of her works, which are the ones that were featured in a book by Priestman. Many more works were cited for her in the Architectural League link.

In this first article, Fobes introduces the art form and makes historic reference to Ball Hughes. She also gives her reasons for preferring the term "burnt work" while mentioning a few of the many other terms used for this art form. It is somewhat remarkable that she makes mention, at this early date, of not only the cautery tool (thermo-pyrography tool) but also the electric one, which had not yet come into popular use.

Without mentioning Maud Maude's name or any specific dates, Fobes makes reference to Maude's three 1892 pokerwork articles in The Delineator, which are also exhibited here in the E-Museum.

The last page of Harriet Keith Fobes's first article, for which the E-Museum gratefully acknowledges Bob Sinnamon, talks about using pyrography on ivory, paper, and glass, and the respective difficulties involved in those more unusual techniques. It then concludes with explaining the leather supplies that will be necessary for working in her future projects. The article ends with a promise of instructions for using the pyrography tool in the following issue.



---


If you have either any questions to ask or any information to offer regarding works or articles by Harriet Keith Fobes, please e-mail the E-Museum Curator.
---
You are leaving
the Harriet Keith Fobes Salon
of her March 1895 article in The Delineator Magazine
You can return to the
or visit one of the following:
Pyrographic Art Exhibit Halls:
---
---
---
---
Your questions and comments are welcome and appreciated.
Please e-mail the E-Museum Curator
Back to E-Museum Entrance homepage
---
&copy 2010 Kathleen M. Garvey Menéndez, all rights reserved.
19 May 2010. Last updated 8 September 2010.

---