E-Museum of Pyrographic Art
Antique Art Hall


Welcome!
to the Exhibit of

Maud Maude's
March 1892 article

"The Art of Pyrography or Poker-Work—No. 3"
in The Delineator Magazine
---
---
---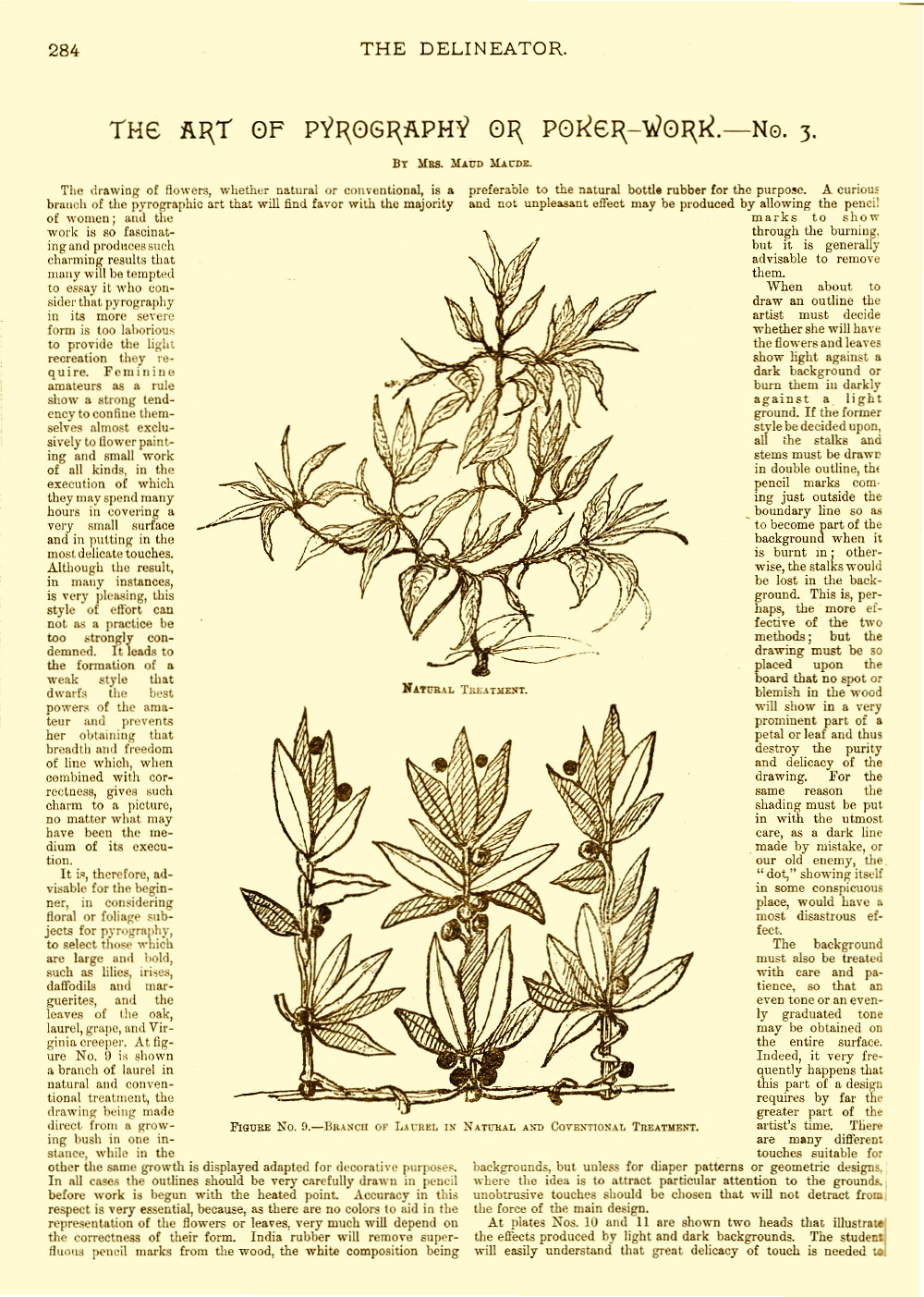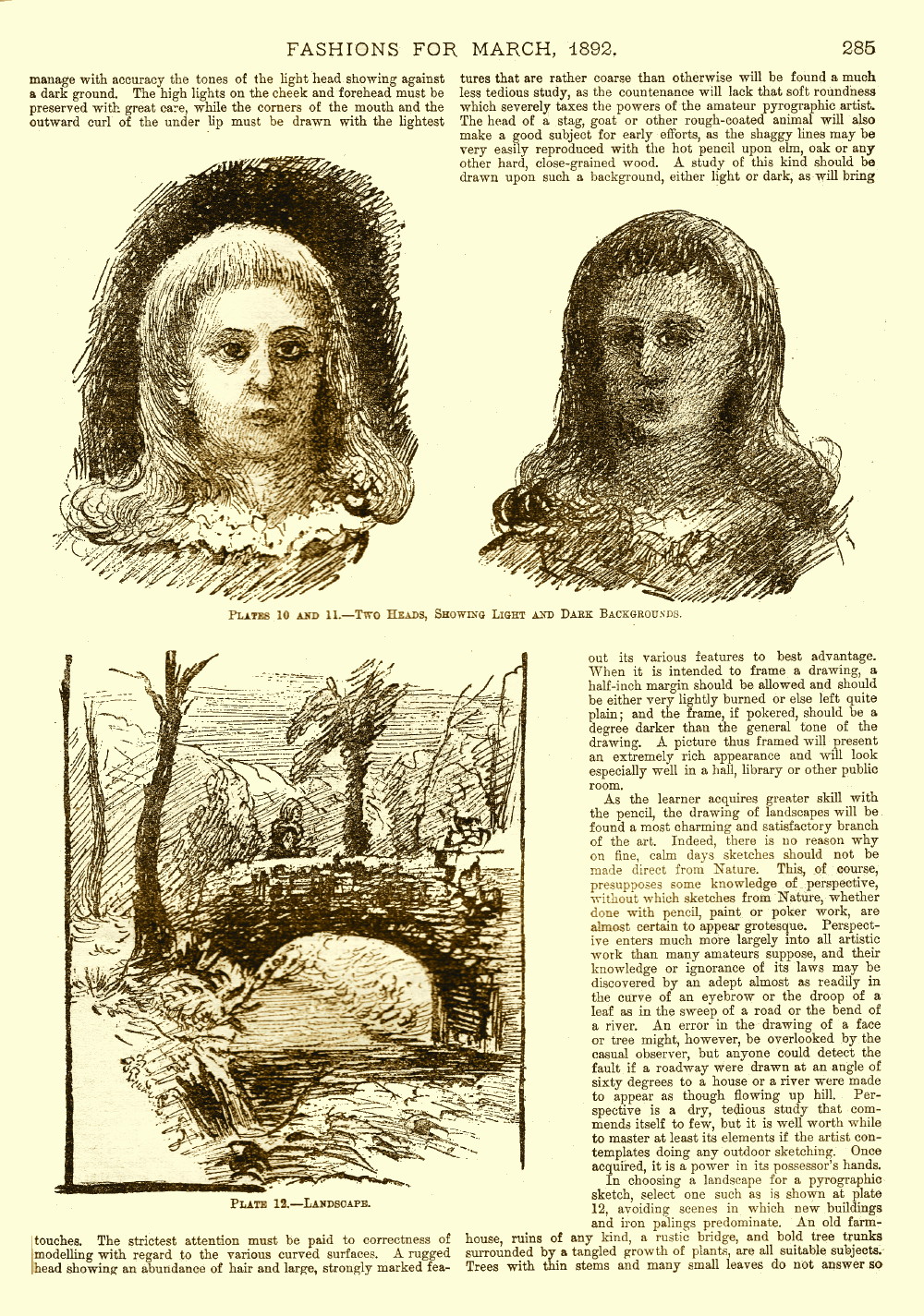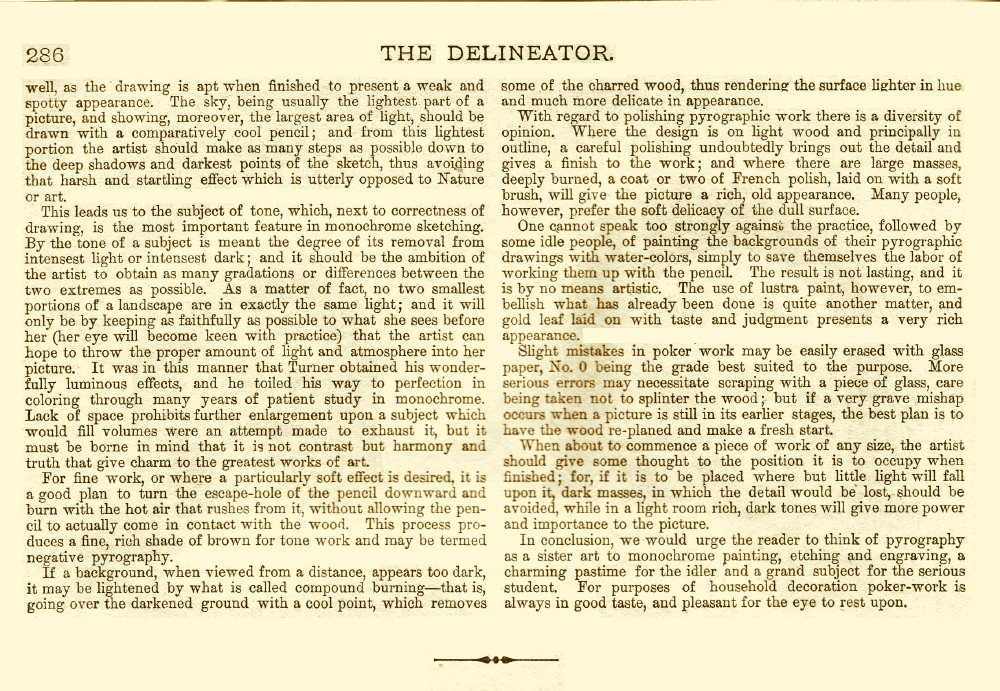 The Art of Pyrography or Poker-Work—No. 3
by Mrs. Maud Maude

Adapted from The Delineator Magazine, March 1892, pp. 284–286.
The Butterick Publishing Co., London & New York
---
Mrs. Maud Maude's article displayed here is the third in a series of three she did for the Delineator magazine. It offers ideas and advice and a nice selection of patterns for the serious student to optimize use of the tool and its platinum points, even for painterly effects of shading without touching the point to the wood.

She discusses designs used in a natural way and also indicates how they can be adapted for conventional borders and other decorative work. She also elaborates on portraiture and how to work with both a light and dark background for different effects. Also mentioned is negative pyrography and working with landscapes.

Noticeably missing from this 1892 series is the paragraph by Maud Maude quoted in Ellen T. Masters' 1893 article Pyrography Upon Glass. For this reason, since Masters indicated the quote was from an article by Maude, research is underway in the hope of finding still another article by the renowned Maud Maude.



---


If you have either any questions to ask or any additional information to offer on this article or other articles or works by Maud Maude, please e-mail the E-Museum Curator.
---
You are leaving the exhibit of
Maud Maude's
March 1892 article
"The Art of Pyrography or Poker-Work—No. 3."
You can return to Maud Maude's
Or continue on your tour to one of the following:
---
Pyrographic Art Exhibit Halls:
---
---
---
Your questions and comments are welcome and appreciated. Please e-mail the E-Museum Curator.
Back to E-Museum Entrance homepage
&copy 2010 Kathleen M. Garvey Menéndez, all rights reserved.
5 April 2010.

---