E-Museum of Pyrographic Art
Bookstore and Library Hall


Welcome!
to the Exhibit of the

William S. Rice
1902 article
"Home Decorations in Pyrography"
in The Ledger Monthly Magazine
---
---
---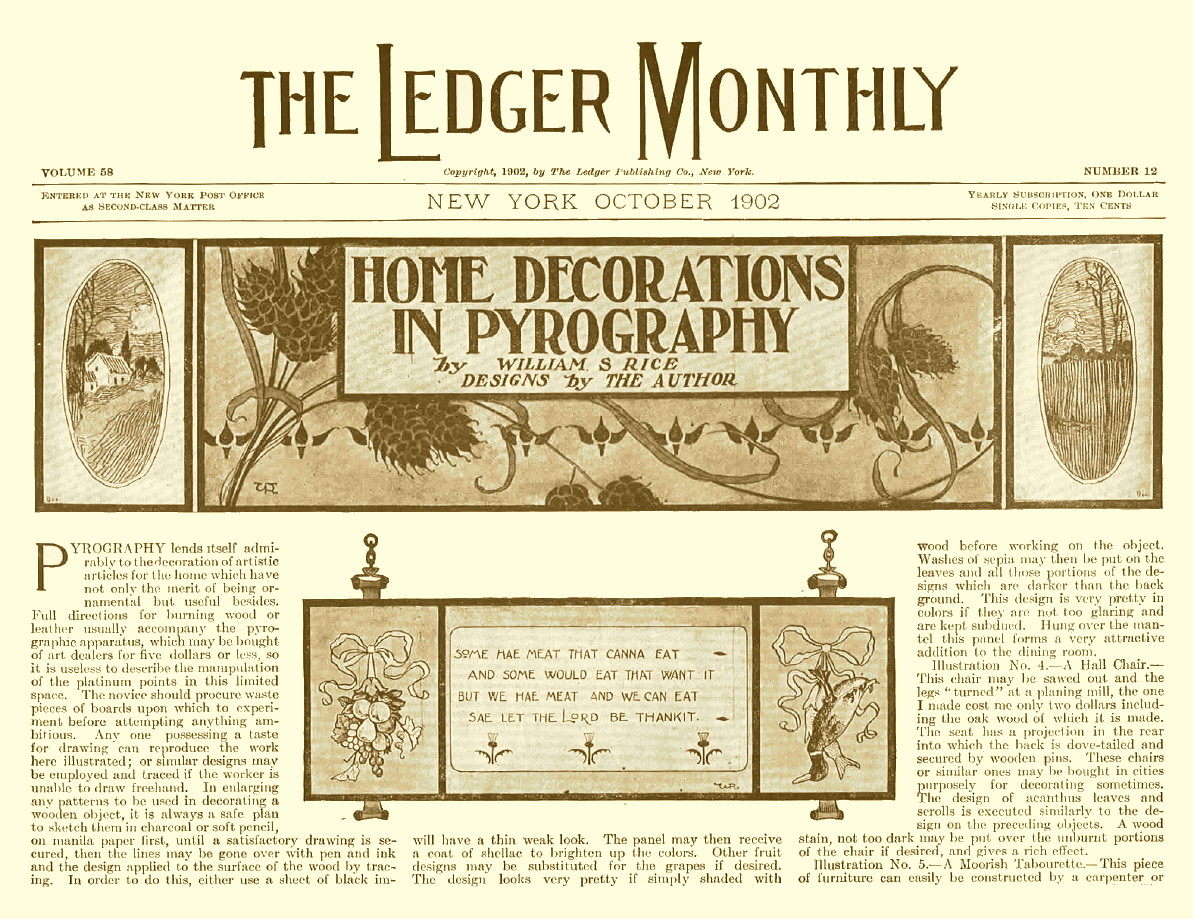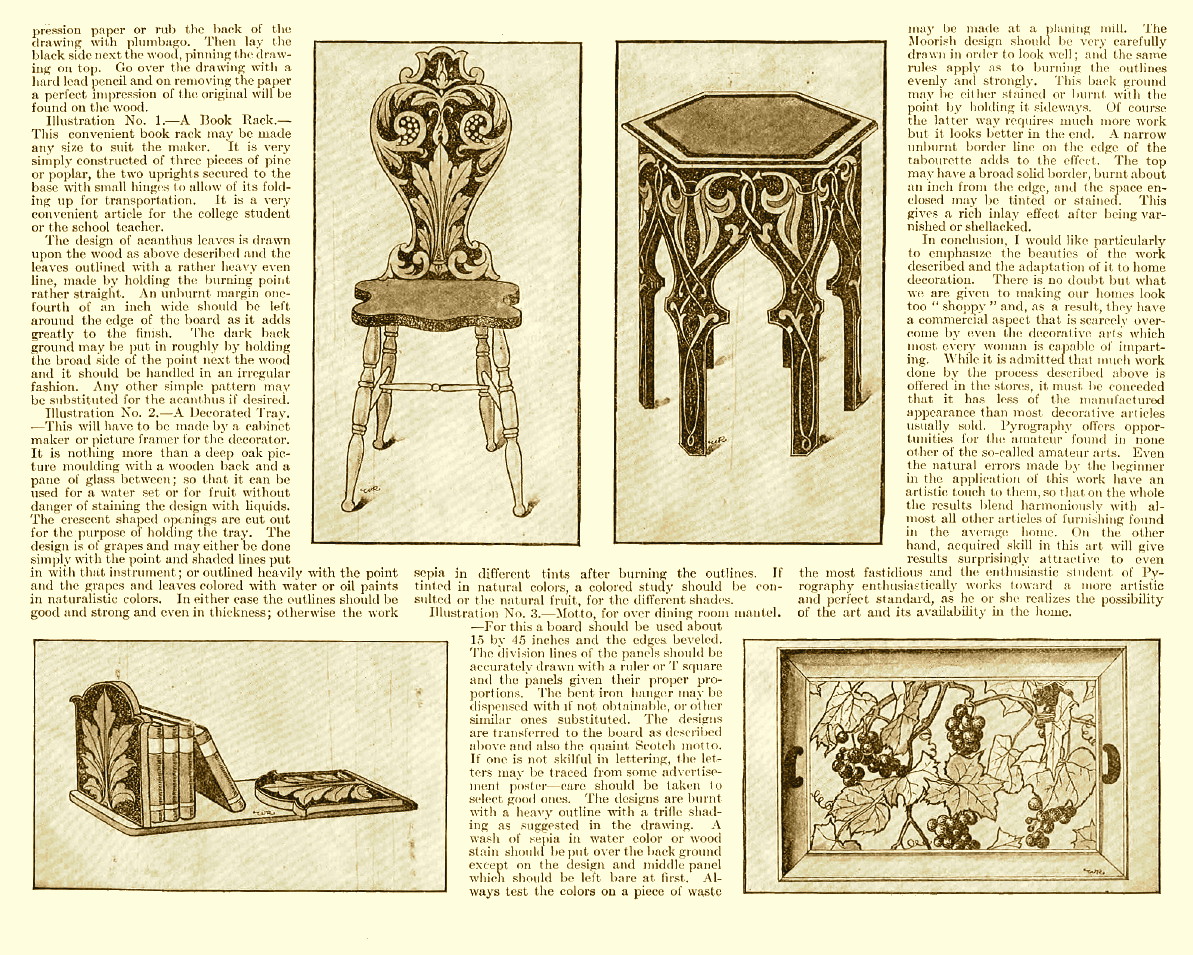 HOME DECORATIONS IN PYROGRAPHY
Written and illustrated by William S. Rice

Adapted from The Ledger Monthly Magazine, New York, October 1902
---
The 1902 article "Home Decorations in Pyrography" was written and illustrated by William S. Rice
and published in the October issue of The Ledger Monthly Magazine of New York City. Insofar as his
pyrography is concerned, the above article has the only examples we have seen thus far by this
multi-talented artist, educator, and writer.

The following biographical excerpt is from a blurb for a book entitled: William S. Rice: California block prints
by his daughter, Roberta Rice Treseder:

"William Seltzer Rice (American, 1873–1963) was a young artist of twenty-seven when he stepped off
a train in Stockton, California, in 1900; he had left his home in Pennsylvania to take the job of
assistant art supervisor for the Stockton public schools. California became not only his lifelong home
but also his muse, inspiring a prolific career in art. Rice soon moved to the San Francisco Bay Area,
where the region's Arts and Crafts movement was flowering. He was talented in several mediums, but
block printing ultimately became his favorite, for it gave him the opportunity to combine
draftsmanship, carving, and printing."



UPDATE—December 2011: Two new articles on pyrography by this artist, from circa 1900, have recently
come to light, as follows:
"Decorative Bread-Boards"
and
"Leather Sofa Cushions in Pyrography".



---


Not only was William Rice a well known artist and writer in his own time, as per the list (below)
of some of his articles and illustrations in the early 1900's, he has once more become very well
published and exhibited in the last few decades, including the following:

William S. Rice: an exhibition of color woodcuts from 1910–1940, Annex Galleries, Santa Rosa,
Calif., 1984.

Lasting impressions, works on paper by William S. Rice: an exhibition of fine, original color
woodcuts, drypoints, etchings, linocuts, lithographs, monotypes, pastels & watercolors,
Annex Galleries, Santa Rosa, Calif., 2001.

In 2009 and 2011, calendars were published illustrating his ARTS AND CRAFTS BLOCK PRINTS.

In the 2004 book The beautiful necessity: decorating with arts and crafts, page 130, is an illustration
of "Nocturne," a wood-block print by William S. Rice.

Following are some of his writings and illustrations from the first half of the 20th Century:

"Suspicious Characters of the Woods" (Outing, p. 551, 1902)
"Last Days of Gen. John A. Sutter" (Out West magazine, 1902)
"Quaint Churches of the Borderland" (The Pacific Monthly, Vol. X, No. 6, p. 320, 1903)
"A Romance of Gold" (Overland monthly and the Out West magazine, p. 134, 1904)
"By wagon to the Big Trees" (Western Field, 1904)
Photo Competition, prizes in various categories, four illustrated (The Photo-beacon, 1905)
"Where Tom Reed Taught School" (The Sunset, p. 204, 1906)
"California Wood Roads: Photographic Studies" (The Sunset, p. 121, 1906)
"Decorative Possibilities of Photography" (Photo-era magazine, 1906)
"The Unfolding of the Buds" (Country life, 1906)
"Drawing as a Mode of Expression" (California teachers' quarterly, 1907)
"Orchid Culture for Amateurs" (House and Garden, 1907)
"Greenhouse Photography" (The American annual of photography, p. 356, 1908)
"An Autumn Fantasy" (Camera craft, p. 295, 1908)
"Child Photography in the Home" (The Photographic Times, p. 3, 1908)
"Little Pictures in Big Ones" (The Photographic Times, 1913)
"Good Ideas from Everywhere" (School arts, p.60, 1914)
"Two Interesting Problems in Wood and Metal" (The School Arts Magazine, 1920)
"An Early Landmark" (The American-German Review, 1950)
"The Two Block Method of Block Printing" (Industrial arts & vocational education, p. 22, 1956)




---


If you have either any questions to ask or any additional information to offer about William S. Rice
and his art or articles on pyrography, please e-mail the E-Museum Curator.
---
You are leaving the William S. Rice Exhibit.
You can return to the
Back to E-Museum Entrance homepage
---
&copy 2011 Kathleen M. Garvey Menéndez, all rights reserved.
22 September 2011.

---