E-Museum of Pyrographic Art
Antique Art Hall


Welcome!
to the Salon of
William Fuller Curtis (1873–1938)
Burnt Wood Panels

---
---
---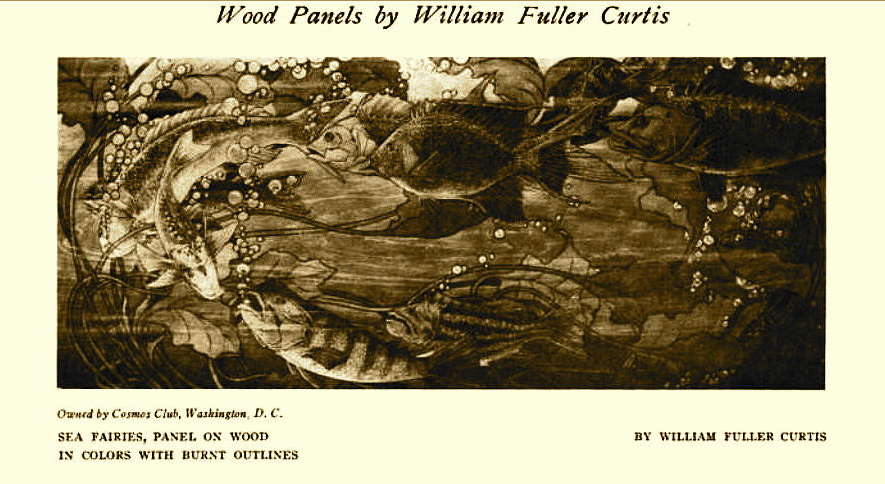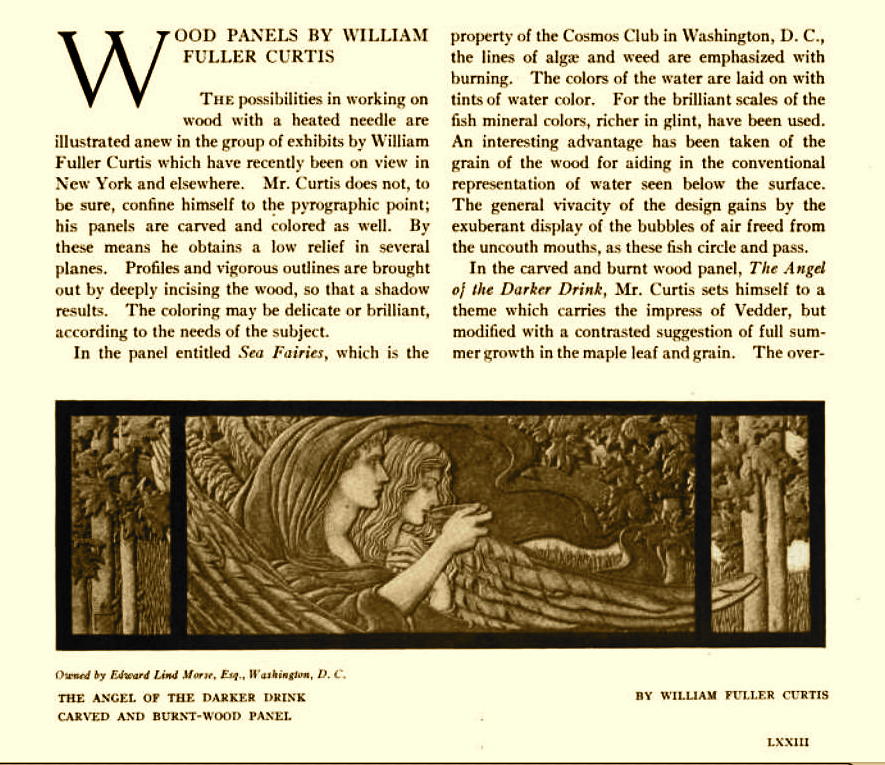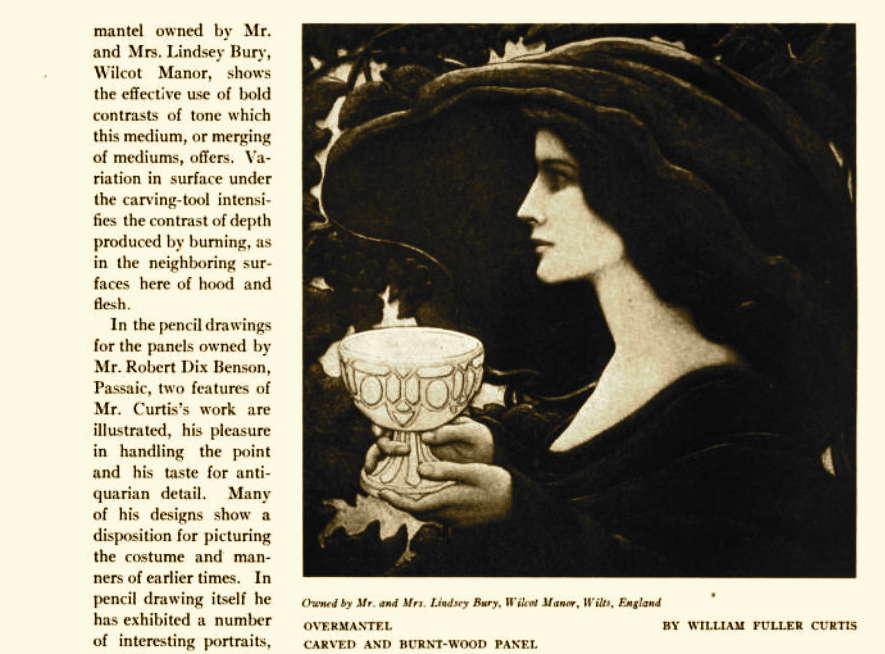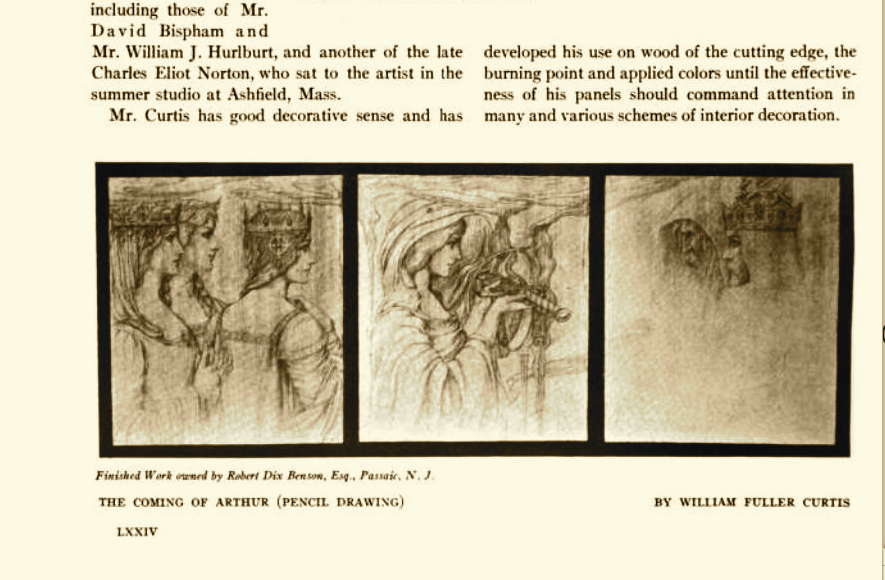 WOOD PANELS BY WILLIAM FULLER CURTIS, 1909

Images adapted from the black-and-white article Wood Panels by William Fuller Curtis
in the 1909 publication of THE INTERNATIONAL STUDIO. Author unknown.
---
American artist William Fuller Curtis (1873–1938) like J. William Fosdick before him, studied art at the Académie Julian in Paris. And like Fosdick, Curtis likewise enjoyed a very successful professional career as a pyrographic, mixed-media artist, and as an illustrator. He does not seem to have done a lot of writing as Fosdick did; however, there is one (true) story found that he wrote for Catholic World Magazine, with the title The Pope and the Poilu, published by the Paulist Fathers in 1919, pages 368–377.

Curtis's important work Sea Fairies was cited—omitting the fact that it was a pyrographic work—in a December 27, 1903 New York Times article, as follows: "The Water Color Club of Washington, D. C., is holding its annual exhibition at the Federal capital. The Corcoran First Prize of $100 goes to William Fuller Curtis for his painted carving 'Sea Fairies'...."

Newsflash, 24 October 2008: The Cosmos Club spokesperson stated they no longer have the Curtis work entitled "Sea Fairies" in their collection.

Another work by William Fuller Curtis—"Love and Labor Glorifying Life"—was cited on p. 27 in the 1904 Year Book of the Architectural League of New York. His address was listed in that publication as 1727 19th St., Washington, D. C.

The E-Museum's curator (Washingtonian by birth) took great delight in discovering an article, published in 1922 in the Records of the Columbia Historical Society, Washington, D.C., entitled ART LIFE IN WASHINGTON, pp. 164–191. It was written beautifully by Leila Mechlin recounting the history of Washington, D.C.'s artistic life from the early 19th Century. Enthusiasts who love art history as well as the city of Washington should greatly enjoy seeing famous names like Gilbert Stuart and Samuel F. B. Morse (a portraitist who eventually became far more famous for his Morse code); they will likewise enjoy reading there more than a century of history rich in anecdotes Leila Mechlin so lovingly gathered and read before that Society on December 21st in 1920. Of particular note here is that, on p. 190, she recalled the burnt wood panels of William Fuller Curtis.

Back in 1903, Leila Mechlin had written an excellent article entitled William Fuller Curtis, Pyrographer, which is exhibited here in the E-Museum. Her 1903 article illustrated six of the artist's works, including "Love and Labor Glorifying Life" mentioned previously above.

In a brief mention in the May 1911 edition of Art and Progress By American Federation of Arts, J. William Fosdick himself wrote the review of that year's exhibition of the National Society of Craftsmen. On p. 102, he had high praise for Curtis' work, saying, "William Fuller Curtis exhibited a large panel in burned, carved, painted, and gilded wood, carried out with great fidelity and ability."



---


If you have either any questions to ask or any information to offer regarding this article, these works, or any pyrography works by William Fuller Curtis, please e-mail the E-Museum Curator.
---
You are leaving the Salon of the 1909 Article
Wood Panels by William Fuller Curtis
You can return to the
or visit one of the following:
Pyrographic Art Exhibit Halls:
---
---
---
---
Your questions and comments are welcome and appreciated.
Please e-mail the E-Museum Curator
Back to E-Museum Entrance homepage
---
&copy 2008, 2009 Kathleen M. Garvey Menéndez, all rights reserved.
Last updated 1 November 2009.

---