E-Museum of Pyrographic Art
Decorative Art Hall


Welcome to the Salon of
Stuart King's Decorative Folk Art Pyrography Collection
---
---
---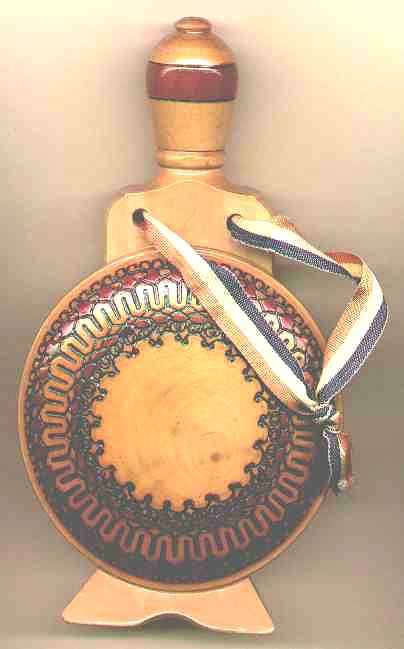 Flask
Romanian, artist unknown

Pyroengraving and color on wood drinking flask

'Tourist' piece, decorated with preformed hot wire tool, circa second half of 20th Century

Image courtesy of Stuart King
---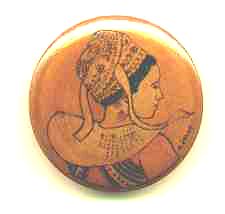 Box Lid
Unknown European origin

Pyroengraved wood box lid, 64 mm diameter

Image courtesy of Stuart King
---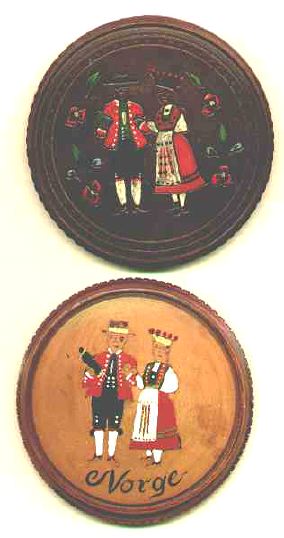 Pair of Old Box Lids
Norwegian, artists unknown

Pyroengraving and color on wood box lids

circa 1940s or 1950s

Image courtesy of Stuart King
---
Stuart King, is from High Wycombe, Buckinghamshire, U.K. This is his second salon here in the E-Museum; it houses a sampling of his private collection, acquired during his extensive travels researching the rural past at home and abroad. This salon is cross-referenced in the Traditional and Folk Art Hall.

An artist in his own right, Stuart King combines pyrography, color, and piercing on his own beautifully turned wood pieces, examples of which are on display in his first E-Museum Salon linked here.

In addition, his own excellent website Stuart King: Artist Craftsman in Wood, offers the visitor a sampling of his many talents as artisan, artist, demonstrator, photo-journalist, and lecturer.

Stuart King was featured in Pyrograffiti, in the September–October 2000 issue of the Woodcarvers On-Line Magazine.
---
You are leaving the First Salon of Stuart King's Folk Art Collection.
You can go on to visit
or visit the :
or visit one of the following:
Pyrographic Art Exhibit Halls:
---
---
---
---
Your questions and comments are welcome and appreciated.
Please e-mail the E-Museum Curator
Back to E-Museum Entrance homepage
---
&copy 2000, 2007, 2009, 2010 Kathleen M. Garvey Menéndez, all rights reserved.
Last updated 7 February 2010.

---