E-Museum of Pyrographic Art
Hall of Decorative and Applied Art
Welcome! to the
Kathleen M. Garvey Menéndez Salon
---
---
---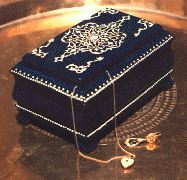 Persian Box with Ivory Inlay
Guatemala, 1978
by Kathleen M. Garvey Menéndez

Pyroengraving with color
Design is an adaptation of a traditional Persian design
Pyrographic decorative art technique inspired by ivory inlay

Private collection
Photograph by Sharon H. Garvey
---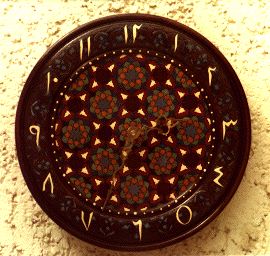 Arabic Clock
Guatemala, 1981
by Kathleen M. Garvey Menéndez

Pyroengraving with color
Design is an adaptation of a traditional Arabic design
Numerals on clockface are Sanskrit (typically used in Arabic speaking countries today)

Private collection
Photograph by Hector Menéndez
---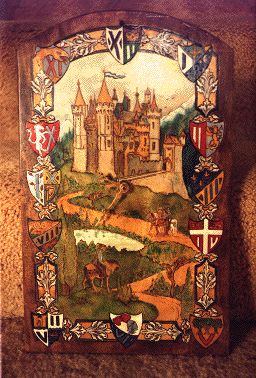 Camelot Clock
Guatemala, 1981
by Kathleen M. Garvey Menéndez

Pyroengraving with color
Design is an adaptation from many sources
Numerals on clockface were designed as shields
with Roman numerals and motifs from the time and story of King Arthur

Private collection
Photograph by Sharon H. Garvey
---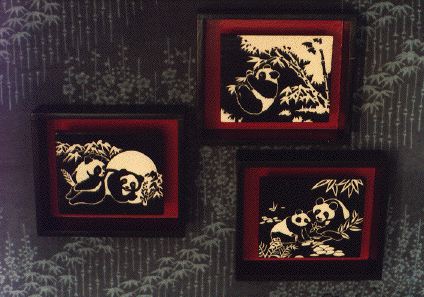 Trio of Pandas
Guatemala, 1978
by Kathleen M. Garvey Menéndez

Pyroengraving with color
Design is an adaptation of three Chinese cut paper designs
Motifs of pandas are done in ivory inlay pyrography technique
On three plaques with black background
set in black shadowbox frames with Chinese red background

Private collection
Photograph by Sharon H. Garvey
---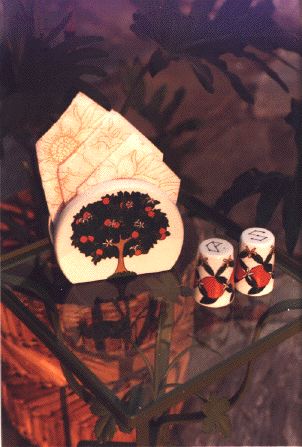 Valencian Oranges
Guatemala, 1978
by Kathleen M. Garvey Menéndez
Original design by Sharon H. Garvey
Pyroengraving with color

Set of napkin holder and salt and pepper shakers
Orange motif on a shiny white background inspired by faience ceramics
Distinctly pyrographic characteristic is that paint does not cover the pyroengraved outline
And texture is retained

Private collection
Photograph by Sharon H. Garvey
---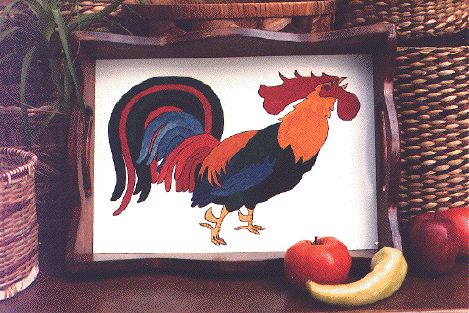 Good Morning!
Guatemala, 1978
by Kathleen M. Garvey Menéndez
Original design by Sharon H. Garvey
Pyroengraving with color on wood tray

Rooster motif on a shiny white background
Decorative art pyrography technique inspired by faience ceramics
Distinctly pyrographic characteristic is that paint does not cover the pyroengraved outline
And texture is retained.

Although this piece is made entirely of wood, it is
Decorated to look like a ceramic plaque set in a wood tray.

Private collection
Photograph by Sharon H. Garvey
---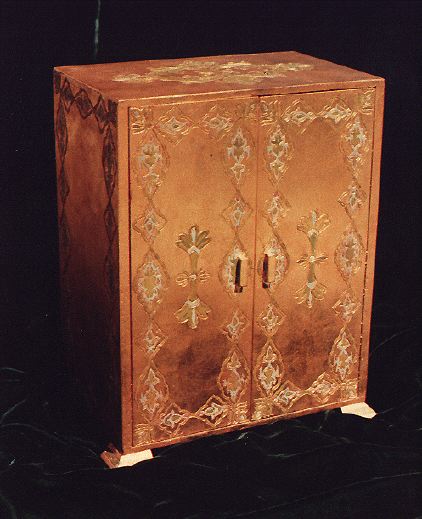 Florentine Armoire, Closed
Guatemala, 1978
by Kathleen M. Garvey Menéndez

Pyroengraving with gold leaf and color on wood jewelry armoire

Pyroengraved classical decorative motif in gold embellished with color
Pyrographic technique employed to create
Traditional style gold leaf decorative art,
Such as that done in Florence, Italy
In this technique, as in the Florentine gold leaf technique
Texture is retained.

Private collection
Photograph by Sharon H. Garvey
---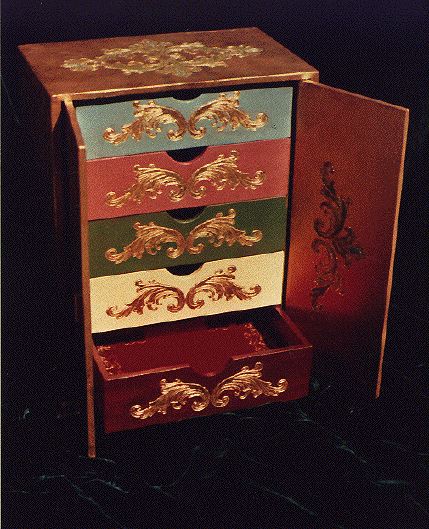 Florentine Armoire, Open
Guatemala, 1978
by Kathleen M. Garvey Menéndez

Pyroengraving with gold leaf and color on wood jewelry armoire
Color is applied to drawers over gold leaf
Drawers are lined with velvet on which
Corner decoration is pyroengraved and then colored with gold paint

Pyroengraved classical decorative motif on facade
in gold leaf embellished with color

Pyrographic technique employed to create
Traditional style gold leaf decorative art,
Such as that done in Florence, Italy
In this technique as in the Florentine gold leaf technique
Texture is retained.

Private collection
Photograph by Sharon H. Garvey
---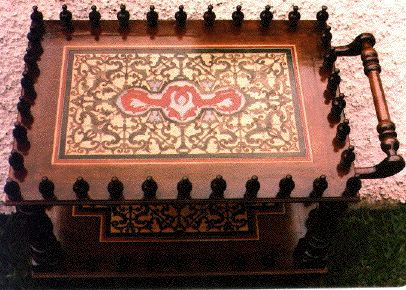 Spanish Wrought Iron
Guatemala, 1980
by Kathleen M. Garvey Menéndez

Pyroengraving with color

Wood serving cart in two tiers
Wrought iron motif designed from hardware detailing on antique Spanish furniture
Verdigris color against a natural wood ground
Pyroengraved line and texture are retained

Cabinetry and finish by Santos Jimenez of Guatemala

Private collection
Photograph by Hector Menéndez
---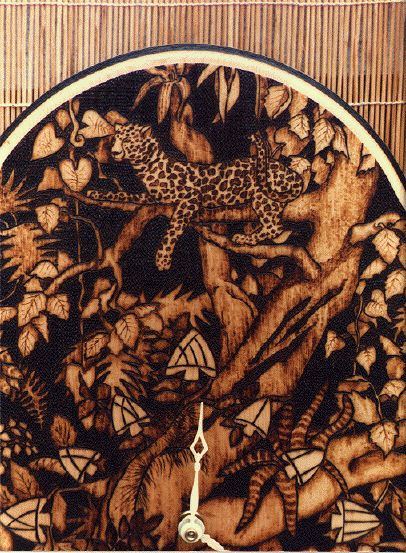 Leopard Clock, Detail
Guatemala, 1978
by Kathleen M. Garvey Menéndez and Sharon H. Garvey
Original design by Sharon H. Garvey
Pyroengraving with shading and texture (no color)

Clock done in pyrotextures technique
Numbers incorporated in clock face as part of design

Private collection
Photograph by Sharon H. Garvey
---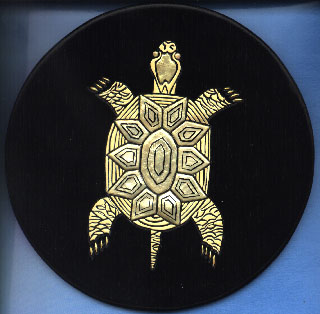 Turtle in Ivory and Mother-of-Pearl
Guatemala, 1977
by Kathleen M. Garvey Menéndez

Pyroengraving with color

Sampler plaque done as part of pyrography course work to exemplify mother-of-pearl decorative art technique

This piece combines two techniques from the course:
Ivory inlay and mother-of-pearl

Although both these techniques were developed
to emulate inlay, this piece, unlike actual inlay,
is highly textured, and retains its
rich pyroengraving characteristics.

Private collection
Image digitally scanned directly from plaque
---
For more about the pyrographic art work of Kathleen Menéndez, there is a fully illustrated article entitled Pyrography: Decorative Art about the artist's decorative art techniques for pyrography learned in Guatemala. These techniques were developed in Mexico from the late 19th Century and early 20th Century techniques for pyrography taught in Europe, as well as inspired by classical decorative art designs for furniture and other objects. They reflect an admiration for those designs and those decorative art traditions, yet hold a beauty and richness all their own, distinctly pyrographic.

Although the pieces displayed here and in the illustrated article draw inspiration from many other decorative art media, they are strictly pyrographic decorative art techniques and do not employ any ivory, mother-of-pearl, ceramic, wrought iron, etc. Many of the techniques, however, are mixed media in that the pyrography is combined with paints, stains, gold leaf, or other materials.

The article shows examples very distinct from those displayed here in the E-Museum, and illustrates further the variety and adaptability of these techniques.
---
You are leaving the
Kathleen M. Garvey Menéndez Salon.
Pyrographic Art Exhibit Halls:
---
---
---
---
Your questions and comments are welcome and appreciated.
Please e-mail the E-Museum Curator
Back to E-Museum Entrance homepage
---
&copy 1998, 2009 Kathleen M. Garvey Menéndez.
Last updated 28 December 2009.

---