E-Museum of Pyrographic Art
Antique Art Hall


Welcome!
to the Salon of
Salvator Rosa (1615–1673)
---
---
---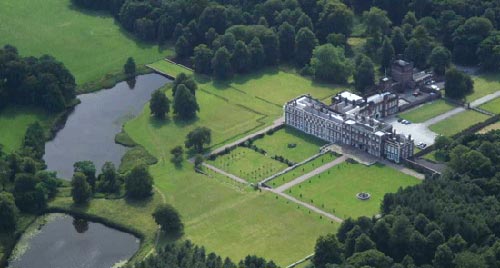 Knowsley Hall,
near Liverpool, England


Digital image courtesy of Knowsley Hall
---
Two works in pyrography by the flamboyant Italian artist Salvator Rosa were cited in a few 19th Century publications as being near Liverpool, England, at beautiful Knowsley Hall, residence of the Stanley Family since 1385. The sparse quote from Chamber's Encyclopaedia of 1875: "At Knowsley are two poker-drawings ascribed to Salvator Rosa." is representative of what was found.

Because initially even the titles of the Salvator Rosa panels were not known, research was undertaken with the hope of ascertaining if the panels were still there at Knowsley, and then learning more about them.

According to Knowsley Hall's Curator of Collections Emma Tate, there were originally five works by Salvator Rosa in their collection, of which only two oil paintings remain. A third painting was sold in 1964, and a pair of pyrography panels was sold in 1967.

Although the pyrography works are no longer there, it is consoling to know we can still learn something about them, however, because Miss Tate very generously provided detailed descriptions from the following entries in an 1875 catalogue at Knowsley Hall:

THE GOOD SAMARITAN by Salvator Rosa:
panel, upright, square, composed of two pieces of brown wood, joined vertically; 2ft 9.5 in x 2ft 1.5 in.
A "poker painting," that is, burnt with hot irons into the wood, and heightened in lines with a pen and ink. In square black frame, with gilt moulding. The companion picture to..."The Temptation." A wild scene with forest trees. The wounded man lies face upwards at full length on the ground, with his head turned towards the right. The Samaritan bends over him, but without kneeling, and holds a cruse of oil. The head and neck of a horse in profile projects from the extreme left-hand side (St. Luke, ch. X v.34). This picture has been etched, the reverse way, by P. Casteels, on a large tall folio sheet. Inscribed "Ejus vulnera oleo, vinoque perfuse obligavit"

THE TEMPTATION OF CHRIST by Salvator Rosa: 2ft 9.5 in x 2ft 1.5 in. A 'poker-painting' which means burnt with hot irons into the wood and finished with lines and touches of black ink. The companion picture to..."The Good Samaritan." Satan, under the semblance of an old man, offers a stone to Our Lord, who rests his back against a mass of rock, with his figure turned in profile to the right. The background consists of lofty forest trees; in the style of Titian's famous picture of "San Pietro Martire." Etched in a plate, corresponding with the preceeding, the reverse way, by P. Casteels. No date. Inscribed:- "Jube huic Lapidi ut fiat Panis. Luke, c.iv v. Iii." Pennant described these pictures as "stained on wood" and expresses surprise that a good Catholic should represent the devil in the habit of a monk.

Disappointed that these works are no longer there at Knowsley, we now turn the focus of our research towards discovering their current whereabouts while acknowledging with gratitude the documentation provided by Emma Tate, Knowsley's Curator of Collections.



---


If you have either any questions or any information regarding these or any Salvator Rosa works in pyrography, please e-mail
the E-Museum Curator.
---
You are leaving the
Salvator Rosa Salon
You can return to the
or visit one of the following:
Pyrographic Art Exhibit Halls:
---
---
---
---
Your questions and comments are welcome and appreciated.
Please e-mail the E-Museum Curator
Back to E-Museum Entrance homepage
---
&copy 2008, 2009 Kathleen M. Garvey Menéndez, all rights reserved.
Last updated 7 November 2009.

---