E-Museum of Pyrographic Art
Antique Art Hall


Welcome!
to the Exhibit of the

1859 article

"Charred Wood"

in THE JOURNAL OF THE SOCIETY OF ARTS
---
---
---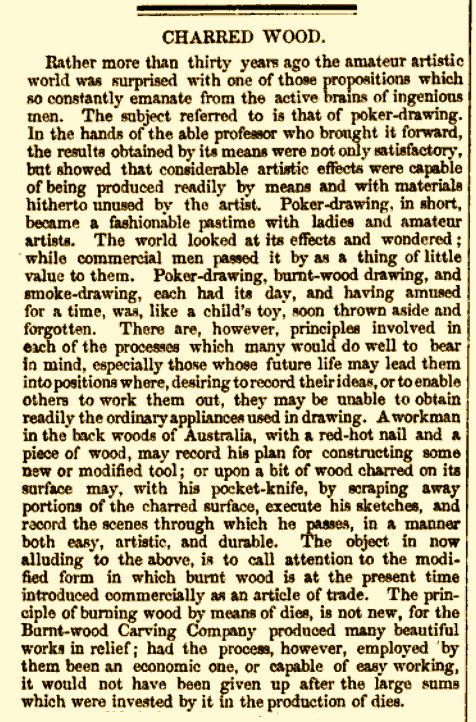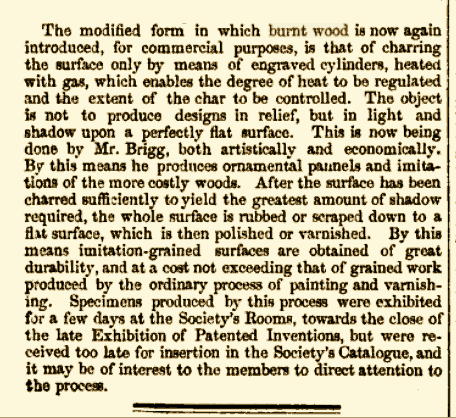 Charred Wood
by P. Foster, August 5, 1859

Adapted from an article segment on page 622 in a column of
THE JOURNAL OF THE SOCIETY OF ARTS,
AND OF THE INSTITUTIONS IN UNION.,
Vol. VII, FROM NOVEMBER 19, 1858, TO NOVEMBER 11, 1859.
LONDON : PUBLISHED FOR THE SOCIETY BY BELL AND DALDY, 186, FLEET-STREET. 1859.
---
The astonishing article displayed here from the Journal of London's Art Society—itself dating back all the way to 1859—reveals for the first time in the E-Museum's research that there was an earlier PYROGRAPHY FAD practiced "as a fashionable pastime with ladies and amateur artists" dating back to perhaps the 1820's.

In reference to that period, the author used the terms poker-drawing, burnt-wood drawing, and smoke-drawing, and suggested that each had been a specific technique with its own following in those early times. (He also noted that poker-drawing was a thing of wonder then to those who practiced it and an unnamed "able professor who brought it forward" but that it was ignored by commercial men at that time.)

This article's title of "Charred Wood" refers instead to a Mr. Brigg's newly introduced (i.e, in 1859) industrial technique for creating a grained texture on wood (in imitation of the grain of more costly woods) for mass production.

The article also introduces the name of the Burnt-wood Carving Company, which was an early English industry—decades before the Industrial Revolution—utilizing burnt work to simulate carving in the making of wooden items. Both that company and the later George S. Stewart Co. in the United States, which was dedicated to making furniture adorned with burnt wood designs, were short-lived.



---


If you have either any questions to ask or any additional information to offer on this 1859 article from The Journal of the Society of Arts, please e-mail the E-Museum Curator.
---
You are leaving the exhibit of the 1859 article
"Charred Wood"
You can return to the
or continue on your tour to one of the following:
---
Pyrographic Art Exhibit Halls:
---
---
Your questions and comments are welcome and appreciated. Please e-mail the E-Museum Curator.
Back to E-Museum Entrance homepage
---
&copy 2010 Kathleen M. Garvey Menéndez, all rights reserved.
30 NOvember 2010.

---