E-Museum of Pyrographic Art
Antique Art Hall


Welcome!
to the
Raphael A. Weed
Salon
---
---
---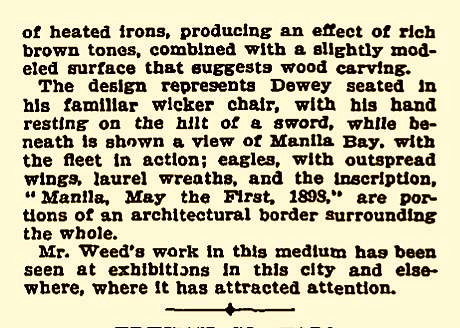 Admiral Dewey Memorial Portrait
by Raphael A. Weed, 1899


Adapted from an August 20, 1899 New York Times article
---
In addition to three works in burnt wood by Raphael A. Weed cited in the 1899 Year Book and Catalogue of the Architectural League of New York, where his works were exhibited along with those of J. William Fosdick and two other pyrographic artists, featured here in this salon is a formal memorial panel designed and executed by the artist for the Admiral Dewey presentation by the City of New York in September that year.

The opening sentence in the New York Times article displayed above is, if anything, an understatement insofar as the fanfare surrounding Admiral Dewey's adulation and welcome to the City of New York upon his triumphal return from the Spanish American War in Manila. The Official Dewey Souvenir Programme: Commemorating the Reception by the City of New York to Admiral Dewey, September 29th and 30th, 1899, Issued under the direction of The Plan and Scope Committee,
is a formal and elaborate record of the ceremonies and festivities planned for that occasion, as well as an historic account of Admiral Dewey's accomplishments. It has many good images, as well; unfortunately, however, the only thing lacking is a good picture of Raphael Weed's burnt wood panel of Admiral Dewey, which thanks to the New York Times picture we can document but not really appreciate.



---


If you have either any questions to ask or any information to offer regarding Raphael A. Weed or his works, please e-mail the E-Museum Curator.
---
You are leaving the Raphael A. Weed Salon.
You can return to the
or visit one of the following:
Pyrographic Art Exhibit Halls:
---
---
---
---
Your questions and comments are welcome and appreciated.
Please e-mail the E-Museum Curator
Back to E-Museum Entrance homepage
---
© 2008, 2009 Kathleen M. Garvey Menéndez, all rights reserved.
27 September 2008. Last updated 3 November 2009.

---