E-Museum of Pyrographic Art
Traditional and Folk Art Hall


Welcome! to the
Richard D. Voepel
Salon
---
---
---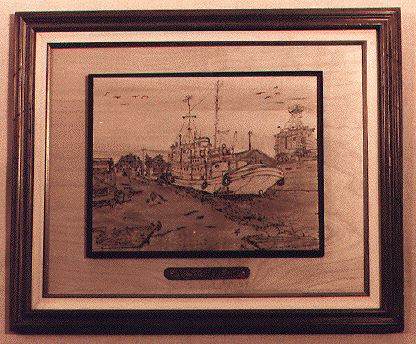 Yesteryear
by Richard D. Voepel, 1996

Pyrograph of ship in dry dock
After a painting by Ron Daggett
Basswood, 12 in. by 12 in., mounted in a commercial wood frame

Photograph by Richard Voepel
---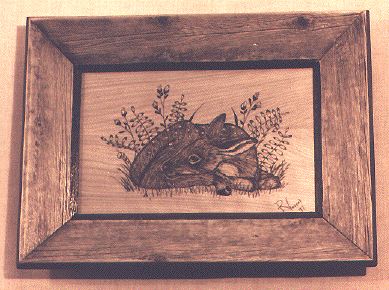 New Born
by Richard D. Voepel, 1997

Pyrograph of fawn on birchwood plaque, 8 in. by 10 in.
In a custom Vt. barnwood frame, 11 in. x16 in.
After a picture from the Cheryl Dow collection

Photograph by Richard Voepel
---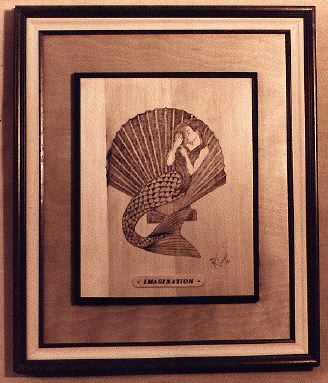 Imagination
by Richard D. Voepel

Pyrograph on basswood, 12 in. by 14 in.
In a commerical wood frame
After an original low relief Sri Lankan mermaid by Mary Duke Gildan

Photograph by Richard Voepel
---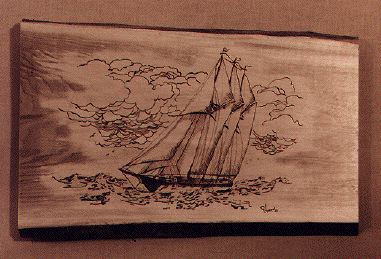 Storm
by Richard D. Voepel

Pyrograph of 3-masted sail boat
Butternut plank with bark left on, 14 in. by 21 in.
From the Dave Ladd portfolio, 1977

Photograph by Richard Voepel
---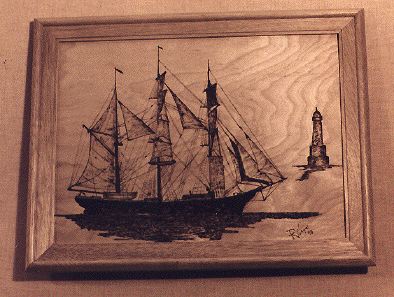 Destination
by Richard D. Voepel

Pyrograph of sailboat and lighthouse
Birch 12 in. by 16 in., in a lt. mahogany frame
Original painting by Mads Stage

Photograph by Richard Voepel
---
American pyrographic artist Richard Voepel from Vermont, U.S.A., is especially known for his wood panels of sailboats. His works stand out for their integration of the burned design with the wood panel itself, where the beauty and characteristics of the grain is a part of the composition. For more examples of his work, visit his Wood Illusions website.
---
You are leaving the
Richard D. Voepel Salon.
You can return to the
or visit one of the following:
Pyrographic Art Exhibit Halls:
---
---
---
---
Your questions and comments are welcome and appreciated.
Please e-mail the E-Museum Curator
Back to E-Museum Entrance homepage
---
&copy 1998, 2007, 2009, 2010 Kathleen M. Garvey Menéndez, all rights reserved.
Last updated 15 February 2010.

---