E-Museum of Pyrographic Art
Hall of Decorative Art

Welcome!
to the Rita Ferrara Salon
---
---
---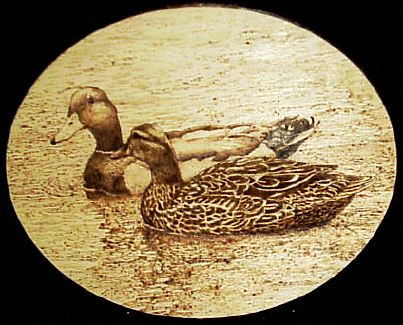 Pair of Mallards
by Rita Ferrara, 1998
Maryland, USA

Pyrography on wood plaque

After the artist's own original photograph
---
American pyrographer Rita Ferrara took up pyrography after she got her zither some years ago. She decided that her treasured zither would look beautiful and special if she would woodburn a design on it, so she bought her pyro tool to learn, started practicing, and loved it. She tried combining pyrography with her decorative art work and now works on plaques and functional wood items, primarily boxes, in single media as well as combinations of pyrography, chip carving, and color. Her zither? Well, she finally decided it was ill advised to touch it because it already had a finish on it.
---
You are leaving the Rita Ferrara Salon.
You can return to the
or visit one of the following:
Pyrographic Art Exhibit Halls:
---
---
---
---
Your questions and comments are welcome and appreciated.
Please e-mail the E-Museum Curator
Back to E-Museum Entrance homepage
---
&copy 1999, 2007, 2009, 2010 Kathleen M. Garvey Menéndez, all rights reserved.
Last updated 7 February 2010.

---