E-Museum of Pyrographic Art
Decorative and Applied Art Hall


Welcome! to the Salon of
Pablo Ruiz Picasso (1881–1973)
---
---
---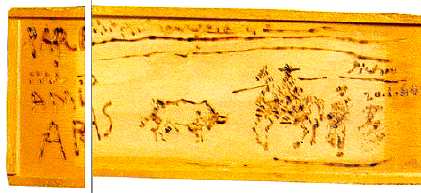 "Para mi amigo Arias"
by Pablo Ruiz Picasso, 1960, &copy Succession Picasso 2000

Pyroengraved bullfight motifs
on wood box intended for barber's implements
Details of lid
Gift from Picasso to his friend (and barber) Eugenio Arias
---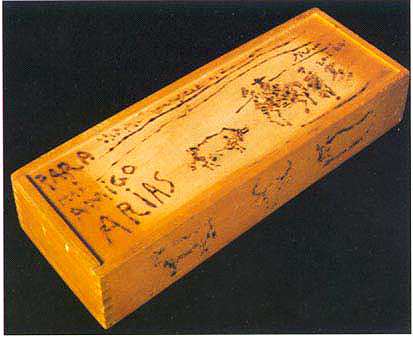 "Para mi amigo Arias"
by Pablo Ruiz Picasso, 1960 &copy Succession Picasso 2000

Pyroengraved bullfight motifs
on wood box intended for barber's implements
View of lid and two sides
Gift from Picasso to his friend (and barber) Eugenio Arias
---
In the visual arts, world famous Spanish artist Pablo Picasso (1881–1973) is considered the dominant figure of the 20th century. Although best known for his paintings, Picasso enjoyed other media as well—also well known are his sculptures and etchings.

Plaques, ceramics, lithographs, drawings, posters, as well as the little pyroengraved box exhibited here—about sixty works in all, many with a bullfight motif and almost all bearing a similar dedication: "Para mi buen amigo Arias" ("To my good friend Arias")—can be found in the little known Pablo Picasso Museum of the Eugenio Arias Collection in the very small town of Buitrago del Lozoya, not far from Madrid, Spain.

Eugenio Arias and Pablo Picasso, both Spaniards living in France, met in Toulouse in 1944. Arias became Picasso's barber and most importantly his best friend for the rest of the artist's life, a nearly thirty-year friendship that included countless afternoons at the bullfights both in France and later in Spain when they both moved back there years later. The style of the pyroengraved design on the little box here is similar to that found on a series of well known etchings of bullfights by Picasso. Click on this link to see a wonderful candid photograph by Raph Gatti of Picasso presenting this very box to his friend Arias in 1960.

The story of how the E-Museum acquired its virtual Picasso is featured in the headline article of an on-line publication (the Woodcarvers Online Magazine) linked here. The Eugenio Arias story and the founding of the little Picasso Museum in Buitrago del Lozoya is told in a feature newspaper article (in Spanish) linked here.
---
You are leaving the Pablo Ruiz Picasso salon.
You can return to the
or visit one of the following:
Pyrographic Art Exhibit Halls:
---
---
---
---


&copy Succession Picasso 2000 (any and all reproductions of works by Picasso)

Picasso images on this page (the Pablo Ruiz Picasso Salon of the E-Museum of Pyrographic Art) are reproduced with permission of the Picasso Administration, 13 December 1999, Paris, France, (Z XIX, 122-124).

Catalogue pictures of the original piece thanks to Lalo Alonso, Curator and Director of the Picasso Museum, Buitrago del Lozoya, Spain.


2000 Kathleen M. Garvey Menéndez

Your questions and comments are welcome and appreciated. Please e-mail Curator
Back to E-Museum Entrance homepage

---