to the Pierre Doré Salon
---
---
---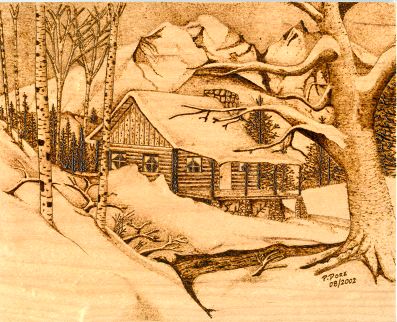 Cabin in the Snow
by Pierre Doré

Pyrography on wood panel

Image courtesy of the artist
---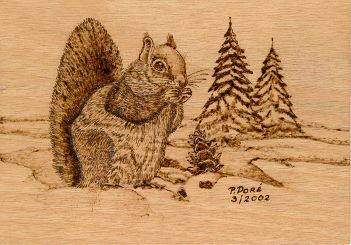 Squirrel in Winter
by Pierre Doré

Pyrography on wood panel

Image courtesy of the artist
---
French Canadian Pierre Doré came to work in pyrography about a decade ago as an enhancement for his miniature woodturnings but found there was a lot more there to work with than he had originally thought.

Pierre Doré's story and more examples of his art work are featured in an article in Pyrograffiti 25 in the September–October 2003 issue of the Woodcarvers Online Magazine (WOM).
---
You are leaving the Pierre Doré Salon.
You can return to the
or visit one of the following:
Pyrographic Art Exhibit Halls:
---
---
---
---
Your questions and comments are welcome and appreciated.
Please e-mail the E-Museum Curator
Back to E-Museum Entrance homepage
---
2003, 2009, 2010 Kathleen M. Garvey Menéndez, all rights reserved.
Last updated 5 March 2010.

---