E-Museum of Pyrographic Art
Antique Art Hall


Welcome!
to the Salon of Olive Hughes
And the 1999 Australian Wood Review Article
"Rekindling an Art"

---
---
---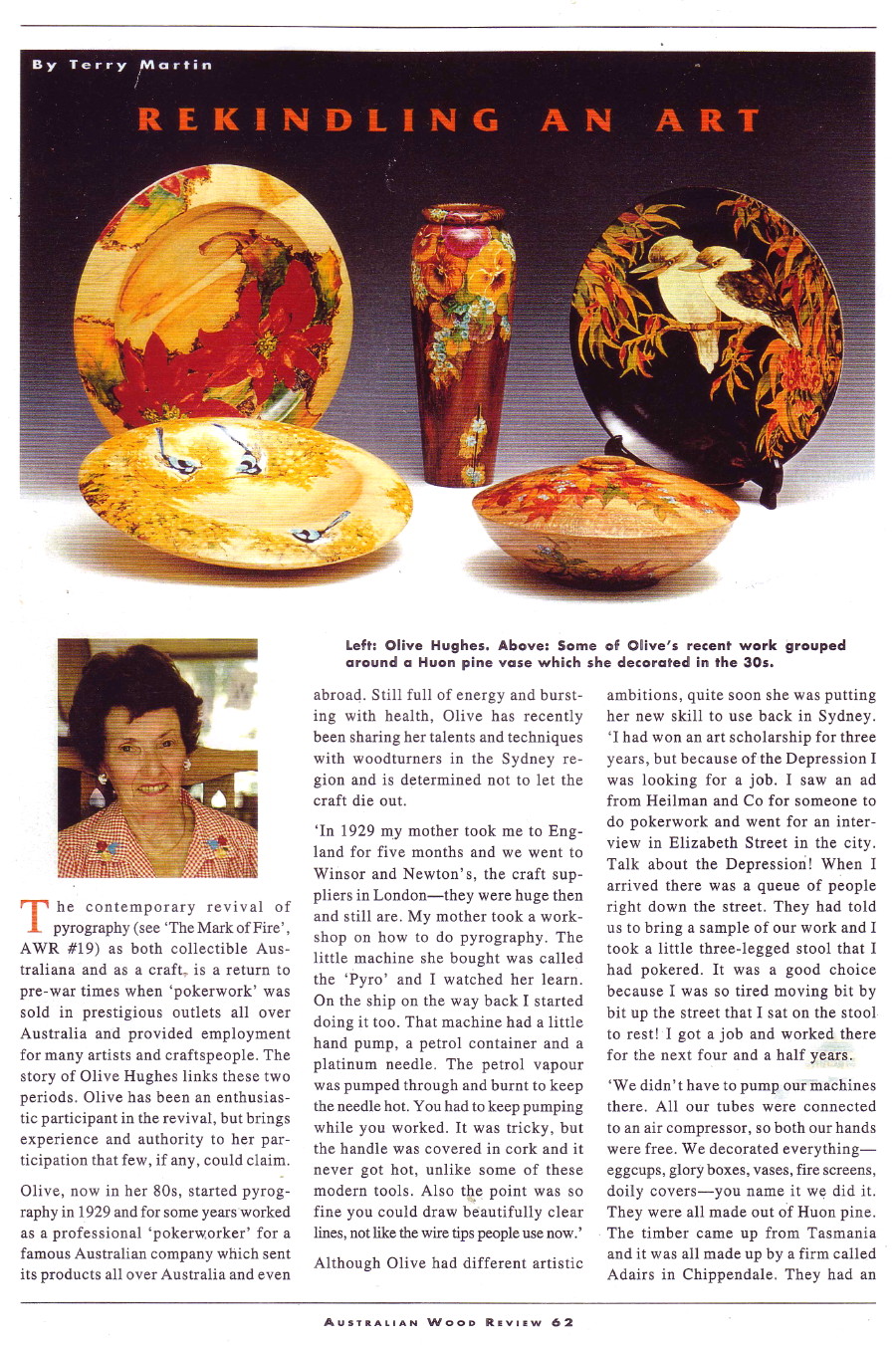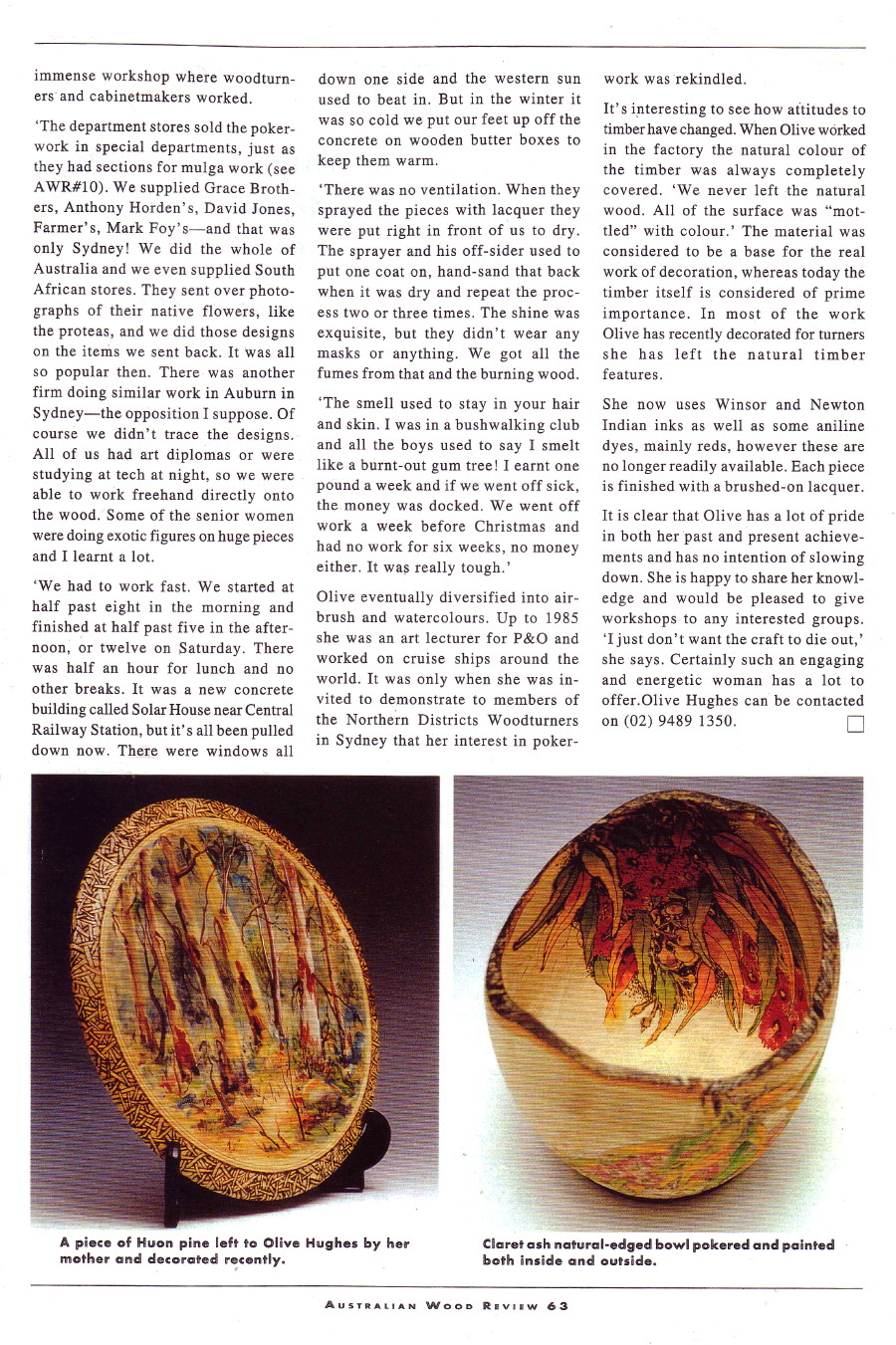 REKINDLING AN ART
By Terry Martin, 1998

&copy 1999, Australian Wood Review Magazine, Issue no. 23, June 1999, pp. 62–63.
Reprinted in the E-Museum of Pyrographic Art with permission of the Australian Wood Review Magazine,
available in Australia, The United States, and Canada.
---
From a December 1998 interview, renowned woodturner, sculptor, photographer, and writer
Terry Martin recounts for us in his article displayed above the remarkable story of Australian Olive Hughes.
He highlights seven of her works, and shares with us the lovely photographic portrait he took that day of the vibrant octogenarian artist.

Terry Martin's article, published in 1999 in the Australian Wood Review magazine and reprinted here with their kind permission, documents a unique period in the history of pyrographic art, when across many countries in the world, starting in the decade before the turn of the century, there was lively demand for works in the technique of pyrography.

He narrates a most interesting story and offers long quotations from Olive Hughes telling of how first her mother, then she, both learned to work in pyrography and relied on that knowledge to later survive during the challenging times of the Great Depression.

In conjunction with this E-Museum exhibit of Terry Martin's article, in November 2000, still another article on Olive Hughes was published in "Pyrograffiti" in a segment entitled Olive Hughes—Still Making History! with additional illustrations of Olive Hughes's extraordinary work and biographical notes including those periods of her life after she left her career in pyrography and up until she was rediscovered as a pyrographic artist and working in collaboration with the community of artists of the Hornsby Wood Turners Guild.

NEWSFLASH! 2010: Another Landmark for Nonagenarian Olive Hughes and for the Technique of Pyrography:

In 2008, Sydney's Powerhouse Museum acquired a collection of works donated by Olive Hughes herself. The works displayed there are not only by Olive Hughes but also by her mother, artist Louise Tufnell, and a friend and co-worker Marie Forester who worked alongside them at Heilman & Co., Sydney's pyrography factory of that time. There is also one work by Olive's brother Roland Tufnell, an electrical engineer who did a pyrography work "during a holiday" in 1932. Examples of their works are illustrated on the museum's web site, where there is also an historic account for each of them (embedded in the main story) at their respective links here.

Once at the Powerhouse Museum web site, you can be assured of seeing their entire pyrography collection by keying in "Poker Work" in their site's search engine. Olive Hughes can be contacted through her family at the link here.
---
You are leaving the Olive Hughes Salon
You can return to the:
or continue on your tour to one of the following
Pyrographic Art Exhibit Halls:
---
---
---
Your questions and comments are welcome and appreciated. Please e-mail the E-Museum Curator.
Back to E-Museum Entrance homepage
---
&copy 2000, 2010 Kathleen M. Garvey Menéndez, all rights reserved.
Last updated 4 February 2010.

---