E-Museum of Pyrographic Art
Sculpture Hall


Welcome!
to the Marcia Sandmeyer Wilson Salon
---
---
---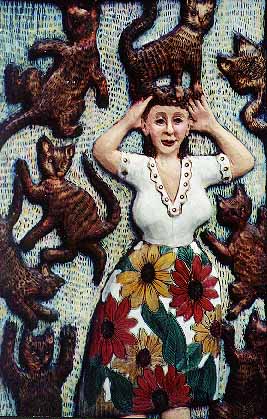 Woman With Cats
by Marcia Sandmeyer Wilson

Pyroengraved and Painted Wood Relief Carving

Photograph by the artist
---
For more about this artist's pyrographic art work on wood relief and in-the-round sculptures as well as etchings, visit Marcia Wilson's website, or e-mail Marcia directly.

In the Woodcarvers Online Magazine is a fully illustrated article, Pyrography With Relief Sculpture, about this artist's colorful work in pyrography on wood relief carvings and sculptures.
---
You are leaving the
Marcia Sandmeyer Wilson Salon.
You can return to the
or visit one of the following:
Pyrographic Art Exhibit Halls:
---
---
---
---
Your questions and comments are welcome and appreciated.
Please e-mail the E-Museum Curator
Back to E-Museum Entrance homepage
---
&copy 1998, 2001, 2007, 2009, 2010 Kathleen M. Garvey Menéndez,
all rights reserved. Last updated 10 February 2010.

---