E-Museum of Pyrographic Art
Antique Art Hall


Welcome!
to the Salon of Margaret Fernie Eaton
And the 1902 Art Interchange Article
"The Art of Pyrography"

---
---
---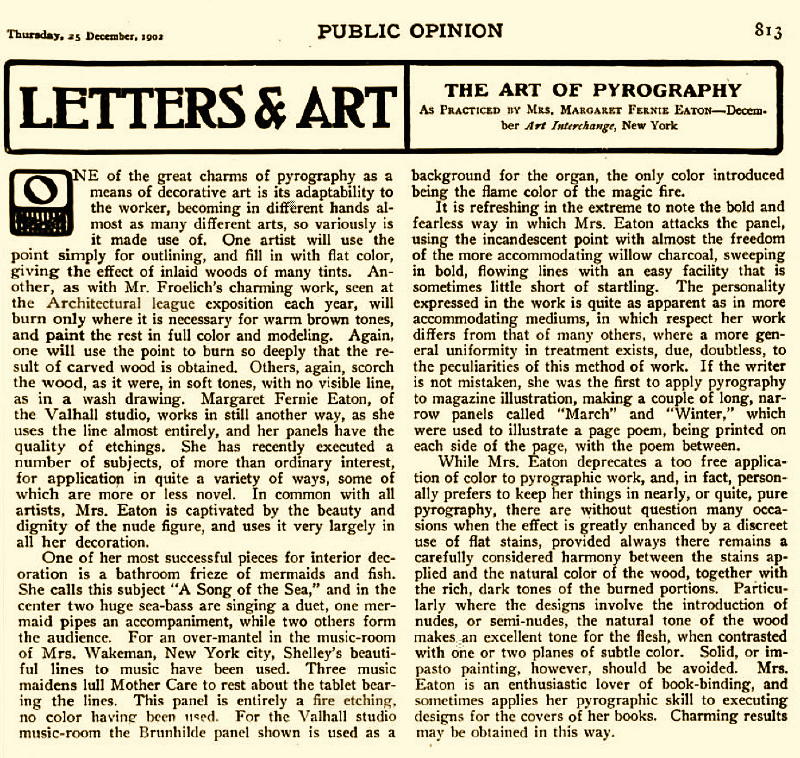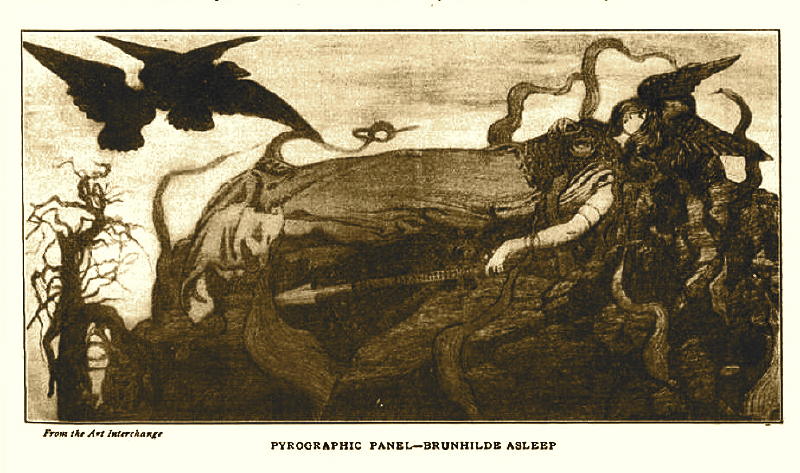 THE ART OF PYROGRAPHY
As Practiced by Mrs. Margaret Fernie Eaton

Adapted from the black-and-white article reprinted on p. 813 in Public Opinion 1902
from the December issue of Art Interchange.

At the link here is the basic story of Brunhilde Asleep—a type of "Sleeping Beauty" tale from Norse mythology.
---
Pyrographic multimedia artist Margaret Fernie Eaton (born 1871 in Lemington, England) worked as a freelance artist first and had established her professional reputation as Margaret Fernie. Later, along with her husband Hugh Eaton, whom she married in 1896, shared a studio called Valhall at 339 Halsey Street in Brooklyn, New York.

It is not known at this time how much pyrography Margaret Eaton did. It seems that the couple made their living primarily from the sale of bookplates and stationery items in their own business, and both were prolific illustrators. Many of their illustrations can be viewed on line, thanks to Google Books, in the pages of The American Magazine also known as Frank Leslie's Popular Monthly. The one linked here is a bound volume from 1901.

Salient in the excellent article here was the description of Margaret Eaton's enviable technique:

"It is refreshing in the extreme to note the bold and fearless way in which Mrs. Eaton attacks the panel, using the incandescent point ... sweeping in bold, flowing lines with an easy facility that is sometimes little short of startling."

The writer of the Art Interchange article displayed here mentioned the Architectural League's exhibitions and the work of an artist named Froehlich. Since no pyrographic artist named Froehlich has been discovered in their catalogues of those exhibitions, it is thought that perhaps it was J. Wm. Fosdick who was meant. If that is the case, then the technique described was his 20th C. technique, since his 19th C. technique was quite distinct.

It is also interesting that in those same Architectural League catalogues, Margaret Fernie Eaton was among the artists participating in their exhibitions; however, in no instance was any of her work noted as being pyrography; therefore, it is unknown whether she ever exhibited any of her pyrography there.

Along with Margaret Eaton's "Brunhilde Asleep" displayed here, a few other works were described in the article that were not illustrated, including works in bookbinding. Of note was the writer's tentative claim that Margaret Fernie Eaton "was the first to apply pyrography to magazine illustration." Again, thanks to Google Books, the two works described as those unique illustrations—"March" and "Winter"—are now on exhibit here in the E-Museum. Research is underway in the hope of finding images of her other pyrographic works cited.



---


If you have either any questions to ask or any information to offer regarding this article, this or any pyrography works by Margaret Fernie Eaton, please e-mail the E-Museum Curator.
---
You are leaving the Salon of the 1902 Article
on Margaret Fernie Eaton
You can return to the:
or continue on your tour to one of the following
Pyrographic Art Exhibit Halls:
---
---
---
Your questions and comments are welcome and appreciated. Please e-mail the E-Museum Curator.
Back to E-Museum Entrance homepage
---
&copy 2009, 2010 Kathleen M. Garvey Menéndez, all rights reserved.
Last updated 25 January 2010.

---