E-Museum of Pyrographic Art
Halls of Decorative and Applied Art, Traditional and Folk Art, and Sculpture
Welcome! to the
Burnt Offerings Studio Salon
Opie and Linda O'Brien
---
---
---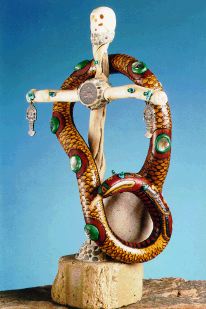 Eden Lost

by Burnt Offerings Studio, Opie and Linda O'Brien

Pyroengraving on gourd, mixed media sculpture
enhanced with abalone, turquoise, malacite, bone, silver, Mexican coin, wood, and stone

Photograph by Studio Rossi
---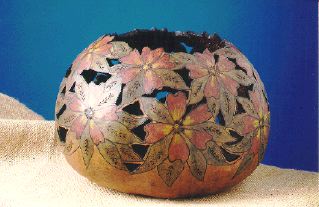 Wildflowers

by Burnt Offerings Studio, Opie and Linda O'Brien

Pyroengraving on carved gourd, enhanced with color stain

Photograph by Studio Rossi
---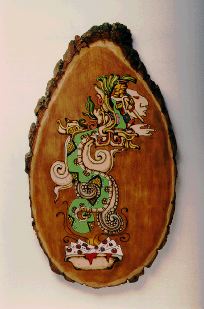 Vision Serpent

by Burnt Offerings Studio, Opie and Linda O'Brien

Pyroengraving on wood plaque, depicting ancient Mayan priest
enhanced with color

Photograph by Studio Rossi
---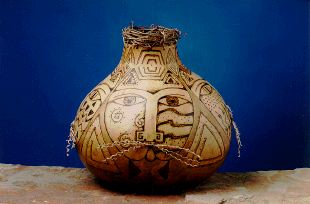 Artifact Cats

by Burnt Offerings Studio, Opie and Linda O'Brien

Pyroengraving on gourd
enhanced with sea-grass, grapevine

Photograph by Studio Rossi
---
For more information, visit Burnt Offerings studio where award-winning contemporary gourd artists Opie and Linda O'Brien make art, poetry, and music with pyrographic and mixed-media interpretations of primitive and ceremonial art and music. They see gourds as "Nature's pottery, ...one of the first cultivated plants throughout the world since prehistoric times. Gourds play a significant role in the origin myths of every culture..." The Burnt Offerings work includes pyroengraved gourd musical instruments as sculpture; Reiki, Runic, and Chakra vessels filled with gemstones and healing herbs; spirit pots, jewelry, and more. Linda and Opie enhance their pyroengraved decoration with a wide variety of organic materials (some of which are shown in the examples displayed here).

There is a fully illustrated article written for the WWWoodc@rver E-Zine about Opie's and Linda's work in pyroengraved musical instruments.
---
You are leaving the Burnt Offerings Studio Salon.
You can return to the
or visit one of the following:
Pyrographic Art Exhibit Halls:
---
---
---
---
Your questions and comments are welcome and appreciated.
Please e-mail the E-Museum Curator
Back to E-Museum Entrance homepage
---
&copy 1998, 1999, 2007, 2009, 2010 Kathleen M. Garvey Menéndez, all rights reserved.
Last updated 6 February 2010.

---