to the Keith Seitz Salon
---
---
---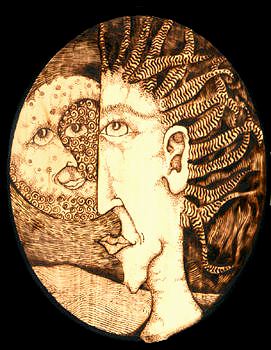 Moonshines
by Keith Seitz

Pyrography on wood panel

Image courtesy of the artist
---

Silence
by Keith Seitz

Pyrography on basswood panel

Image courtesy of the artist
---

G-Man
by Keith Seitz

Pyrography on basswood panel

Image courtesy of the artist
---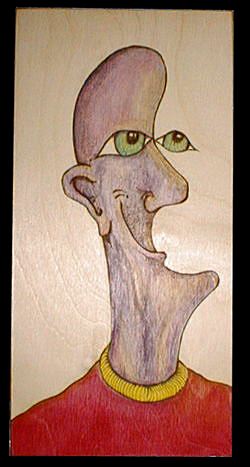 I Got a Secret
by Keith Seitz

Pyrography and dye on basswood panel

Image courtesy of the artist
---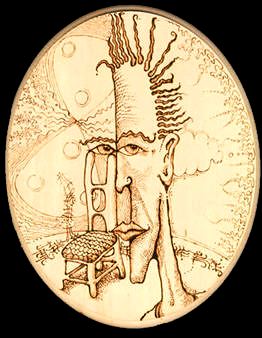 Space
by Keith Seitz

Pyrography on wood panel

Image courtesy of the artist
---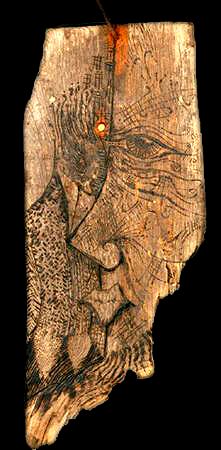 Birdman
by Keith Seitz

Pyrography and color on driftwood

Image courtesy of the artist
---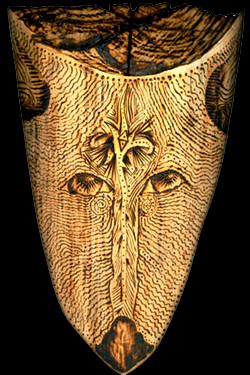 Wolf
by Keith Seitz

Pyrography on Pine

Image courtesy of the artist
---
American media specialist Keith Seitz regularly exhibits his pyrographic works. Pyrography is an art form he has explored precisely because of the contrast this medium offers outside of his job with respect to the virtual ones he works with in his profession as manager of media services in computer graphics and web design.

Keith Seitz has his own most enjoyable website showing his many talents at www.keithseitz.com.

More examples of Keith's pyrographic art work were featured in the September–October 1999 Pyrograffiti column of the Woodcarvers Online Magazine (WOM).
---
You are leaving the Keith Seitz Salon.
You can return to the
or visit one of the following:
Pyrographic Art Exhibit Halls:
---
---
---
---
Your questions and comments are welcome and appreciated.
Please e-mail the E-Museum Curator
Back to E-Museum Entrance homepage
---
&copy 2002, 2010 Kathleen M. Garvey Menéndez, all rights reserved.
Last updated 9 March 2010.

---