E-Museum of Pyrographic Art
Antique Art Hall


Welcome!
to the Exhibit of

J. William Fosdick's
1910 article

"A Short Treatise Upon the Art of Fire-Etching"
---
---
---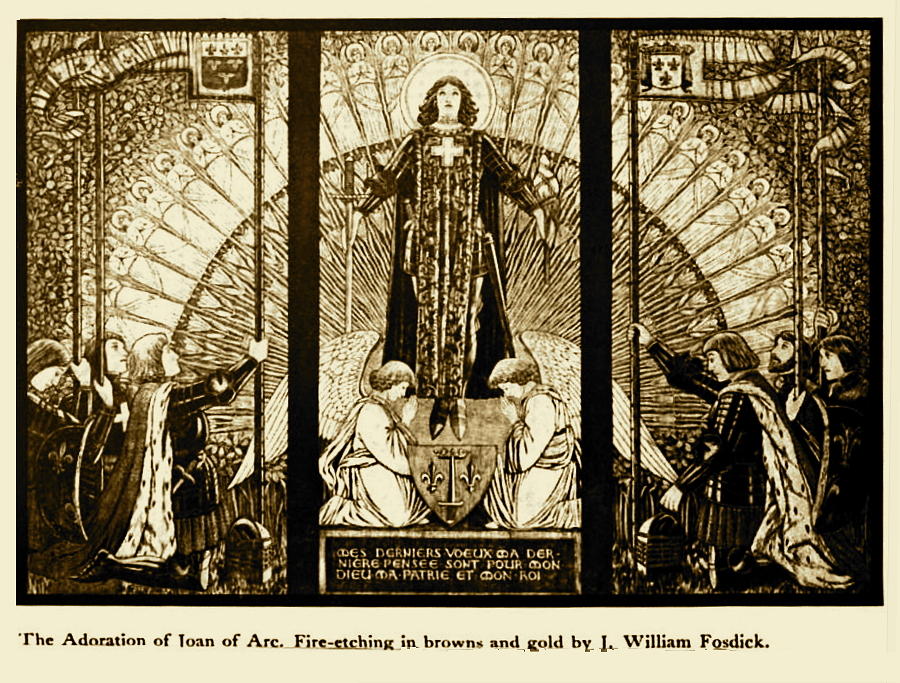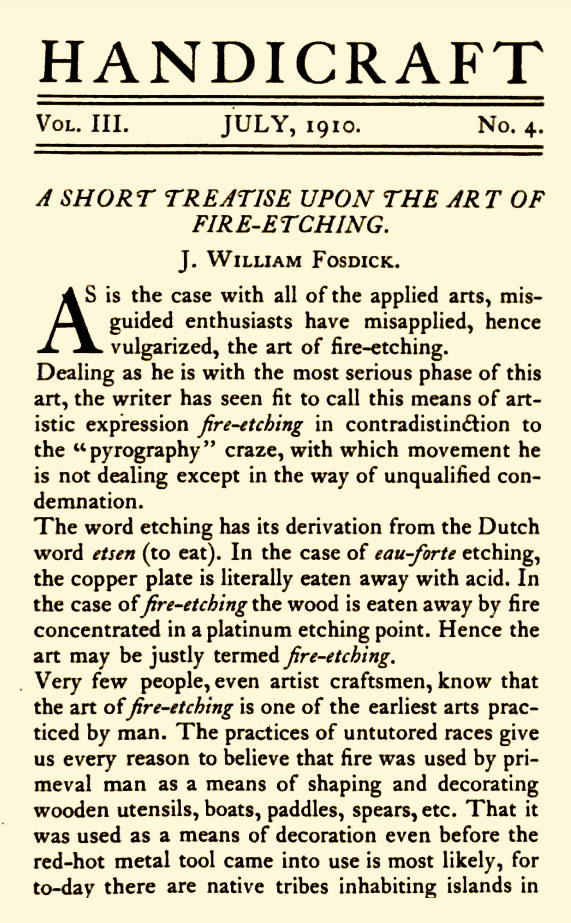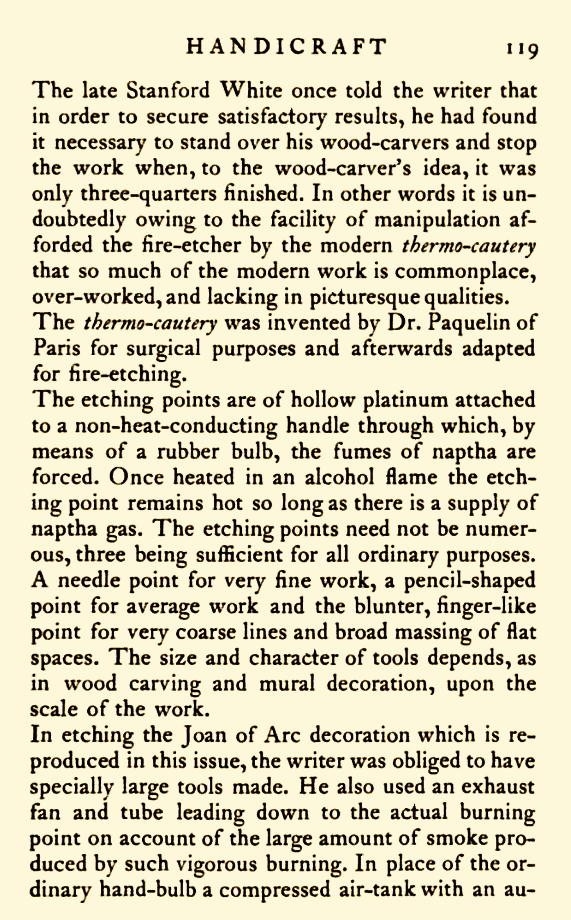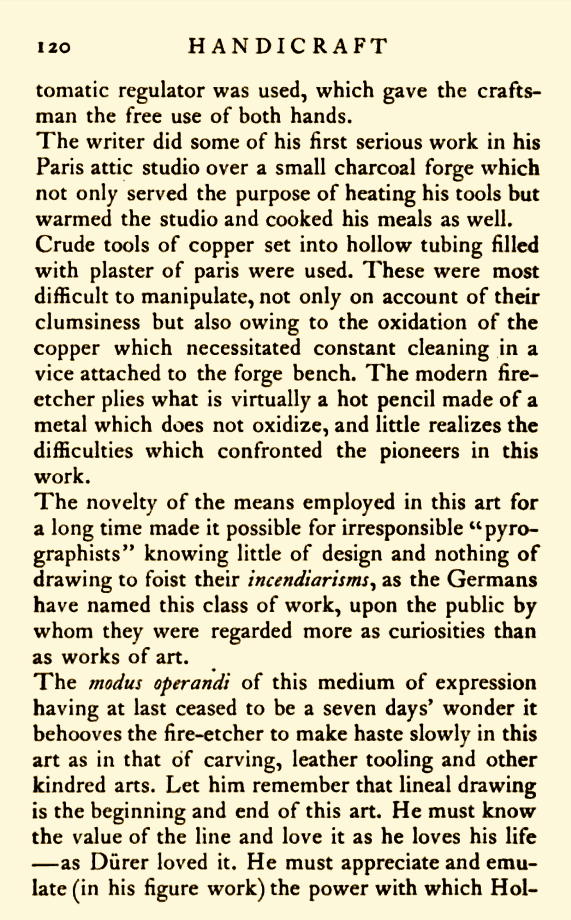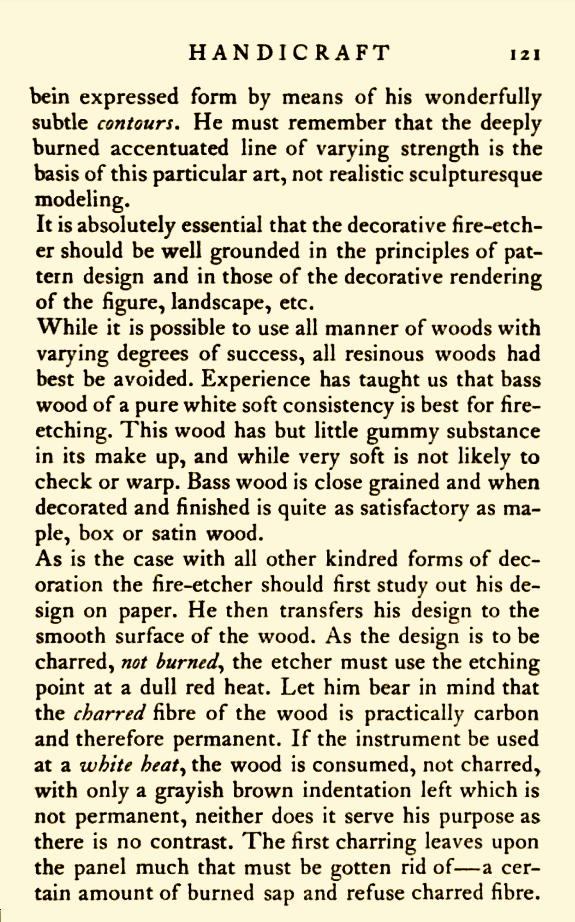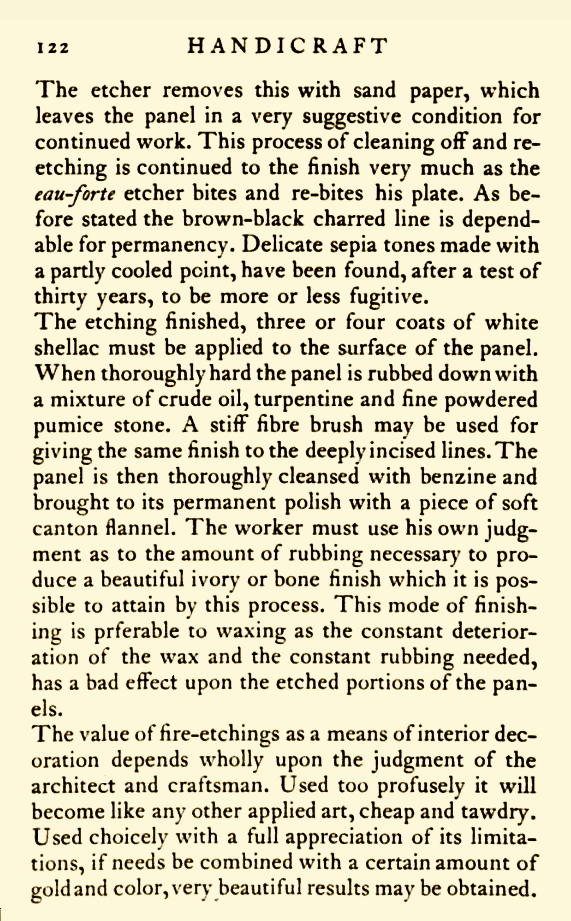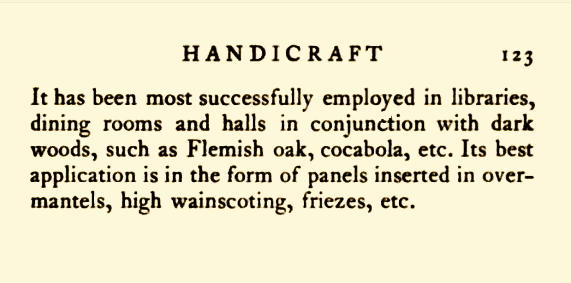 A Short Treatise Upon the Art of Fire-Etching
by J. William Fosdick, 1910

Adapted from Handicraft Magazine, July 1910, Vol. III, No. 4, pp. 116–123.
---
Despite there being only one picture in this 1910 article by J. William Fosdick, it is of great value for anyone wishing to understand and even learn enough to experiment in his interesting pyrographic technique.

As in most of his articles, J. W. Fosdick makes it quite clear where he stands in regard to the amateur pyrography enthusiasts of his day. From the beginning, he distanced himself from them most emphatically, even using distinct terminology for his own work so as not to be associated with them in any way.

Update, April 2012: It is interesting to see this article from 1910 still disparaging amateurs, when in 1904 Fosdick allowed Montague Marks, the editor of Art Amateur magazine, to publish a Fosdick design and narrative for the pyrography chapter in his book The Cyclopaedia of Home Arts.

In this particular article, Fosdick offers an excellent description of the technique he used to create his "Joan of Arc" masterpiece, which now resides in the Smithsonian's American Art Museum in Washington, D.C. One more technical aspect that was noted for that work in his 1896 Ladies Home Journal article was that in places it was burned to a depth of half an inch.

The comment he noted about Stanford White he had made in another article but without mentioning his name. Stanford White was one of the three partners in the firm that gave him his first commission in 1884 for the house of the great financier Edward Dean Adams. That story is at the link here.



---


If you have either any questions to ask or any additional information to offer on this article and works by J. William Fosdick, please e-mail the E-Museum Curator.
---
You are leaving the exhibit of
J. William Fosdick's
1910 article "A Short Treatise Upon the Art of Fire-Etching"
You can return to the
or continue on your tour to one of the following:
---
Pyrographic Art Exhibit Halls:
---
---
---
Your questions and comments are welcome and appreciated. Please e-mail Curator.
Back to E-Museum Entrance homepage
&copy 2009 Kathleen M. Garvey Menéndez,
all rights reserved, 12 July 2009.
Updated 22 October 2009. Last updated 17 April 2012.

---