E-Museum of Pyrographic Art
Hall of Antique Pyrographic Art


Welcome!
to the Salon of
J. William Fosdick (1858–1937)
featured in Marie Jonreau's Article
"BURNT WOOD DECORATION"
in Puritan Magazine, 1900
---
---
---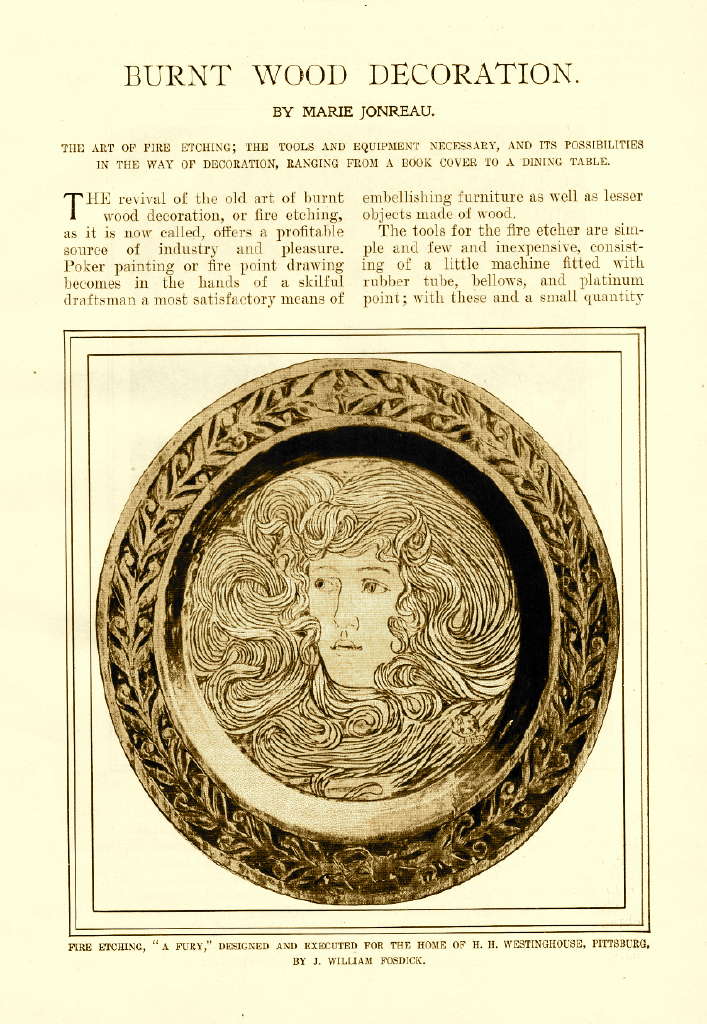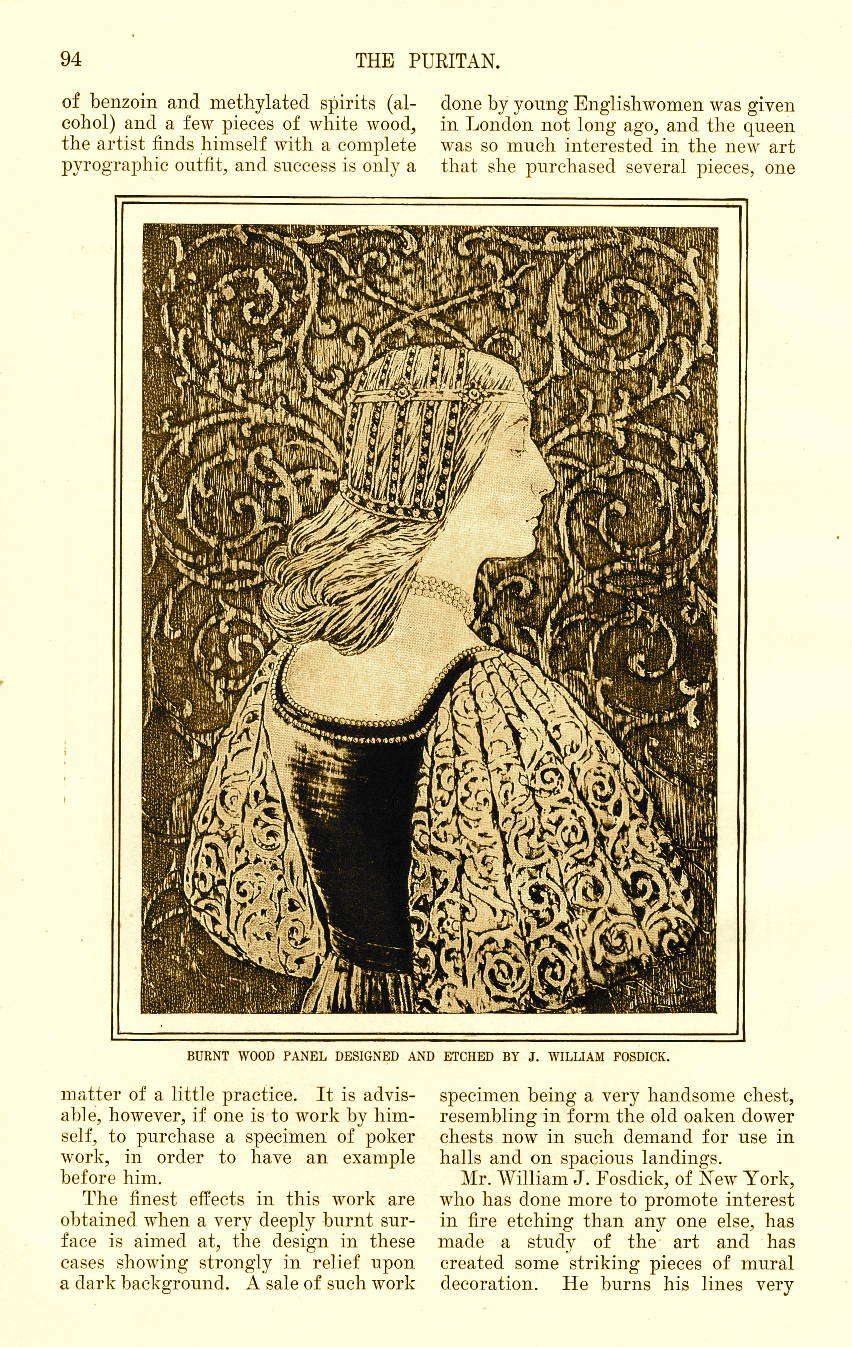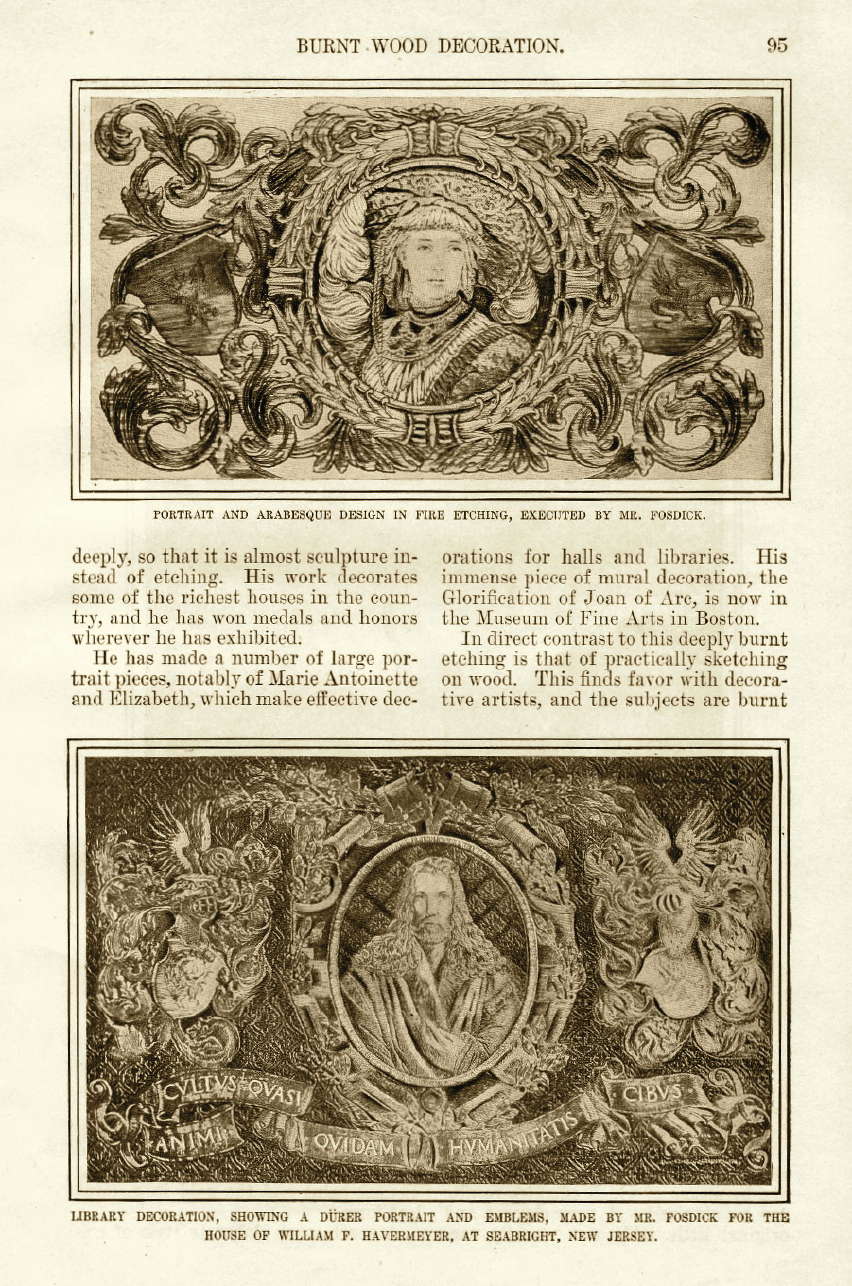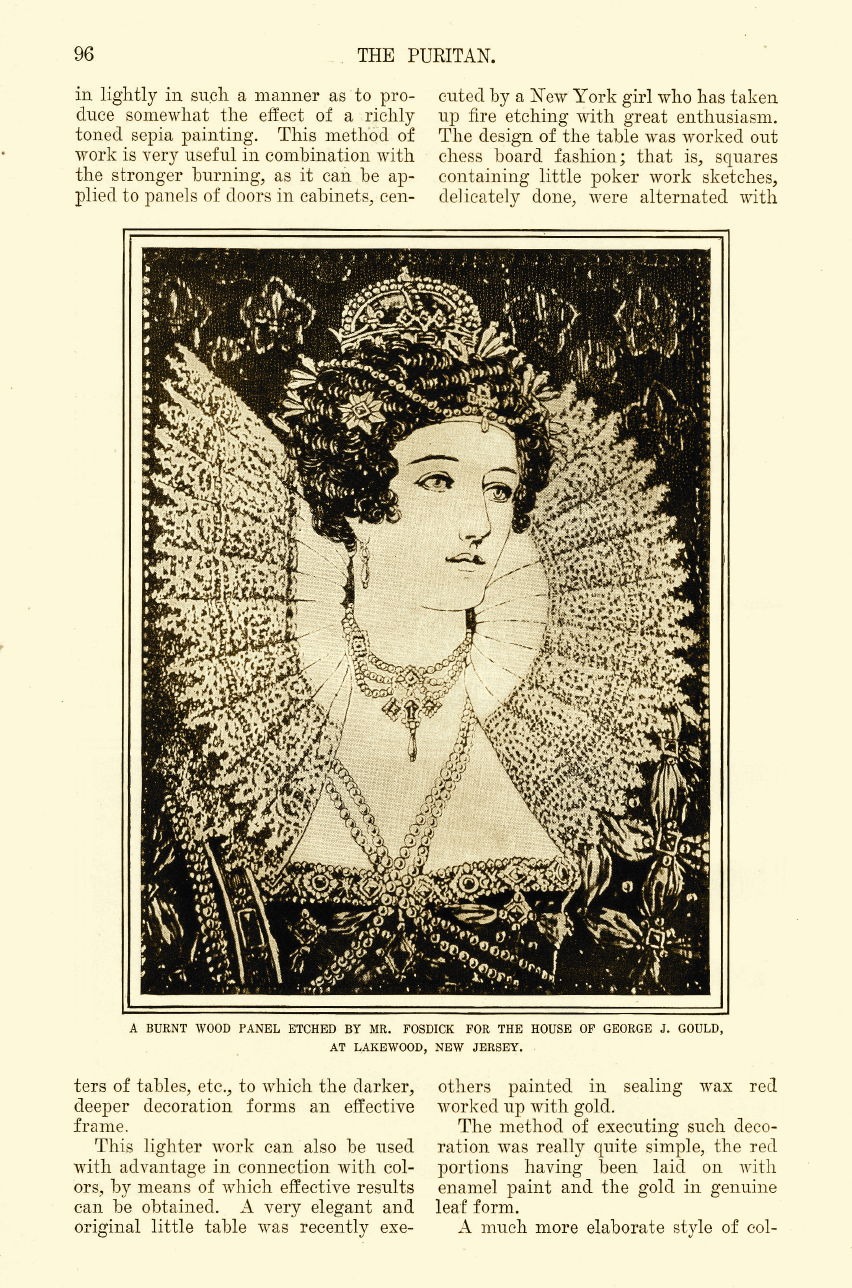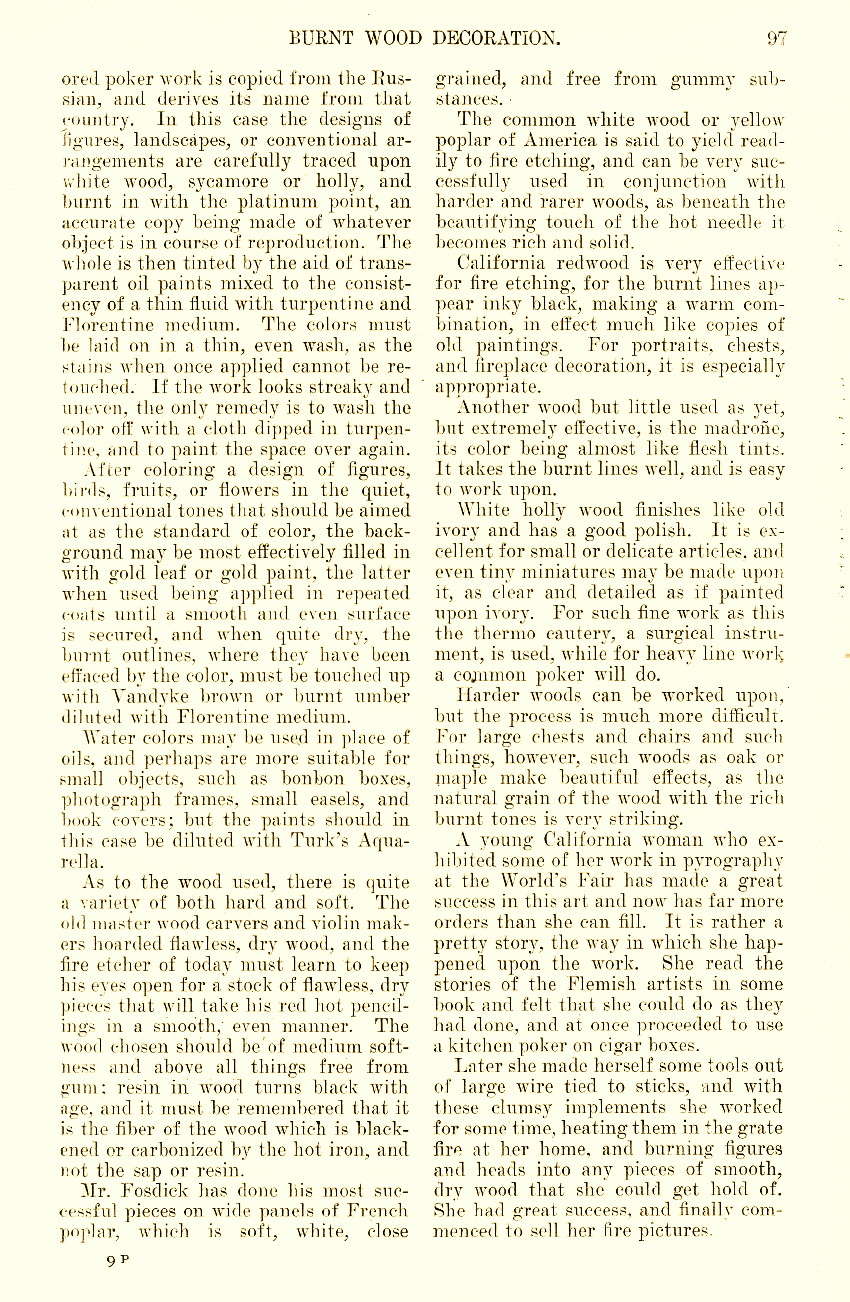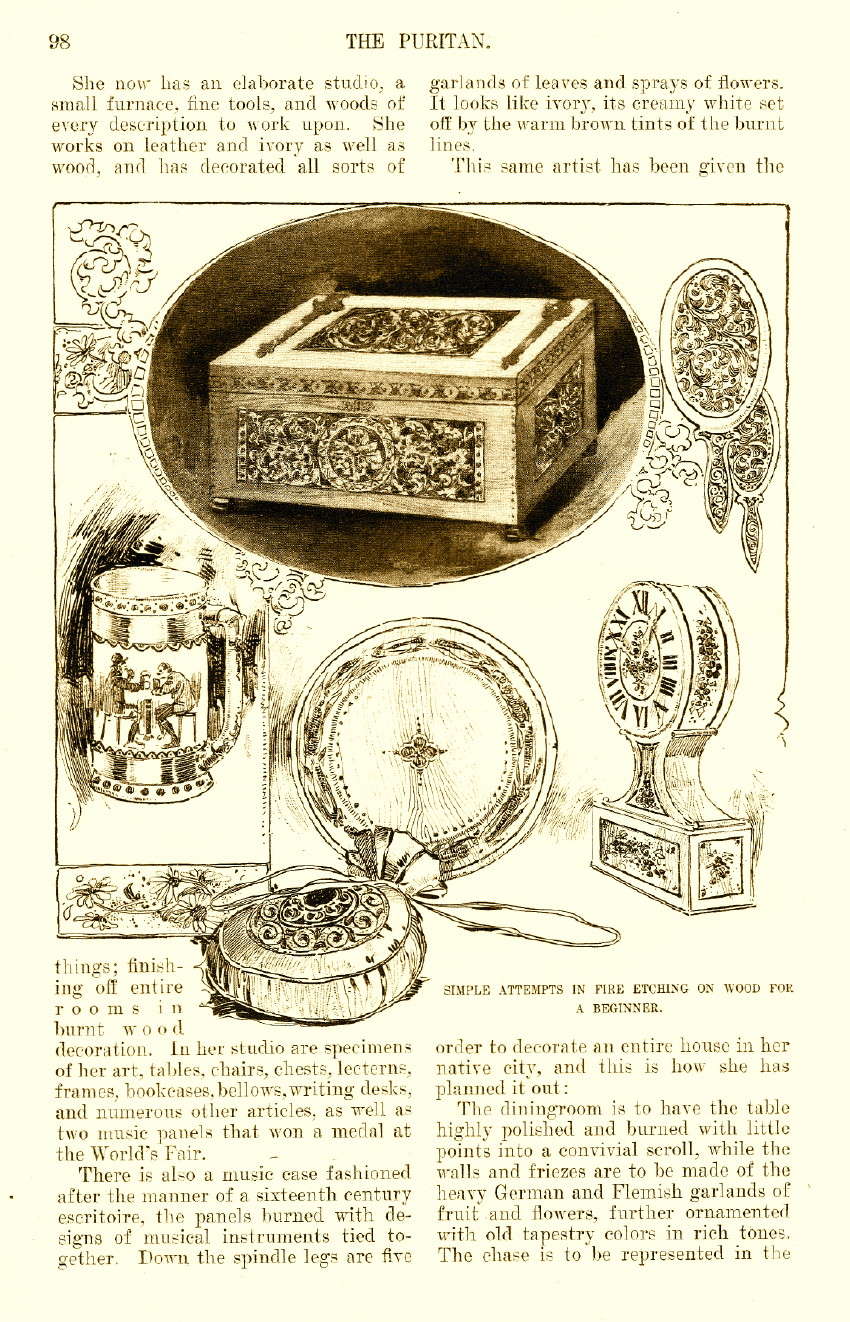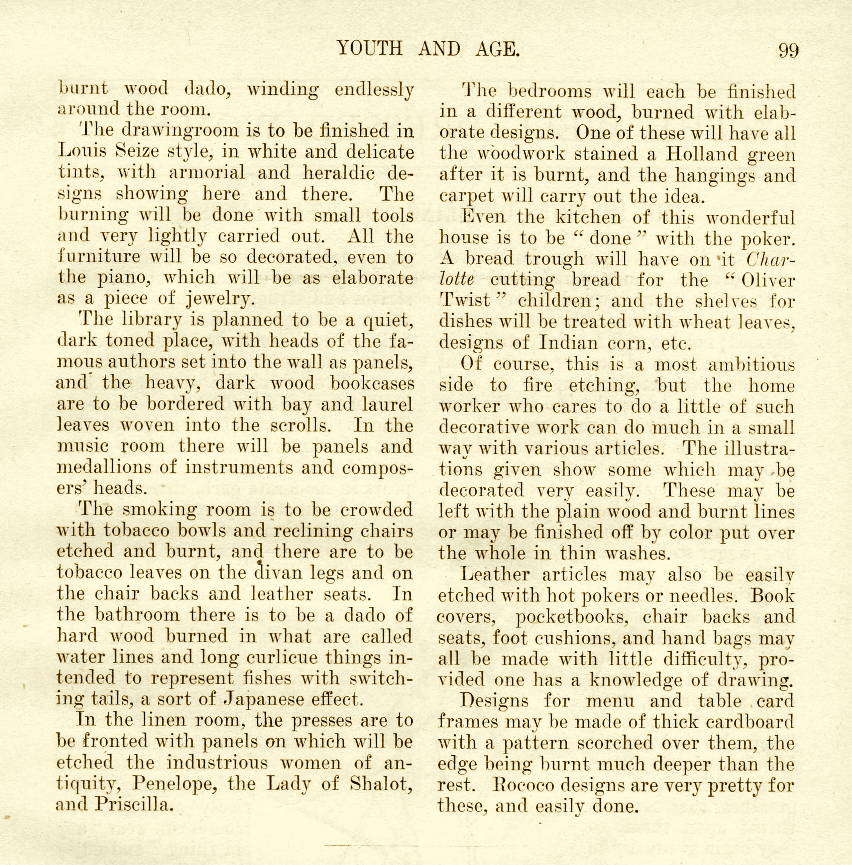 BURNT WOOD DECORATION.
by Marie Jonreau, 1900
featuring J. William Fosdick (1858–1937).

Adapted from a 1900 article in Puritan Magazine, pp. 93–99
---
In this article entitled "BURNT WOOD DECORATION," which was published in Puritan Magazine in one of their April to September 1900 issues, the author Marie Jonreau addresses various aspects of pyrography. She discusses many examples of J. William Fosdick's technique and displays some of his works in order to exemplify decorative and architectural art appropriate for this art form.

It is worthy of note that the writer Marie Jonreau mentions three other stories of pyrographic work in this article in addition to J. William Fosdick's with the blatant omission of the artists' names and any examples of their work. In one case she mentions a group exhibition "of young Englishwomen," and even notes that the Queen attended and describes her purchase of a chest, yet with no mention of even the artist who created that art work. In a second story she describes in detail a "...very elegant and original little table...executed by a New York girl," and in a third, she talks about the success through perseverance of "a young California woman who exhibited...pyrography...at the World's Fair." She offers a page (p. 98) with illustrations that are ideas for the beginner to try, meanwhile in the accompanying text describing at length all the features of the anonymous young California woman's latest project—a commission to decorate an ENTIRE HOUSE in burnt work in her nameless "native city." If it was any consolation to those whose names were omitted, perhaps it would be that the author managed to get J. William Fosdick's name wrong, too; she introduced him as William J. Fosdick.

Of particular value in this article was information offered that led to the successful identification of twelve panels by Fosdick located at Georgian Court University in Lakewood, New Jersey.

According to Prof. Quentin Skrabec, the caption of the first image "A Fury," which lists the owner as H. H. Westinghouse, refers to Henry Herman Westinghouse, who was the brother of George Westinghouse. The former lived in Pittsburgh and managed companies for his brother George and handled his estate after his death.



---



The E-Museum would like to acknowledge Quentin R. Skrabec, Jr., PhD, who is Associate Professor of Business at Findlay University in Ohio, and an authority on the history of the Westinghouse Family. Dr. Skrabec has written a book on the subject entitled George Westinghouse: Gentle Genius and been guest speaker on this topic at the Squirrel Hill Historical Society, who relayed the information on Henry Herman Westinghouse to the E-Museum and to whom the E-Museum is likewise grateful.



---


If you have either any questions to ask or any information to offer regarding this article and the works displayed in it, please e-mail the E-Museum Curator.
---
You are leaving the Salon of
J. William Fosdick's 1900 article
by Marie Jonreau entitled
Burnt Wood Decoration
You can return to the

Antique Art Hall
or continue on your tour to one of the following:
---
Pyrographic Art Exhibit Halls:
---
---
---
Your questions and comments are welcome and appreciated. Please e-mail E-Museum Curator.
Back to E-Museum Entrance homepage
---
&copy 2008, 2009 Kathleen M. Garvey Menéndez, all rights reserved.
Last updated 23 October 2009.

---