E-Museum of Pyrographic Art
Portraits and Paintings Hall


Welcome!
to the Jo Schwartz
Salon
---
---
---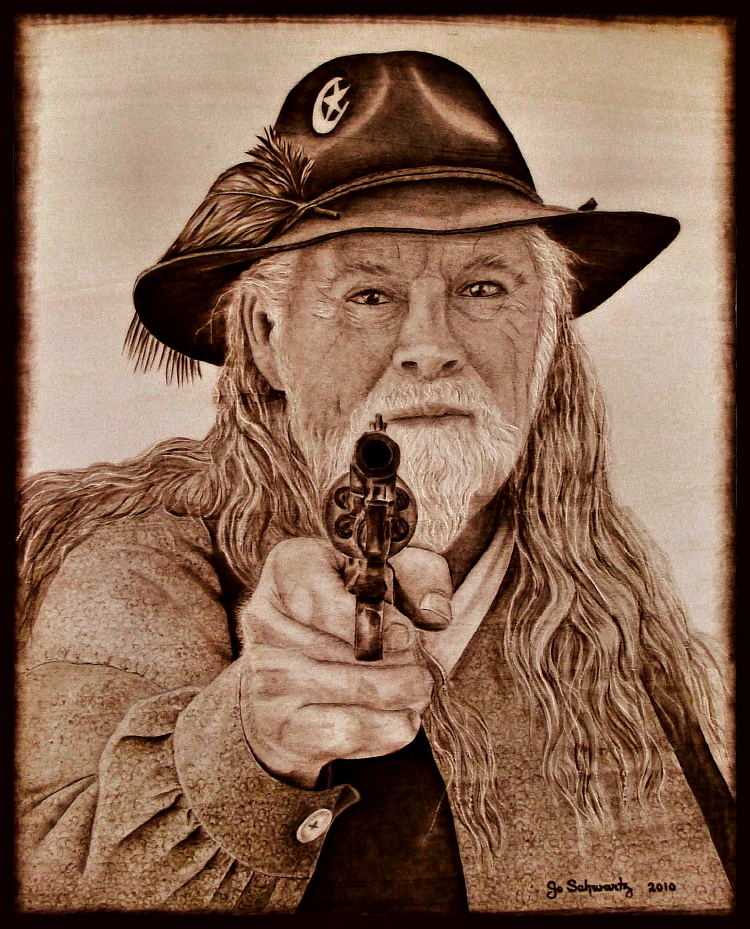 Hold It Right There
by Jo Schwartz, 2010

Pyrography on Basswood panel, 12 in. by 12 in.

Image courtesy of the artist
---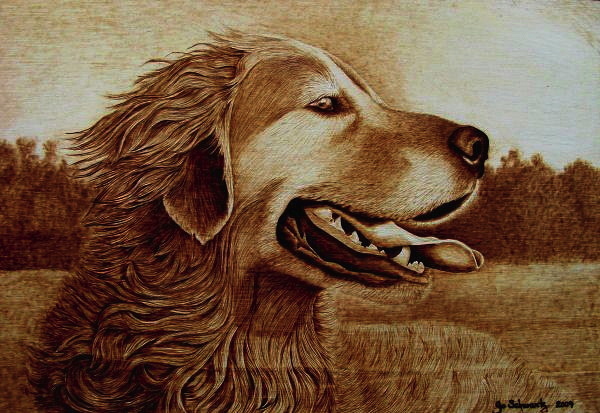 Happiness
by Jo Schwartz, 2009

This panel of the dog is one of Jo's earliest burns. The piece was a "demonstration" burn, which allowed onlookers to kneel beside, stand over, and otherwise get very close to watch the image grow from a scrap piece of wood.

Pyrography on Birch plywood panel, 11 in. by 9 in.

Image courtesy of the artist
---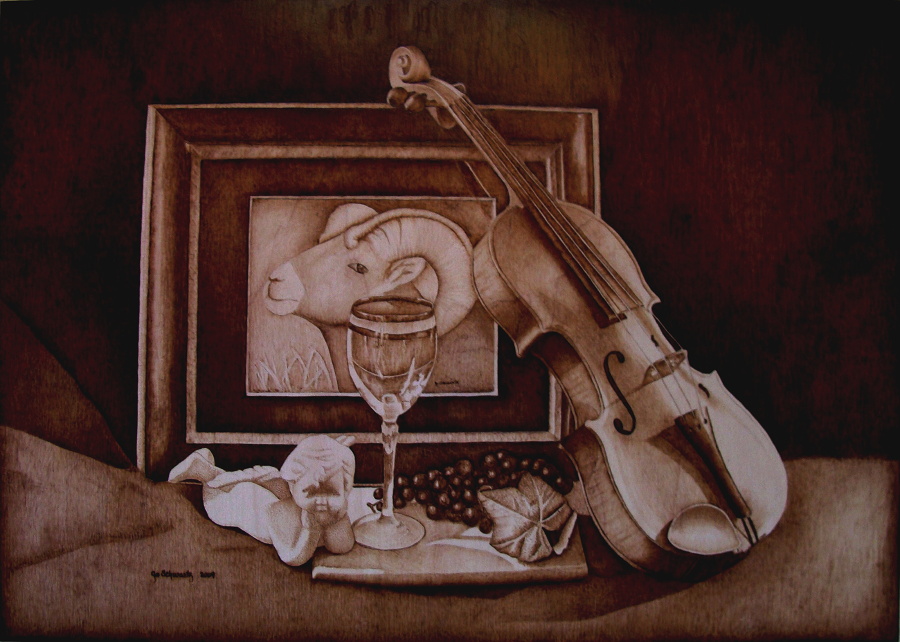 Treasures, a still life
by Jo Schwartz, 2009

After burning and framing the picture of the Ram's head, Jo started arranging other "treasured" items around it to create the still life that was her next piece. The violin was hand carried in a wooden case—on a ship from Prussia to the United States by her Step-Great-Grandfather. The gold-rimmed wine glass was a gift from her mother, and the angel, a gift from her daughters.

Pyrography on Maple wood panel, 24 in. by 16 in.

Image courtesy of the artist
---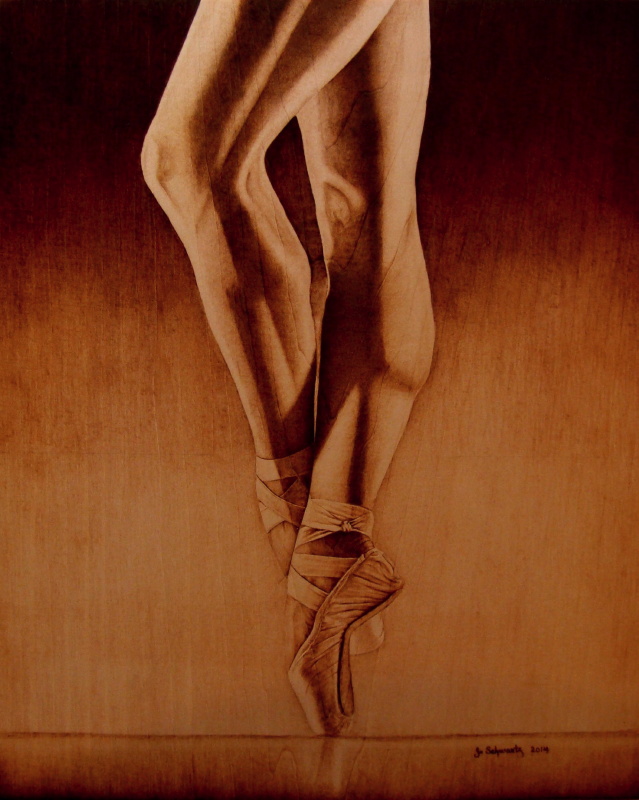 The Pointe
by Jo Schwartz, 2014

The piece took two-and-a-half weeks to complete by slowly layering the shading.

Pyrography on Basswood panel, 14 in. by 12 in.

After an original photograph by Richard Calmes

Image courtesy of the artist
---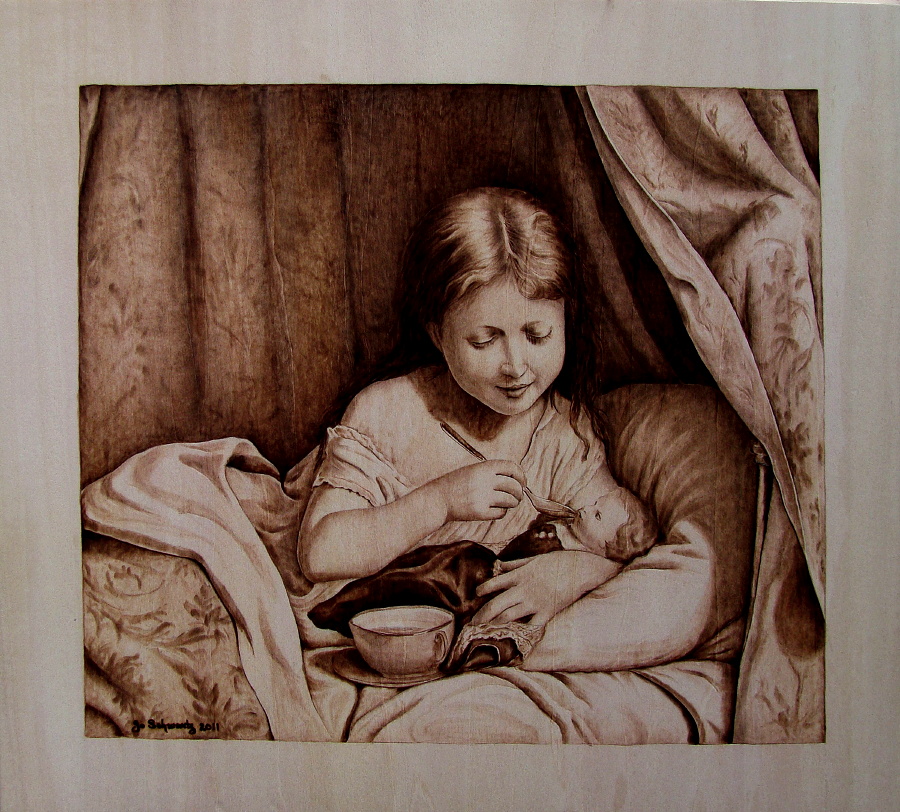 Little Girl Feeding Her Doll
by Jo Schwartz, 2011

Pyrography on Basswood panel, 12 in. by 12 in.

After a painting by Fritz Zuber-Buhler (1822–1896)

Image courtesy of the artist
---
American artist Jo Schwartz from Abilene, Kansas, has been doing pyrographic art since 2005.

While the iconic photo here showing her at work on her burning might make her look a bit serious, she is known to have quite a cute sense of humor when she is teaching or demonstrating. You may see a few examples as you read this commentary, as well.
In fact, there are many interesting and charming subtleties to Jo Schwartz that became apparent during our interview. She also has one very special claim to fame over and above her obvious talent and dedication to this art form:

Jo Schwartz holds the title of being
The First Person to Teach Pyrography at McMurdo Station in Antartica!

Jo called her experience in Antartica "the most interesting and exhilarating timespan in her life." This statement is something none of us could doubt. Until I interview an artist who claims to be The First Person to Teach Pyrography in Outer Space, I am convinced Jo's Antartica experience would be quite a challenge to top.

Readers will be happy to know that not only does Jo have a great web site—www.joschwartz.net—where she shows her pyroart works, the site also features a whole section devoted to her stay in Antartica complete with a blog and pictures.

Abilene, Kansas, where Jo lives, has a past history of being a cowboy, gun slinging town of the Old West. Jo rarely misses an opportunity to photograph some of the characters there to use in her future pyro works. The first image in this exhibit is a very powerful and superb example of her interpretations.

And if you are ever in Abilene....
Jo says that, after burning and then storing her fine art pieces in a closet for some years, friends and family encouraged her to get out and sell. So in 2012, she opened her own art gallery—Burning Tree Art—located in Old Abilene Town, the historic section of town.

A photograph by Richard Calmes was the inspiration for Jo's ballet panel—"The Pointe"— He was surprised, Jo remembers, when she e-mailed him to see if she could "burn his legs." He had never heard of pyrography, so was pleased to share. (Rumor has it she has been known to tell customers it is a "selfie.")

Jo Schwartz says that pyrography has been her only artistic outlet. Although she will experiment with adding color to some burns, she prefers to keep the medium pure for the most part. In addition, as a conservationist, Jo still likes to recycle wood by "dumpster diving" through the remnants discarded by the local cabinet making shop to use for at least some of her pieces. What is more, since Jo is a self-taught artist, and continually looking to explore, learn, perfect her technique and her art, she pursues new challenges, such as when she "wondered how you burn realistic looking folds in clothing and curtains," and worked on the last exhibit above of the "Little Girl Feeding Her Doll" after the painting by Zuber-Buhler.

Increasingly, Jo is becoming nationally known by writing "how to" articles for PYROGRAPHY, the magazine. Her panel entitled "Morning Swim" was selected as the cover on Volume 3. Her first book Woodburning Realistic Portraits should be available by the fall of 2015, also through Fox Chapel Publishing.
---
You are leaving the Jo Schwartz Salon.
Back to E-Museum Entrance homepage
---
&copy 2015 Kathleen M. Garvey Menéndez, all rights reserved.
14 April to 7 May 2015.

---