JoAnnis Mohrman Salon
---
---
---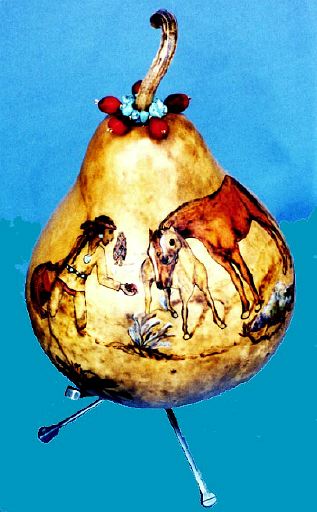 Sweet Camp
by JoAnnis Mohrman

Pyroengraving and oil washes on uncut gourd
Stem is embellished with turquoise and red pods.

Artist's original drawing
of a Navajo Indian offering sweet berries to two young horses,
his squaw in background.
---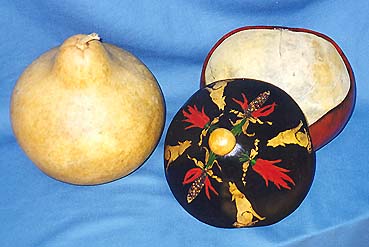 Gourd Bread Warmer
by JoAnnis Mohrman

Artist's original pyroengraved design of coyotes, chili peppers, and Indian corn color enhanced with leather dyes. Shown next to the bread warmer is a similar gourd before decoration
---
Left: Gourd in Planter Stand; Right: Big Horn Ram
by JoAnnis Mohrman

Artist's original pyroengraving on gourds

The Big Horn Ram is pyroengraved and embellished with natural white Mouton and urchin spikes.
---
Looking for Lost Souls, four views
by JoAnnis Mohrman

Original pyroengraved design with oil washes

Four views are to show story, which is that there are many kinds of lost souls, illegal immigrants as well as lost cattle.
Two critters, the coyote and the rattlesnake,
are responsible for creating lost souls and are part of the story. Padres and cowboys are very good at looking for lost souls.
---
One Last Cast, two views
by JoAnnis Mohrman

Pyroengraving with leather dyes and acrylics on gourd
Embellished with rope and a bass lure

Original pyroengraved design on a gourd vase
of a fisherman at sunset out to try and snag
that elusive bass just one more time.
---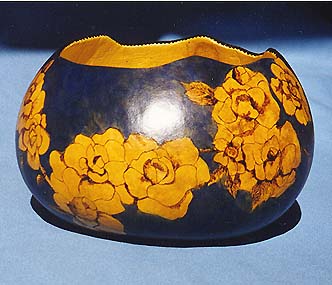 Gourd Bowl for Chips or Crackers
by JoAnnis Mohrman

Original pyroengraved design of roses against a background enhanced with indigo leather dye.
---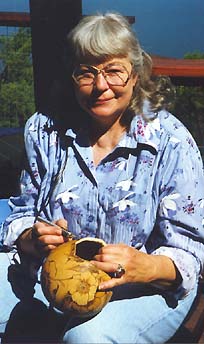 JoAnnis At Work

JoAnnis Mohrman shown pyroengraving her original floral design on one of her gourd decorative art works.
---
Originally from Texas, the artist began painting fine art in New England and sought further enrichment by living abroad in Greece and India where she studied watercolor and batik. After moving to California, she studied silk painting and won many first place awards as well as Best of Show at the 1991 Sonoma/Marin Fair in California. She began doing pyrography on gourds in 1996.



"I love to combine pyrography with functionality. Gourds have been in use throughout the world from prehistoric times to the present. This wonder of nature, mottling as it ages and dries after harvesting, provides the only surface I have ever worked on that told me what to paint. The gourds speak to me as clouds do for sky watchers. My offerings are lilies for the soul, lasting luxuries."
—J. Mohrman
JoAnnis is a past member of the International Association of Pyrographic Artists (IAPA), the National Society of Decorative Painters, and three gourd groups: The American Gourd Society, The Calabash Club of Silicon Valley, and Z-Gourdminers of Folsom.

At the end of 2008, she moved from Green Valley to Tucson, Arizona. Her latest address there is: 9416 N. Desert Mist Lane, Tucson, AZ 85743-5153. You can e-mail JoAnnis at mohrmanjay@comcast.net.
---
You are leaving the
JoAnnis Mohrman Salon.
Pyrographic Art Exhibit Halls:
---
---
---
---
Your questions and comments are welcome and appreciated.
Please e-mail the E-Museum Curator
Back to E-Museum Entrance homepage
---
&copy 1997, 1998, 1999, 2000, 2002, 2004, 2008, 2009, 2010, 2014
Kathleen M. Garvey Menéndez. Updated 2 January 2010. Last updated 4th of July 2014.

---