to the Jim Hicks Salon
---
---
---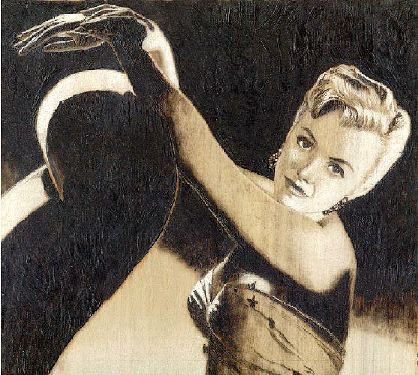 Doris
by Jim Hicks

Pyrography and chalk on wood panel

Image courtesy of the artist
---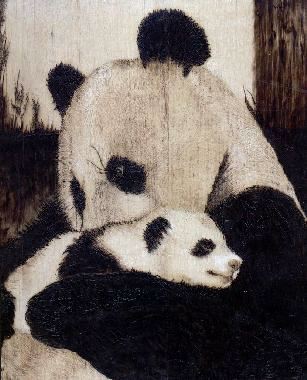 Pandas
by Jim Hicks

Pyrograph and chalk on wood panel

Image courtesy of the artist
---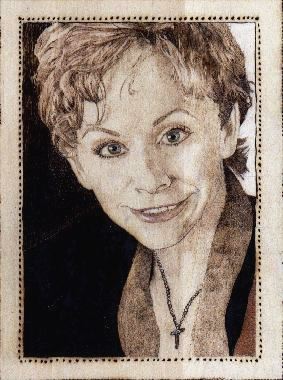 Reba
by Jim Hicks

Pyrograph on wood

Image courtesy of the artist
---
Self-taught American portraitist Jim Hicks has been drawing in other media for many years but discovered pyrography in 1996. His innovative use of chalk to enhance his pyrographic works produced the striking works shown here.

Jim has a webpage called Wood Art 211 for his pyro works and another for his drawings in other media (which you can find from the pyro page by removing the 'pyro' suffix from the webpage address when you're there).

Read about Jim Hicks in the Pyrograffiti 22 article illustrated with more of his excellent portraits of celebrities and animals in the March–April 2003 issue of the Woodcarvers Online Magazine.
---
You are leaving the Jim Hicks Salon.
You can return to the
or visit one of the following:
Pyrographic Art Exhibit Halls:
---
---
---
---
Your questions and comments are welcome and appreciated.
Please e-mail the E-Museum Curator
Back to E-Museum Entrance homepage
---
&copy 2003, 2009, 2010 Kathleen M. Garvey Menéndez,
all rights reserved. Last updated 26 February 2010.

---