E-Museum of Pyrographic Art

Traditional and Folk Art Hall


Welcome!
to the International Salon
---
---
---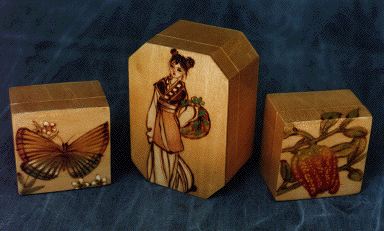 Grouping of three
little wood boxes
Made in China

Artist(s) unknown
Pyrography and color
---
Grouping of pyroengraved objects
from various countries
Artists unknown

Wooden machete with pyrography, from Honduras, Central America

Two birds, pyroengraved and stained with color, from the Caribbean

Ladles, pyroincised, from West Africa
---
Matryoshka

Artist unknown

Set of five Russian nesting dolls

Pyrography with color


Read about the history of the Russian nesting dolls (matryoshka) from the village of Polkholvsky Maidan. The nesting dolls shown, which are both pyroengraved and colored are much less frequently seen and are not typical of the brightly colored nesting dolls from Polkholvsky Maidan and from Semionovo that were painted but not woodburned.

See an example of some Russian pyrography from the early part of this century done on wooden toys, including an earlier version of the matryoshka, and other household objects in the Antique Hall here in the E-Museum.

The picture above is thanks to Michle Terletsky, St. Petersburg, Russia
---
Gourd from Peru,
South America,
pyrography
Artist unknown

Decoration includes incising,
pyrography including a
technique of charring
---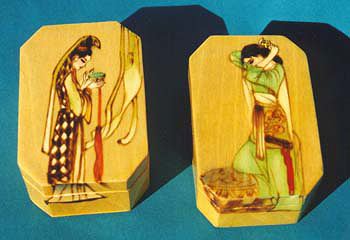 Two little wood boxes
Made in China

Artist(s) unknown
Pyrography and color
---
West African gourd
pyroincised
Artist(s) unknown

Inside view of large gourd
plus pyroincised ladle
West African gourds
Pyroincised
Artists unknown

Bowl and Ladles
Outside view

Pyroengraving
Large gourd also shows
pyrographic technique of charring
---
Cutting board
from Guatemala
Artist unknown

Pyrography texture decorating
one side
to hang on wall
---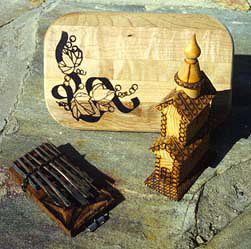 Grouping of three items:
Artist(s) unknown

L. to R.: Zambian finger harp
Extremely rustic, as an instrument and as a pyroengraving. The geometric pyroengraving is directly underneath the metal prongs.

Cutting board or trivet, probably American
Somewhat deeply pyroengraved design may be stamped on.

Russian church with pyroengraved stamped patterns decorating the roof and sides and "onion-domed" steeple.
Pyrography and color
---
Round covered box with lid
Pyrography
Probably from Poland
Artist unknown

Pyroengraved woodturned box
with brass inlay
and color enhancement
---
Decorative Tray
Pyrography

Origin unknown, probably American

Finely detailed, shaded, textured pyroengraved stamped image

---
To Timbuktu in Search of Pyrography is a fully illustrated article (published in the Woodcarvers Online Magazine, linked here) featuring pyrographic work on both wood and gourds as a traditional art form found on the southern side of the Sahara in the West African country of Mali.
---
You are leaving the
International Folk Art Salon.
You can return to the
or visit one of the following:
Pyrographic Art Exhibit Halls:
---
---
---
---
Your questions and comments are welcome and appreciated.
Please e-mail the E-Museum Curator
Back to E-Museum Entrance homepage
---
&copy 1998, 1999, 2007, 2009, 2010 Kathleen M. Garvey Menéndez,
all rights reserved. Last updated 14 February 2010.

---