E-Museum of Pyrographic Art
Portraits and Paintings Hall


Welcome to the Salon of
Gabriela Lezcano and Alejandro Veneziani
---
---
---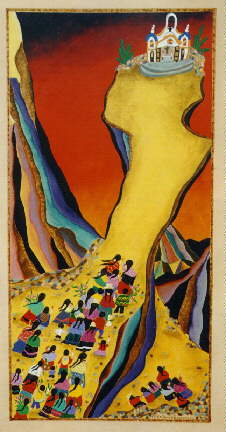 The Procession
(La Procesión)
by Gabriela Lezcano and Alejandro Veneziani, 1998
Villa Gesell, Province of Buenos Aires, Argentina

Pyrography and acrylic color on leather
120 cm by 60 cm
---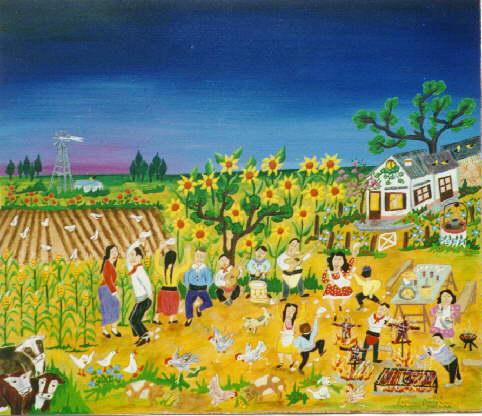 Cookout and Dance Party in Madariaga
(Asado y Baile en Madariaga)
by Gabriela Lezcano and Alejandro Veneziani, 1998
Villa Gesell, Province of Buenos Aires, Argentina

Pyrography and acrylic color on leather
75 cm by 60 cm
---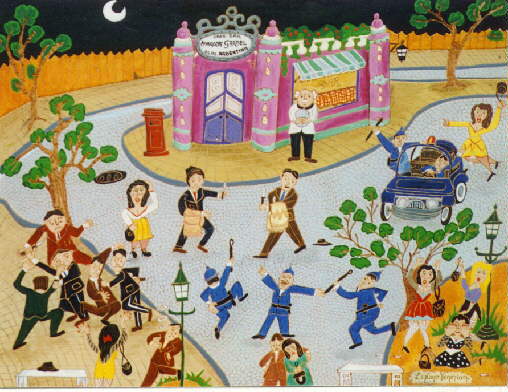 Los Malevos
by Gabriela Lezcano and Alejandro Veneziani, 1998
Villa Gesell, Province of Buenos Aires, Argentina

Pyrography and acrylic color on leather
size approximately 75 cm by 55 cm
---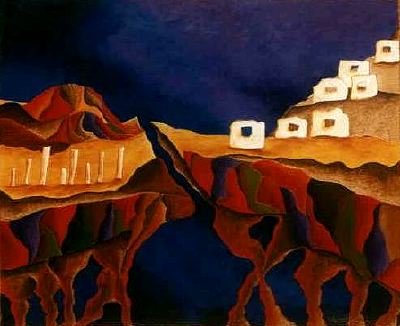 La Fractura (Fracture)
by Alejandro Veneziani, 2002
Villa Gesell, Province of Buenos Aires, Argentina

Pyrography and acrylic color on leather
80 cm by 100 cm
---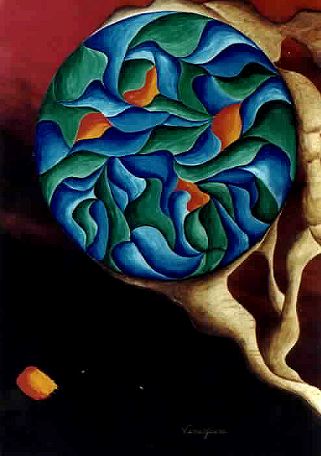 La Perdida (The Lost)
by Alejandro Veneziani, 2002
Villa Gesell, Province of Buenos Aires, Argentina

Pyrography and acrylic color on leather
100 cm by 70 cm
---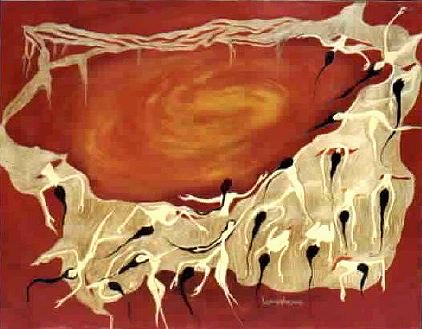 Pasados Violentos (Violent Pasts)
by Alejandro Veneziani, 2002
Villa Gesell, Province of Buenos Aires, Argentina

Pyrography and acrylic color on leather
80 cm by 65 cm
---
Argentine pyrographers
Alejandro Veneziani and Gabriela Lezcano
of Villa Gesell, have developed their original techniques for the past 20 years, utilizing autochthonous themes, which don't reflect their own origins yet which they observe firsthand in the tourist village where they live and work in the Province of Buenos Aires. They have had many expositions both nationally and abroad and show their work at the Torino Gallery. Learn more about these imaginative artists and their pyrographic work on leather by visiting their website, linked here.

The couple's story and work were featured in Pyrograffiti in the November–December 2002 issue of WOM.
---
You are leaving the Gabriela Lezcano and Alejandro Veneziani Salon.
Pyrographic Art Exhibit Halls:
---
---
---
---
Your questions and comments are welcome and appreciated.
Please e-mail the E-Museum Curator
Back to E-Museum Entrance homepage
---
&copy 1998, 2002, 2007, 2009 Kathleen M. Garvey Menéndez, all rights reserved.
Last updated 10 November 2009.

---