E-Museum of Pyrographic Art
Traditional and Folk Art Hall

Welcome!
to the Salon of

Rev. Howard Finster
(1916–2001)
---
---
---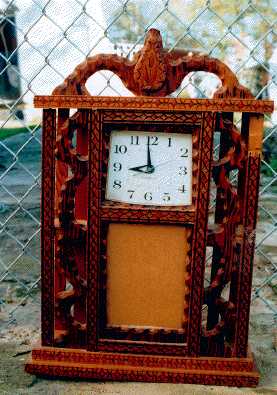 Pyroengraved wood clock
by Rev. Howard Finster


Clock has space
for photographs or pictures

Photograph by Beverly Finster
---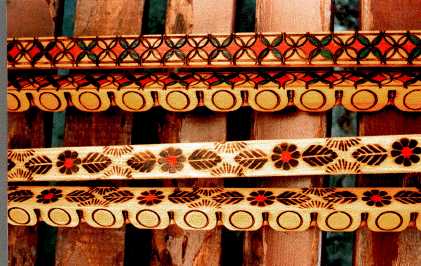 Grouping of pyroengraved
wood strips
by Rev. Howard Finster

Pyroengraved strips
are used as frames for his pyrographic paintings

Photograph by Beverly Finster
---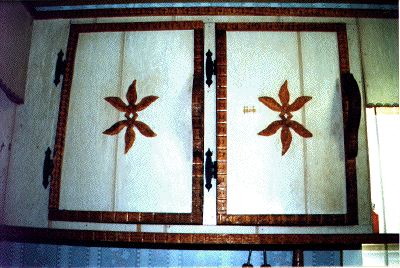 Wood Kitchen Cabinets Pyroengraved

by Rev. Howard Finster

Photograph by Beverly Finster
---
American folk artist Howard Finster was, first and foremost, a preacher. The story is that he realized people were not paying enough attention to his sermons, and he decided to create his Paradise Gardens in Summerville, Georgia, as a way to reach them in a way that his message would stay with them. Today, those gardens are still being maintained and include not only the gardens, but also a museum, the Finster Folk Art Gallery, and the World's Folk Art Chapel.

Some years after creating his Paradise Gardens, he had a vision and heard a voice telling him to do sacred art, and his new journey began.

For more about his folk pyrographic art work, there is a fully illustrated article entitled Pyrography: Folk Art, An Interview with Rev. Howard Finster, published in the May–June 1997 issue of the Woodcarvers On-Line Magazine, linked here, about this American folk artist and preacher from Georgia, U.S.A. It tells about his interesting life and his world famous folk art.

Update 2001:
The Rev. Howard Finster died October 22, 2001. A follow-up "In Memoriam" article was published in Pyrograffiti 14, the November–December 2001 issue of the Woodcarvers On-Line Magazine. There is a rare pyro painting of Rev. Finster's shown in that article with special permission of J. F. Turner, author of the book Howard Finster: Man of Visions, Portrait of a Self-Taught Artist.
---
You are leaving the Rev. Howard Finster Salon.
You can return to the
or visit one of the following:
Pyrographic Art Exhibit Halls:
---
---
---
---
Your questions and comments are welcome and appreciated.
Please e-mail the E-Museum Curator
Back to E-Museum Entrance homepage
---
&copy 1997, 2001, 2007, 2009, 2010 Kathleen M. Garvey Menéndez,
all rights reserved. Last updated 14 February 2010.

---