E-Museum Directory

---
References and cross-references for
works of art in pyrography
pyrographic tools,
books on pyrography and related topics,
sources for classes and instruction,
and networking for pyrographic artists around the world.
* Note: Only those items with links are presently available.
Welcome! Let your imagination do the walking....
Straight ahead to
Gathering Place for Pyrographic Art Connoisseurs and Pyro Artists from Around the World
Meeting Place for Members of the International Association of Pyrographic Artists

Come in! Take a candlelit table near the central fountain in the interior courtyard of the E-Museum
---
and the E-Gallery of Pyrographic Art
Offering special exhibits for Pyro Artists to show their work to the buying public
Where pyrographic art collectors can browse and buy
Come in and look around!
This month's featured artist is Senegalese
Djibril N'Doye, whose work
is exhibited in the Portraits and Paintings Hall
of the E-Museum.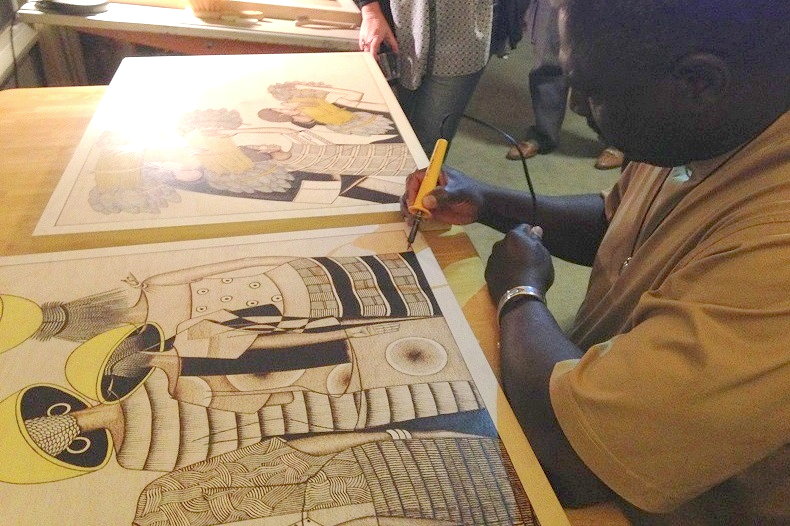 The Artist at Work
Spring Soirée Art Exhibit
Wine and Cheese, Live Music
Saturday April 23rd, 2016
6:00 to 9:00 P.M.
Admission is free.
Sponsored by the Arcadia Museum Foundation

Visit the Djibril N'Doye Salon here in the E-Museum for more examples by this Senegalese artist in California, who has also been featured in two Pyrograffiti articles (linked from his E-Museum exhibit).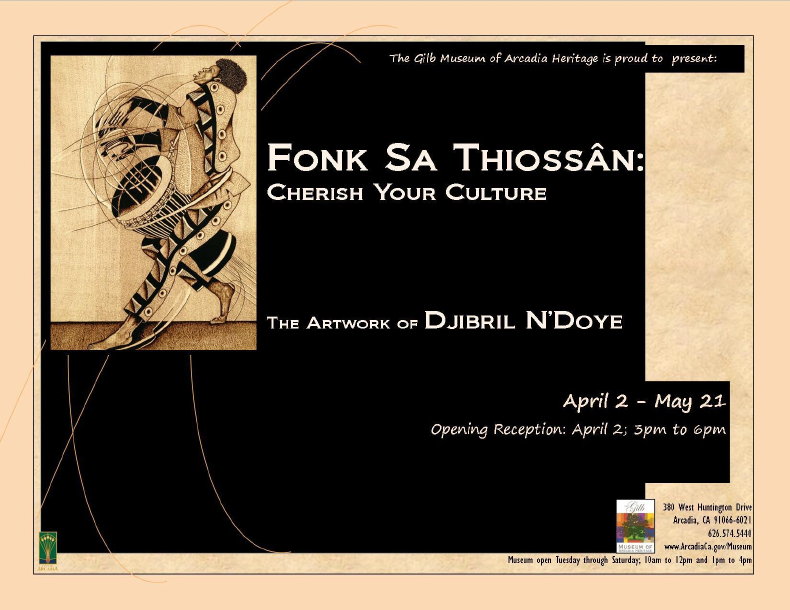 ---
Main Floor, Perimeter to
Pyrographic Art Exhibit Halls
---
---
---
---
---
---
---
---
To your left is the entrance to
Where you can find beautiful books featuring pyrographic art, instructions for working in pyrography, or special designs. This is an exhibit, not a real store, but it does have links where available to sources.
---
The Gift Shop
Where you can find that ideal item of pyrographic art, a pyrographic tool, or even a souvenir to remember the e-museum and display in your home, or some very special stationery.
The Gift Shop is a future project and not available as yet.
---
To your right is the staircase—downstairs to
Classrooms and Studios
Where you can find classes and workshops in pyrography,
Or watch pyro-artists at work.
The Classrooms and Studios are awaiting the participation of pyrographers everywhere, who would like to announce their classes or provide demonstrations there.
Outside in the hallway downstairs, in the alcove with the sitting room is posted a Bulletin Board with information on all kinds of pyro-related things.
---
—or upstairs to
More exhibits, including the Pyrographic Tools exhibit
Where you can find pyrographic tools on display and links to other sites of interest.
---
Your comments and questions are welcome and appreciated. Please e-mail E-Museum Curator.
---


&copy 1998, 1999, 2000, 2004, 2005, 2009, 2016 Kathleen M. Garvey Menéndez



---