E-Museum of Pyrographic Art
Portraits and Paintings Hall


Welcome!
to the Dallas Nyberg Salon
---
---
---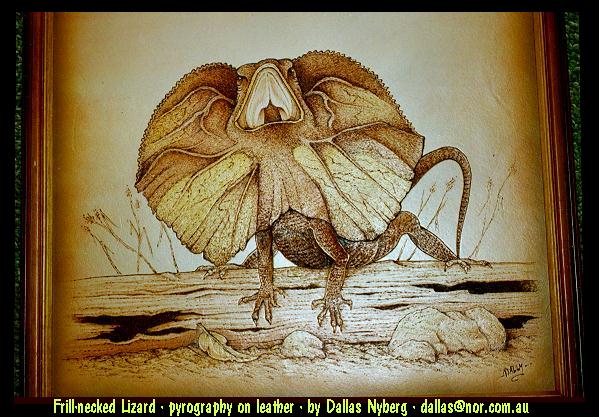 Frill Neck Lizard
by Dallas Nyberg, 1995
Moorland, New South Wales, Australia

Pyrography on leather
size approximately 2 ft by 2 ft

---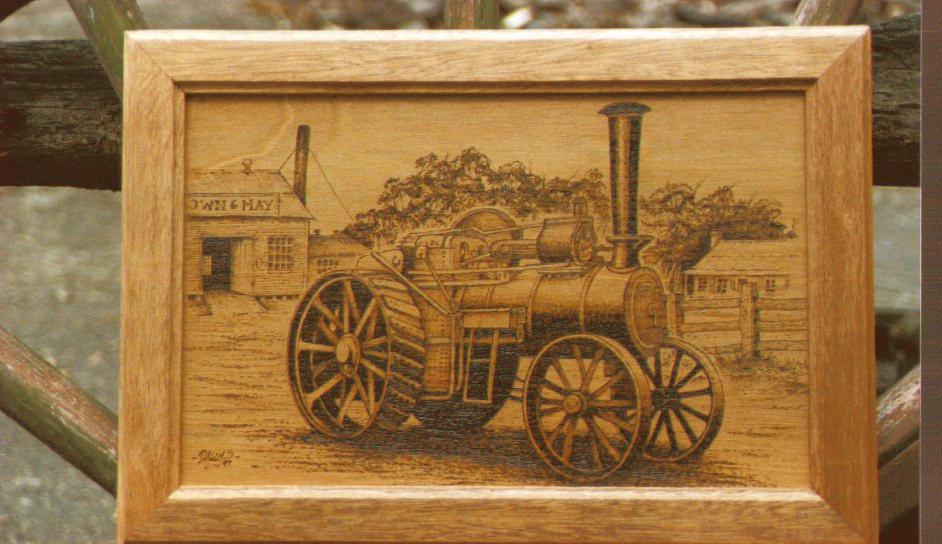 1931 American Brown & May Traction Engine
by Dallas Nyberg, 1997
Moorland, New South Wales, Australia

Pyrograph on Luan veneered plywood

---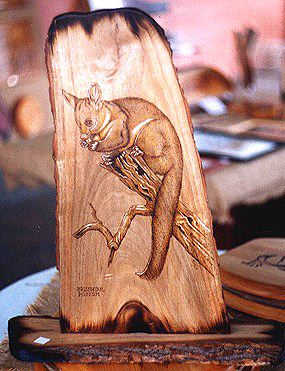 Brushtail Possum
by Dallas Nyberg
Moorland, New South Wales, Australia

Pyrograph on Camphor Laurel, including scorching technique on top and bottom edges

---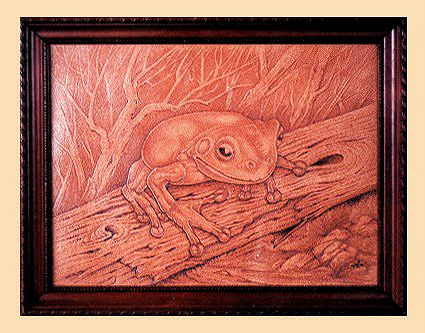 Frog on Limb
by Dallas Nyberg
Moorland, New South Wales, Australia

Pyrograph on répoussé leather

---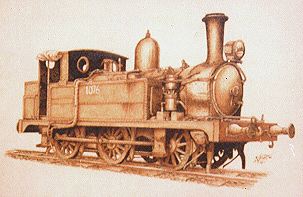 Steam Locomotive
by Dallas Nyberg
Moorland, New South Wales, Australia

Pyrograph on paper

---
Several years ago, before Australian Dallas Nyberg discovered pyrography ("....now the passion of my life," he says), he had already been a leather artisan for more than 20 years, specializing in custom-made leathergoods and art work, particularly handtooled leather pictures. Leather continues to be his favorite surface for his pyrography as well, but he branched out to working his pyrography—including decorative art pyrography—on wood (timber as they say in Australia) and now paper and gourds, too. He has very recently started experimenting on three more surfaces: cotton canvas, unbleached calico, and mushrooms.

He has his own website Burning Desires as well as his own business, including teaching pyrography every week at a gallery in Taree, south of where he lives in a small farming community called Moorland. In mid 2001, Dallas will be relocating about 1200 kilometers further south to a town called Cowra where he and his work will be one of the attractions at a Steam Train Museum there. He is looking forward to the new challenge and the wealth of source material—he loves steam trains!—that will inspire new pyro works.

In the area of decorative art pyrography, he has recently been decorating and personalizing leather (usually natural calfskin or kangaroo) photo album covers.

Dallas is also working on a book. Earlier in 2000, he was featured in a pyrography article in The Woodcarver On-Line Magazine, in the March–April issue linked here.

Examples of his pyrographic art form part of the PyroBank collection, an on-line initiative at Mixo Sydenham's Pyro Cafe Down Under website.
---
You are leaving the Dallas Nyberg Salon.
You can return to the
or visit one of the following:
Pyrographic Art Exhibit Halls:
---
---
---
---
Your questions and comments are welcome and appreciated.
Please e-mail the E-Museum Curator
Back to E-Museum Entrance homepage
---
&copy 1997, 2000, 2001, 2007, 2009, 2010 Kathleen M. Garvey Menéndez,
all rights reserved. Last updated 4 March 2010.

---