E-Museum of Pyrographic Art
Antique Art Hall


Welcome!
to the Salon of

Claude Fayette Bragdon (1866–1946)
---
---
---

SALVE (GREETINGS)
by Claude Fayette Bragdon, 1897


Image adapted from an 1897 catalogue of the Chicago Architectural Club
This work was used as the illustration for the opening page of that catalogue's exhibition, p. 11.
---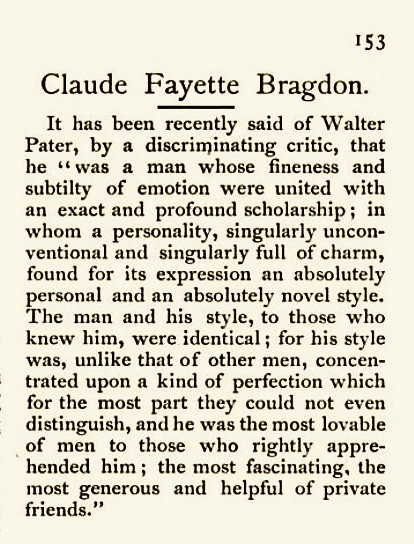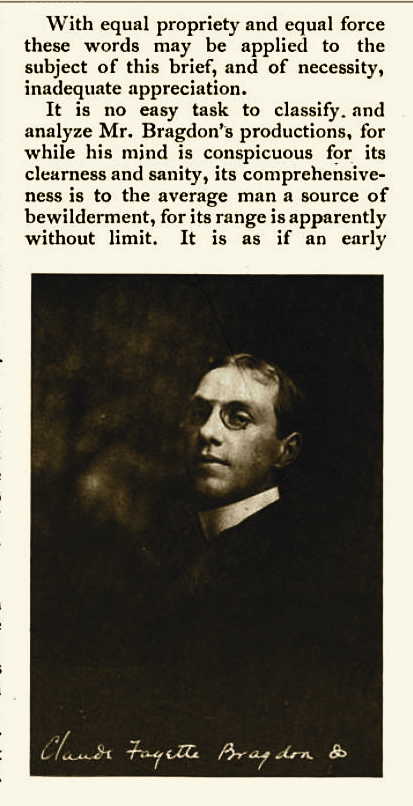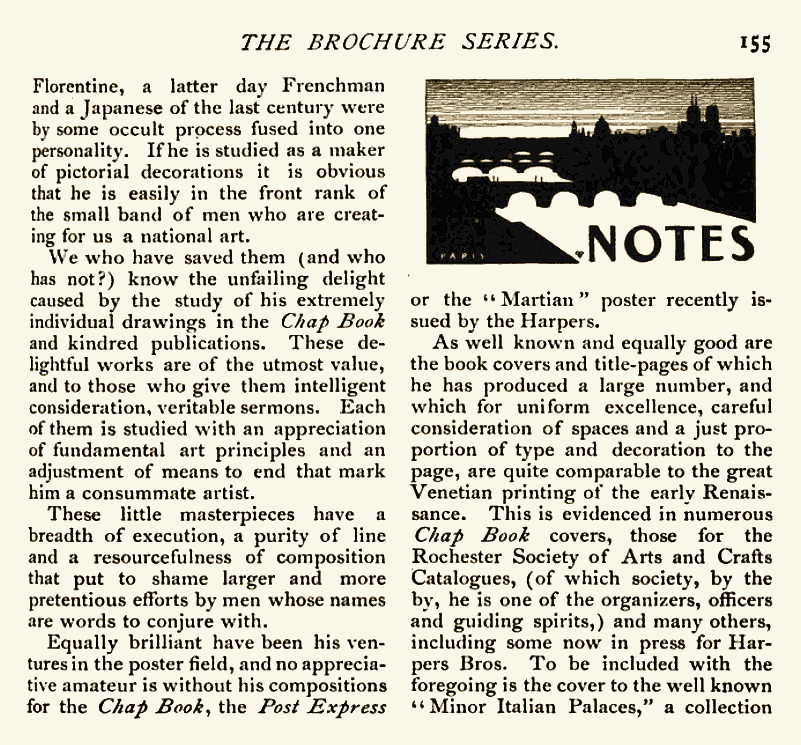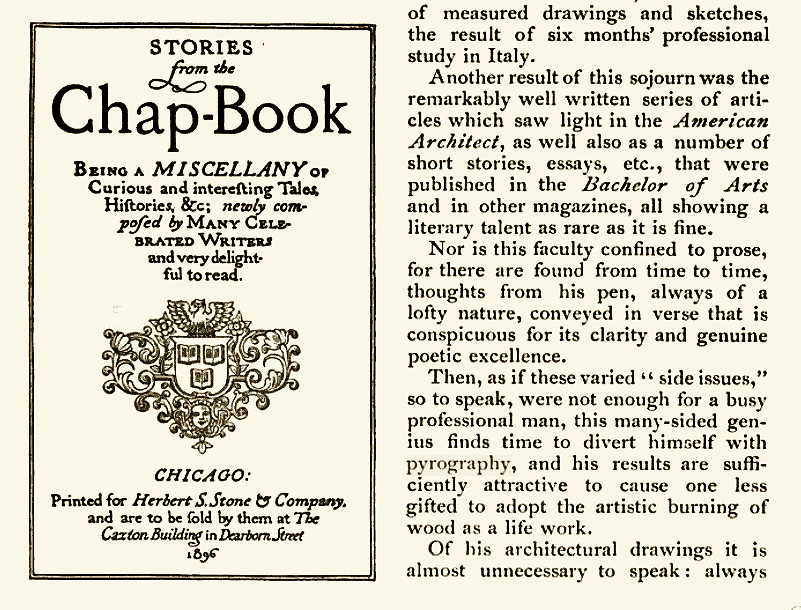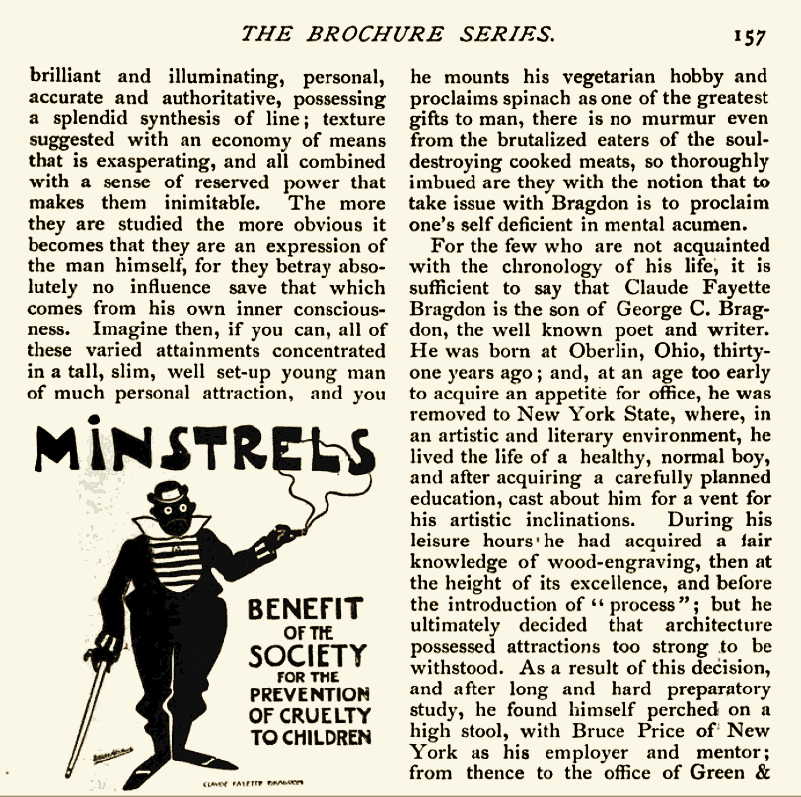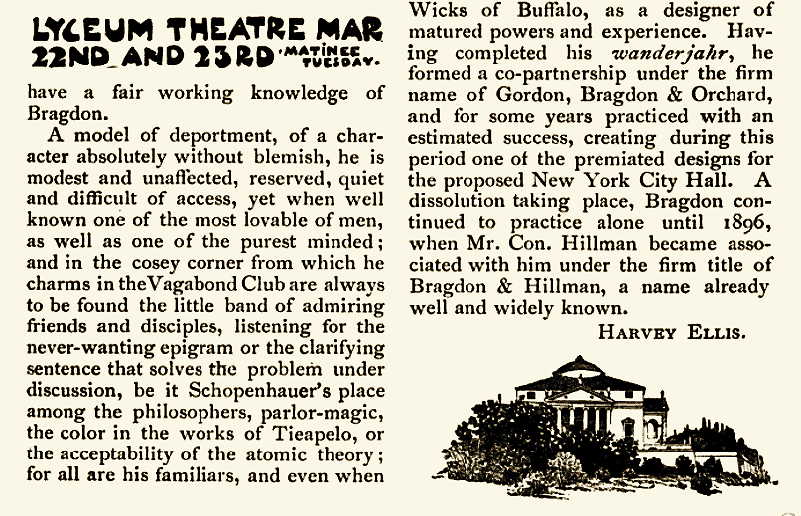 Claude Fayette Bragdon.
by Harvey Ellis

Adapted from The Brochure series of architectural illustration, January 1897, Vol. III, No. 1, Boston: Bates & Guild Company Publishers, pp. 153, 155, and 157. (Pages 154 and 156 are unrelated images and not shown)
---
In 1897, the multi-talented Claude Fayette Bragdon, while still a young man of about 30 years of age, was the subject of the above article by Harvey Ellis, both a fellow architect and artist as well as a friend, who, coincidentally, was likewise featured in that same edition of The Brochure Series in a likewise flattering article (linked to his name here) written by none other than Claude Fayette Bragdon!

Regarding Claude Bragdon's pyrography, Harvey Ellis in the article exhibited here had this to say on the bottom half of p. 155 above:

"Then, as if these varied 'side issues,' so to speak, were not enough for a busy professional man, this many-sided genius finds time to divert himself with pyrography, and his results are sufficiently attractive to cause one less gifted to adopt the artistic burning of wood as a life work."

According to Andrea Reithmayr, Curator of the Bragdon Family Papers at the Library of the University of Rochester in the State of New York, "Bragdon made several pyrographic pieces during the late 1890's, most notably panels inset about fireplaces." Today, she explained, those "fireplace panels are either in situ or in private collections."

One of these works—which was one Bragdon did in collaboration with none other than his friend Harvey Ellis—was featured in a book entitled Claude Bragdon and the Beautiful Necessity that was published in conjunction with an exhibition that Andrea Reithmayr prepared for 2010 there at the Allen Library of the University of Rochester.

There is one panel by Bragdon that is in the collection of the Allen Library itself. It is a pyrography on wood panel that he did after a poster he himself had made for the Rochester Post Express newspaper, circa 1896. That panel will be the only pyrographic work featured in the upcoming exhibition itself, and Andrea Reithmayr also noted that they "will, in future, be mounting a web version of the exhibit in which this panel will probably be featured."

The exhibition and its accompanying book took place at the Allen Library of the University of Rochester in Rochester, New York, U.S.A., from April to October 2010.

To date, the only picture the E-Museum has available so far of pyrographic works by Claude Bragdon is the one called SALVE that served as a whimsical illustration one year for a Chicago Architectural Club catalogue. Although it is already being exhibited in another salon here in the E-Museum (at the link here with additional details about his pyrographic works and his writings), it is exhibited in this salon once again for that very reason, i.e., there is no other example for which we have a picture.



---


If you have either any questions to ask or any additional information to offer on this article or other articles or works by Claude Fayette Bragdon, please e-mail the E-Museum Curator.
---
You are leaving the
Claude Fayette Bragdon Salon
You can return to the
or visit one of the following:
Pyrographic Art Exhibit Halls:
---
---
---
---
Your questions and comments are welcome and appreciated.
Please e-mail the E-Museum Curator
Back to E-Museum Entrance homepage
---
&copy 2009 Kathleen M. Garvey Menéndez, all rights reserved.
8 May 2009. Updated 3 November 2009. Last updated 13 January 2011.

---