E-Museum of Pyrographic Art
Antique Art Hall


Welcome!
to the Ball Hughes (1804–1868)
Salon No. 13
---
---
---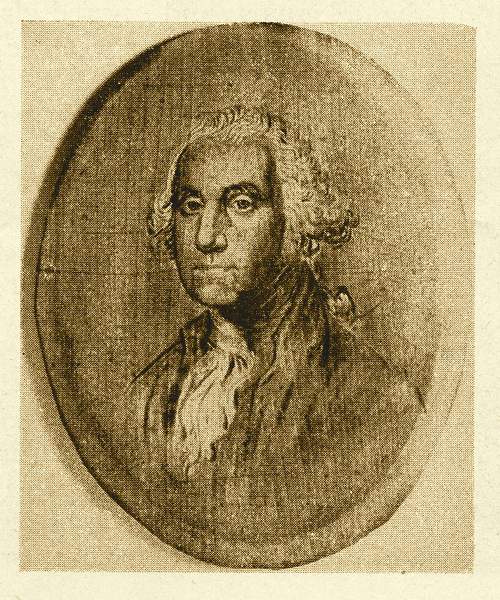 Portrait Bust of George Washington
By Ball Hughes

Pyrography on oval wood panel,
in the collection of the Bostonian Society*

Image adapted from a small black-and-white photograph
illustrating the 1946 Antiques Magazine article entitled
"The Poker Drawings of Ball-Hughes"
by Edward Daland Lovejoy

* In that collection at the time of the 1946 article; unfortunately, this panel is no longer in that collection.
---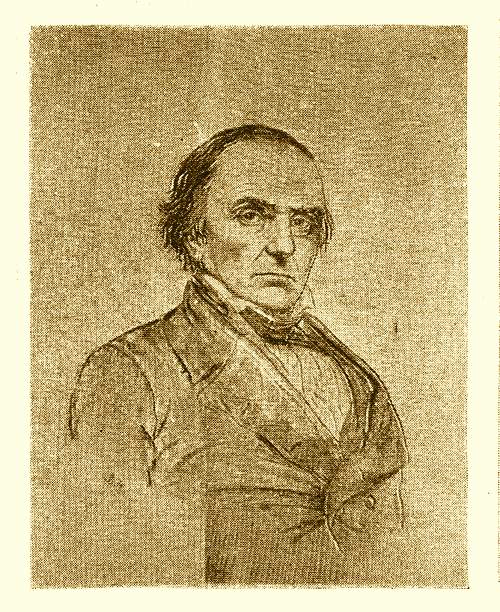 Portrait Bust of Daniel Webster, No. 1
By Ball Hughes

Pyrography on wood panel,
from the collection of the Andover Historical Society

Image adapted from a small black-and-white photograph illustration
in the 1946 Antiques Magazine article entitled
"The Poker Drawings of Ball-Hughes"
by Edward Daland Lovejoy
---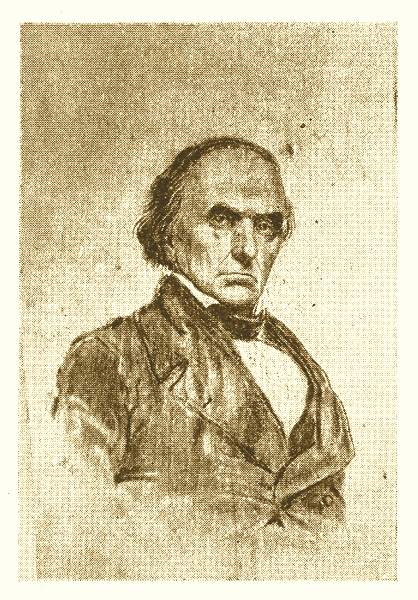 Portrait Bust of Daniel Webster, No. 2
By Ball Hughes

Pyrography on wood panel, owned by Harrison M. Davis*

Adapted from a small black-and-white photograph illustration
in the 1946 Antiques Magazine article entitled
"The Poker Drawings of Ball-Hughes"
by Edward Daland Lovejoy

* At the time of the 1946 article.
---
Nineteenth Century artist Robert Ball Hughes, 1804–1868 was famous in his younger days as an engraver and sculptor; in his older years, he hit upon this form of art, usually referred to back then as poker drawings or poker paintings. These would be his main source of income in the 1850's and into the 1860's almost until his death.

Most of Ball Hughes's poker paintings were portraits, and usually done after the paintings or photographs of other famous artists. Research indicates that his portrait of Daniel Webster, which he rendered several times in pyrography, was no exception, as it appears to be done after a well known photograph of the venerable statesman. However, because presumably Daniel Webster would have sat for Ball Hughes in preparation for his portrait sculpture (which was willed to his daughter Julia, as published in his letters at the link here), it seems likely that Ball Hughes would have also done his own sketch of Daniel Webster for that sculpture. If that were the case, the question arises as to why he would not have used his own sketch in preparation for his pyrographs. Is it possible that he also created the sculpture from that photograph? Or is it even possible that the "little bust" Daniel Webster willed to his daughter Julia was actually a pyrographic portrait bust, that is, the one we've been seeing all along, perhaps the first of the many Ball Hughes did (like the two above) that were in obviously popular demand? As it turns out, Daniel Webster resided in Dorchester for a period, which may account, in part at least, for the exceptional demand there in Ball Hughes's social circle for Webster's portrait above all others.

Although Dr. Edward Daland Lovejoy focused his 1946 Antiques Magazine article entitled THE POKER DRAWINGS OF BALL-HUGHES on the works in the last part of Ball Hughes's life, he actually uses more than half of his article to highlight the life and earlier art of this great artist, who was the first to do a large bronze cast in America and considered the first professional artist to bring pyrography to America, as well. (An 1819 Pennsylvania German folk art work in pyrography predates Ball Hughes's arrival in the United States by a decade.) When Dr. Lovejoy did at last address the topic of his article, he began with the following unfortunate introduction:

"Late in life he turned from sculpture to the lowlier art of so-called poker drawings, which had quite a vogue."


Dr. Lovejoy illustrated his article with five images; there are the three portraits shown here (one of George Washington and two of Daniel Webster). There is also a framed panel "The Trumpeter," which was shown courtesy of Rudolf [sic] Brown, a descendant of Ball Hughes. A second rendering of that panel is now in the collection of Douglas Schneible and is on display here in the E-Museum in the Ball Hughes Salon No. 8. The fifth illustration is a very small black-and-white picture of a drawing (now confirmed by Ball Hughes's descendant David Brown to be by Georgina Ball Hughes, the artist's daughter) after a portrait in oil of Ball Hughes himself, which was painted by John Trumbull (also exhibited at the same link on Dave Brown's web site). A digitally enlarged image of that picture is now the lead image for the Ball Hughes section in the Antique Hall here in the E-Museum.

In the text of his article, Dr. Lovejoy cites three works as being in the collection of the Bostonian Society. One is the Sancho Panza; the second is the George Washington displayed here that is Figure 3 in his article; and the third is "Doctor Sharpe, minister of the old Charles Street Baptist Church." Today, unfortunately, only the Sancho Panza remains in that collection, and the whereabouts of the other two are unknown.

The Daniel Webster shown as Figure 4 in his article is still there in the Andover Historical Society. (Both the Bostonian Society and Andover Historical Society museums were visited by Susan Millis in 2006.)

Lovejoy also writes that "The Society for the Preservation of New England Antiquities has a portrait of Titian." However, according to Adrienne Sage at the SPNEA, that work, inscribed on the verso by Ball Hughes and dated 1855, was deaccessioned about 1960 and is no longer in their collection. When they acquired that work and registered it in 1925, the registrar at that time noted it to be in "poor condition."

There are a few known portraits of Daniel Webster in private collections. For example, one 1857 Daniel Webster is owned by Michael Lanoue and exhibited here in the E-Museum at this link, while another 1853 Daniel Webster is still owned by Michael Brown, one of Ball Hughes's descendants, according to a 2003 entry in a discussion board on Ball Hughes at AskArt. The whereabouts of all the remaining works cited in Lovejoy's article are unknown at this time. It has not yet been ascertained whether the Daniel Webster in Lovejoy's article (Figure 5) is still in the private collection of Harrison M. Davis's descendants.

The whereabouts of several of the pyrographic works cited by Edward Daland Lovejoy in his article linked above were not specifically identified by him but only said to be in private collections: Besides additional portraits of Daniel Webster, he noted Choosing the Wedding Gown, Old Woman who walked 100 Miles to a Fair, and General Fremont.

Additional cited works listed at the bottom of the Ball Hughes section in the E-Museum's Antique Hall that do not appear in Lovejoy's article are the following: Head of Shakespeare, Benjamin Franklin, Don Quixote, John Fremont, Scene from Sir Walter Scott's Kenilworth, Gen. McClellan (1862), Schiller, Irish Courtship, Falstaff Examining his Recruits*, Rembrandt, Rubens, and The Scotch Terrier. These works were found in other research and were cited in various newspaper publications during Ball Hughes's lifetime, starting with the earliest one found in 1856. The last four listed are exceptions in that they are named—along with a few more already mentioned elsewhere—in an 1893 book by Dana Orcutt entitled Good Old Dorchester. (Note that, besides the story of Ball Hughes and his family, there is also a section about Daniel Webster's period living in Dorchester in Orcutt's history of the town.) Another exception is the work entitled Schiller, which was found in an 1892 article about Ball Hughes's successor J. William Fosdick. It was known that Fosdick's father had bought two of Ball Hughes's works and that one was his Witches of MacBeth. From that 1892 article, it is now believed that the second one was that portrait of Friedrich Schiller. Only the three works with links from this latter list have been located and are displayed here in the E-Museum.
(* More recently Falstaff Examining His Recruits has come to light in the private collection of the Brown family, and it is now on exhibit on Dave Brown's site at the link here.)

Posthumous exhibits. The two Ball Hughes panels owned by J. William Fosdick were exhibited by him along with his own at various exhibits and lectures. At long last we have the catalogue of Fosdick's 1889 St. Louis Exhibition, which describes in detail (as nos. 29 and 30) those two panels.

Research by doctoral candidate Susan Millis on the "poker paintings" of Ball Hughes was the focus of her trip to the United States in 2006. That story is featured in Pyrograffiti 38, published in the July–August 2006 issue of the Woodcarvers Online Magazine.

If you have either any questions to ask or any information to offer on this artist, please e-mail the E-Museum Curator.

As the editor noted at the very end of Lovejoy's article, there is another article on pp. 170–171 in that same issue with his. It is entitled, "SOME AMERICAN CAMEO PORTRAITISTS" by Gertrude S. Cole, and it mentions Ball Hughes in a small paragraph on p. 171 (although without offering any examples of his cameos), as follows:

"Robert Ball-Hughes, an Englishman who came to America about 1829, finally settled at Dorchester, Massachusetts, where he died in 1868. Better known for his sculptures, he exhibited cameos in the Boston Athenaeum in 1841."

Worthy of note is that a pair of Ball Hughes Rotch portrait cameos circa 1845 was sold at auction as recently as 2006 [item 224 with a small picture at Thomaston Galleries].

An earlier and much more comprehensive article with a segment (starting on page 24) on Ball Hughes's cameo wax portraits, is Wax Portraits and Silhouettes by Ethel Stanwood Bolton, published in 1914 by The Massachusetts Society of the Colonial Dames of America. (Bolton's 1914 article was also cited in the 1946 Lovejoy article.) It includes some biographical background on the artist and notes on his technique, as well; it also features two excellent illustrations of his work in that technique—a cameo portrait of Mary Jane (Miller) Quincy on page 22 preceding his narrative, and another of Elizabeth Rodman following page 24 of the narrative. The article continues on page 25 and concludes on page 26. In that same publication is a listing of nine known portraits in wax by Robert Ball Hughes on page 73 and page 74.

Because Robert Ball Hughes's wax portraiture, like his pyrography, is often overlooked and under appreciated, is the reason why his cameos are mentioned here. References to Ball Hughes's sculptures and his engravings on coins are widely available.
---
You are leaving the Ball Hughes Salon no. 13.
You can return to the

Antique Art Hall
or continue on your tour to one of the following:
---
Pyrographic Art Exhibit Halls:
---
---
---
Back to E-Museum Entrance homepage
---
© 2008, 2009, 2010 Kathleen M. Garvey Menéndez, all rights reserved.
This page last updated 23 February 2010.

---