E-Museum of Pyrographic Art
Bookstore and Library Hall


Welcome!
to the Exhibit of the
New York Times
1904 article

"HOLIDAYS' TINY WORKER"
Small Girl Decorated Leather Articles with Pyrography.
---
---
---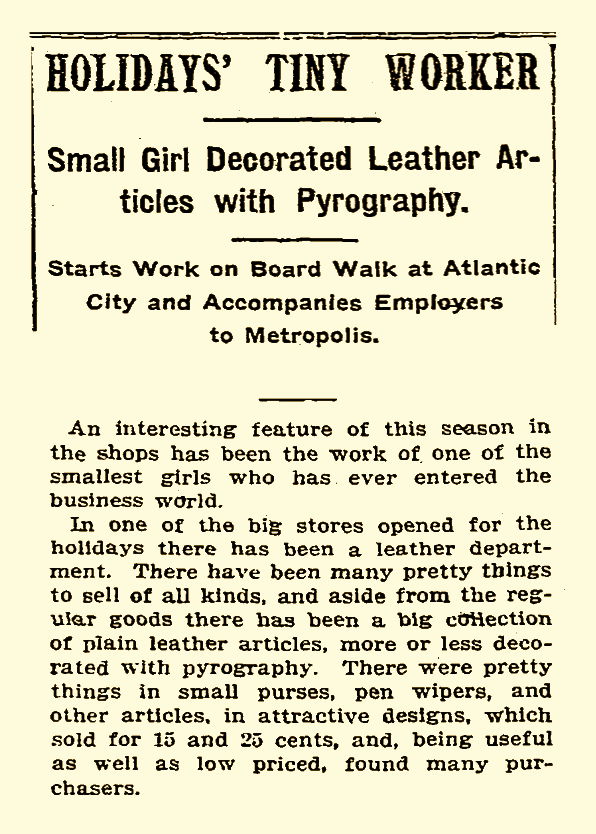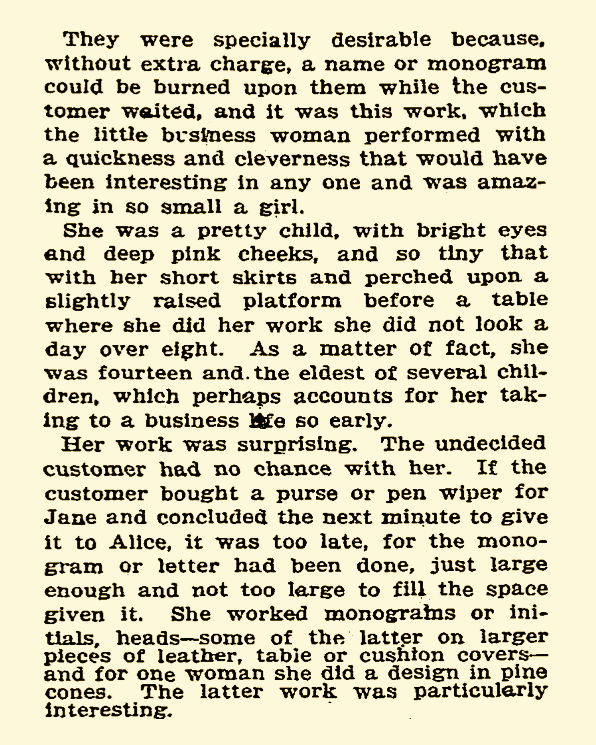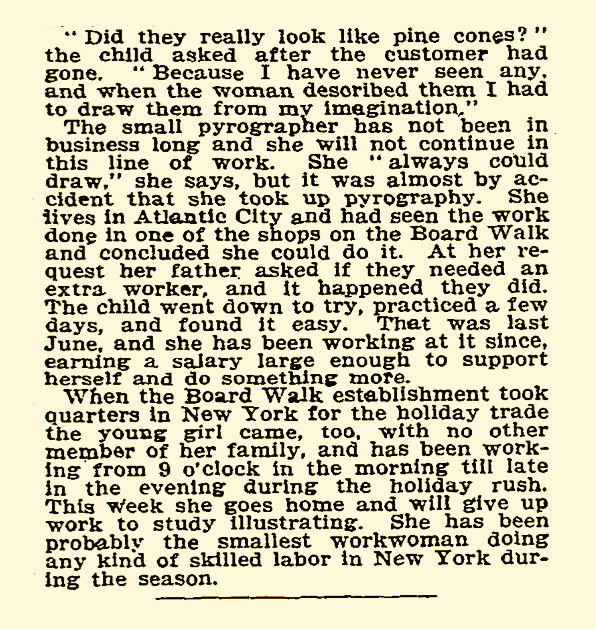 HOLIDAYS' TINY WORKER

Article adapted from the N.Y. Times article HOLIDAYS' TINY WORKER, Published in New York, 1904.
---
The above human interest article about a little girl who both entertains customers by doing pyrography decorations, especially monograms and names for leather articles in a big store along the boardwalk in Atlantic City and a big New York City department store is a rather unusual take on child labor from that time.

At first, it looked as though the child was going to be only about eight years old; however, ultimately it turns out she was small of stature but fourteen years old. Because she looked so young and small, she no doubt got a lot of attention in the stores during the holidays, made a little money for herself and her big family of which she was the oldest child, and got her fifteen minutes of fame at the same time. The stores were only too happy to get attention for their leather articles. This is also an example of pyrography as performing art.

As so often happens, the article failed to mention her name, and now we do not know if she grew up to be a well known pyrography artist.



---


If you have either any questions to ask or any additional information to offer about this article or this topic on pyrography, please e-mail the E-Museum Curator.
---
You are leaving the N. Y. Times 1904 Article
"HOLIDAYS' TINY WORKER".
You can return to the
or continue on your tour to one of the following:
---
Pyrographic Art Exhibit Halls:
---
---
---
---
Your questions and comments are welcome and appreciated.
Please e-mail the E-Museum Curator
Back to E-Museum Entrance homepage
---
&copy 2012 Kathleen M. Garvey Menéndez, all rights reserved.
18 October 2012.

---