E-Museum of Pyrographic Art
Antique Pyrography Tools Exhibit


Welcome!
to the Salon of the
December 1888 Article
The Use of Charred Wood
in Interior Decoration
Published in the
Art Amateur Magazine

---
Back to E-Museum Entrance
---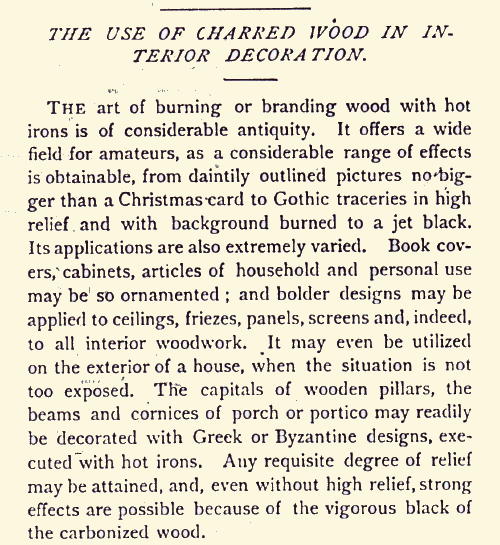 "The Use of Charred Wood in Interior Decoration." column by an unknown author from the magazine's staff, published in the December 1888 issue of Art Amateur Magazine.

Digital images adapted from microfilm images of the Art Amateur Magazine, Reel 582, in the collection of
The Sherrod Library, EAST TENNESSEE STATE UNIVERSITY, Johnson City, Tennessee.



---
The above article was found as a reference in another—Emma Haywood's 1891 article in the Art Amateur Magazine. This article may reveal the motivation for Emma Haywood's anomalous disclaimer (assuming it was hers rather than Gleeson White's edit)—

"For the present, let it suffice to remark that this new process calls for no electrical appliance, as some persons suppose to be the case."

This article surprisingly turned out also to be about J. William Fosdick and Ball Hughes despite its unusual terminology of "charred wood." It is interesting, and really intriguing, to see Fosdick being quoted in this early article in conjunction with an electric tool in Germany. This was truly unexpected, and following is the specific quote where Fosdick is talking about his tools and others:

"The tools used by me," he said, "are very simple. In Germany, where much delicate charred work is made use of in combination with fine marquetry, an instrument supplied with an alcohol lamp to keep the point hot is employed. Sometimes also a platinum point, kept heated by an electric current, is used for fine outline work."

Then (true to what Patty Thum wrote in her 1891 article, that "Artist folk are very apt to look on anything in the nature of an improvement in their tools as partaking too much of the machine made."), Fosdick adds his disdain for using such mechanical means:

"But the work commonly so done can hardly be considered artistic, and I never make use of any of these instruments."



More research is underway and this page will be updated each time additional information is found. For now, the E-Museum's Research Department is happy to report that a simple four-page catalogue of J. William Fosdick's 1889 exhibition in St. Louis has been located and added to the E-Museum. It reveals that many of the works noted in this 1888 article were later exhibited there in St. Louis.

[Curator's note: In the above article, the author claims that Fosdick attended the Paris École des Beaux-Arts, which was the government sanctioned art school of Paris; however, it is believed this claim was in error, because it was well known that Fosdick was a student of the Académie Julian in Paris, which was a private studio school for art students. His wife Gertrude Christian Fosdick also attended the Académie Julian, and so also did another famous pyrographic artist, William Fuller Curtis, some years later.]
---
You are leaving the Salon of the
1888 Article in the Art Amateur Magazine
on The Use of Charred Wood in Interior Decoration
You can return to the
---
Pyrographic Art Exhibit Halls:
---
---
---
---
Your questions and comments are welcome and appreciated. Please e-mail the E-Museum Curator.
Back to E-Museum Entrance homepage
---
©2008, 2009 Kathleen M. Garvey Menéndez, all rights reserved
Last updated 11 October 2009